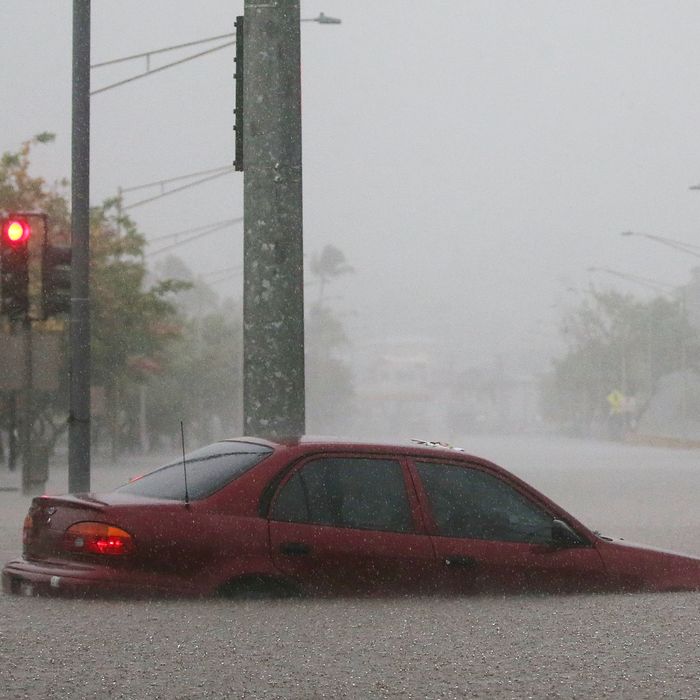 The submarining of a car on the Big Island on Friday.
Photo: Mario Tama/Getty Images
Hurricane Lane, which neared Hawaii as a Category 5 hurricane earlier this week — and was still a Category 3 as it crept much closer Friday — weakened to tropical storm status on Saturday, and the National Weather Service called off all warnings associated with the storm.
Though the slow-moving storm pummeled parts of the state with extremely heavy rain, there was a sense that Hawaii had escaped a worst-case scenario, particularly on Oahu, the most heavily populated island.
"The good news is Lane got weak and fell apart. We dodged a bullet," Honolulu Mayor Kirk Caldwell said on Friday.
Lane's most serious effects were felt on the eastern side of the Big Island, where the storm, which never officially made landfall, dumped as much as four feet of rain over the last several days.
Twenty people were rescued from their homes overnight on Friday, landslides shut down road, and three highways were closed amid the downpours. All but one reopened Saturday morning, even as rain continued to fall.
No deaths or injuries had been reported, but authorities cautioned that it was too early to assess the full extent of Lane's damage.
On Maui, wildfires aided by the storm's heavy winds destroyed several homes, but heavy rainfall from the storm helped contain them.
Hawaii is rarely affected by hurricanes. The last time one made landfall was in 1992.
The state has already been through a lot this year, between a hair-raising nuclear false alarm in January and the slow-motion eruption of Kilauea, which has wrought havoc on the Big Island. With Lane almost behind it and the volcano finally slowing down, Hawaii is probably more than happy to stay out of national headlines for a while.