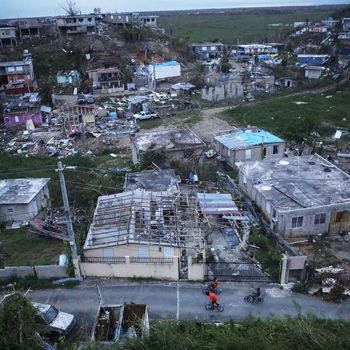 Maria's aftermath.
Photo: Mario Tama/Getty Images
How many people died in the catastrophic aftermath of Hurricane Maria? In the 11 months since the storm devastated Puerto Rico, that basic question has never been answered satisfactorily. But a rigorous new study — the result of which may be the closest thing to a consensus we get — found that the answer is 2,975 people, a number that dwarfs the previous official death toll, and makes Maria the second-deadliest hurricane in American history. By comparison, Hurricane Katrina killed 1,833.
Details from the report, which was published by George Washington University Milken Institute School of Public Health, were first obtained by CBS News.
The study analyzed typical death patterns from the Puerto Rico Department of Health during the previous seven years in Puerto Rico, and contrasted them with the numbers from the period of September 2017 to February 2018, during which time much of the island remained in darkness after the hurricane delivered a knockout blow to its infrastructure. The lack of electricity meant that many residents' urgent medical needs could not be met.
Researchers found that in the course of this period, poor people and the elderly died at far higher rates than in the years prior. The risk of death, they wrote, was "45% higher and persistent until the end of the study period for populations living in low socioeconomic development municipalities." Men 65 and older were also found to be at heightened risk.
A previous study, conducted by Harvard and based on door-to-door surveys, estimated that Maria could have killed more than 4,500 people, but the new report is seen as more thorough and credible.
Puerto Rico commissioned it as island residents demanded a more exhaustive accounting of the storm's toll. For months, the island's official death toll has remained at 64 — a statistic that stood at odds with the reality on the ground. That number only accounted for people who drowned, were hit by debris, or were killed in other ways directly attributable to the storm's immediate landfall.
The deceptively low initial toll provided fodder for President Trump, who visited the island two weeks after the storm and dismissed Maria's death count (then officially at 16) compared to a "real catastrophe" like Hurricane Katrina.
Trump, whose administration's haphazard response to the storm exacerbated Puerto Rico's misery,  has remained notably silent on the subject since last fall.
After Tuesday's report was released, Puerto Rican governor Ricardo Rosselló quickly issued an executive order raising the official death toll from 64 to 2,975. Though Puerto Rico has a long, long way to go in its recovery from Maria, the fact that it has finally reckoned with its human toll counts as progress.