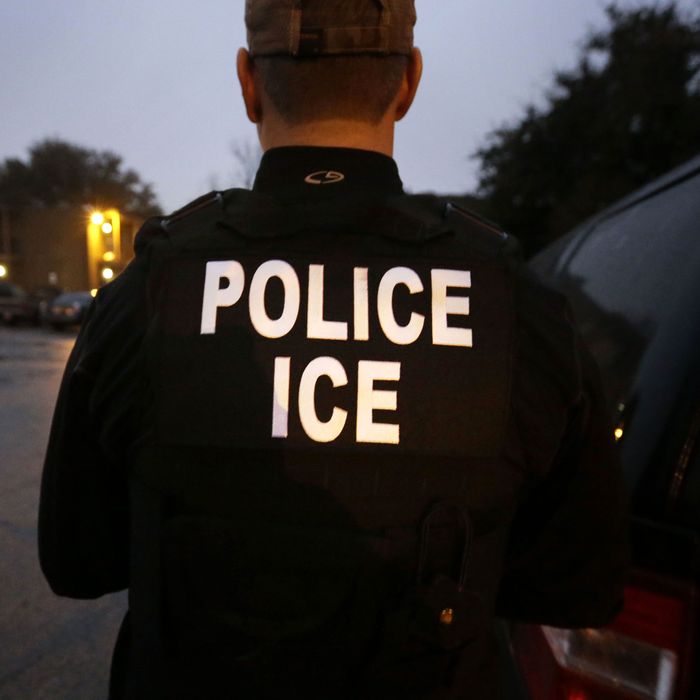 Agents have been given wide latitude to arrest undocumented immigrants without criminal records.
Photo: LM Otero/AP/REX/Shutterstock
Since President Trump eagerly unshackled Immigration and Customs Enforcement from Obama-era limitations, the agency has gone all-out in its pursuit of arresting undocumented immigrants — whether they're a danger to the country or not. With a mandate of near-indiscriminate deportations, ICE and border-patrol agents have staked out courthouses, hospital rooms, and once-routine immigration interviews to round up those in the country illegally.
This week, the agency may have outdone itself, and not in a good way.
On Wednesday, agents arrested Joel Arrona-Lara, a 36-year-old undocumented immigrant from Mexico, as he was escorting his wife to the hospital for a planned cesarean section in San Bernardino, California. Hours later, María del Carmen Venegas gave birth to her fifth child without Arrona by her side. (The news of his arrest was only widely reported days later.)
"I feel very bad right now," Venegas told CBS2 News in Spanish from her hospital room.
In an initial statement, ICE said that Arrona-Lara was awaiting deportation proceedings, but did not delve into the reasoning behind his arrest. In a second statement released later on Saturday, the agency said that he is wanted for murder in Mexico. "ICE continues to focus its enforcement resources on individuals who pose a threat to national security, public safety and border security," that statement read.
Emilio Amaya, the couples' legal representative, told NBC News that he could not find any outstanding warrants for Arrona-Lara in Mexico. He also criticized ICE's handling of the arrest.
"They left her at the gas station to fend for herself," Amaya said, The hospital is about two miles from the gas station. She actually ended up driving by herself to the hospital."
Arrona-Lara and Venegas were stopping to get gas on their way to the hospital when two SUVs approached them. Agents asked Venegas to produce identification, which she did. When they asked the same of Arrona-Lara, he said he did not have any, but could return to his house to provide it. The agents then searched Arrona-Lara's car for weapons and arrested him, leaving the distraught Venegas alone at the gas station — a scene captured on surveillance video:
Venegas said her husband did not have a criminal record, and that she did not realize the agents who arrested him were from ICE until they gave her a phone number to call to track her husband's case.
"I asked them why they separate good people, why they weren't arresting people who do bad things, and I asked them to let us go." Venegas told a local NBC News affiliate. "They told me they were only doing their job."
As ICE continues to employ brazen tactics that are fully endorsed by the highest levels of government, a debate is raging about whether the growing movement to abolish the agency — which has only existed in its current form since 2003 — is smart politics, or leftist overreach that will backfire by rallying conservatives.
This article has been updated throuhgout to reflect ICE's claim that Arrona-Lara faces murder charges in Mexico.