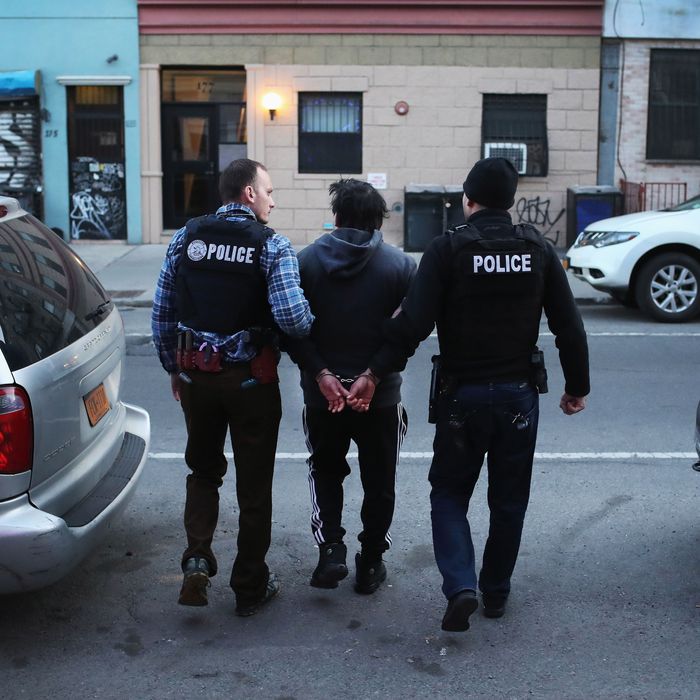 Sweeps of city neighborhoods and "collateral" arrests of undocumented people in the wrong place at the wrong time are terrorizing immigrant communities.
Photo: John Moore/Getty Images
The consensus in recent years in immigration policy has been that law-enforcement resources should be focused on people with criminal records — particularly involving violent crimes — while the country figures out what to do with the vast majority of the undocumented who have committed no crime other than crossing the border illegally. Yes, Republicans, and Donald J. Trump, have tried to roll back some of the categorical protections certain classes of the undocumented enjoyed during the Obama administration, most notably the DACA program for Dreamers. But the administration has largely denied any intention of undertaking mass deportations of people living peacefully in their communities.
On the other hand, Trump doesn't want undocumented immigrants to be under the impression they are safe, and that seems to be the motive behind a noted upsurge in ICE arrests in cases those with no criminal records, as NBC News reports:
Federal arrests of undocumented immigrants with no criminal record have more than tripled under President Donald Trump and may still be accelerating, according to an NBC News analysis of Immigration and Customs Enforcement data from his first 14 months in office.

The surge has been caused by a new ICE tactic of arresting — without warrants — people who are driving or walking down the street and using large-scale "sweeps" of likely immigrants, according to a class-action lawsuit filed in June by immigration rights advocates in Chicago.




CE "administrative" arrests of immigrants without criminal convictions have spiked 203 percent in the first full 14 months of his presidency compared to the final 14 months of the Obama administration, growing from 19,128 to 58,010, according to NBC's review of ICE figures. During the same time period, the numbers show that arrests of undocumented immigrants with criminal records grew just 18 percent.
Much of this trend has come right from the top of an administration that boasts it has "unleashed" ICE. And it has merged with the administration's war on "sanctuary cities" as ICE agents are sent into urban neighborhoods to hunt down recently arrested immigrants and then "sweep" up others in the area through "collateral" arrests of people who have been minding their own business. It all seems contrived to strike fear in the hearts of the undocumented generally:
In a class-action lawsuit filed against ICE by the Illinois Coalition for Immigrant and Refugee Rights and Organized Communities Against Deportations, the groups argued that some immigrants in the Chicago area were "taken into immigration custody after pretextual traffic stops" and that "others were taken into custody after ICE came to their home or neighborhood purporting to look for someone else." The groups allege that from May 18-24 this year, 156 individuals were arrested during a week-long intensified ICE enforcement in the city. Sixty-eight percent of those arrests were made without a warrant.
It's been a particularly big issue in California, where sanctuary policies have encountered an especially belligerent reaction from the Trump administration, as the Los Angeles Times reports:
Arrests of noncriminals by agents in the L.A. field office rose from 4% in 2016 to 12% in 2017. This has increased anxiety around the L.A. area since President Trump took office. To Trump's supporters, there is nothing wrong with picking up those in the country illegally if agents come across them.




But critics have cited such arrests as a clear sign of the administration's overexuberance to deport immigrants and make their lives miserable, whether they have criminal records or not. 
It does seem that the ICE roundups, and particularly the collateral arrests, are part of an implicit strategy of "self-deportation," to use the term famously coined by Mitt Romney. It means making life as miserable and dangerous for the undocumented as possible in hopes that they will choose to return to their countries of origin, without the U.S. government picking up the tab or associating itself with the terrible images of transit camps and boxcars heading south.
This approach obviously does get ICE and the administration through a back door that leads straight to the kind of racial/ethnic profiling policy that was embodied in the famous (and now semi-defunct) Arizona SB 1070 "show your papers" law. And it helps explain why ICE has become so controversial even beyond the communities it has come to terrorize.