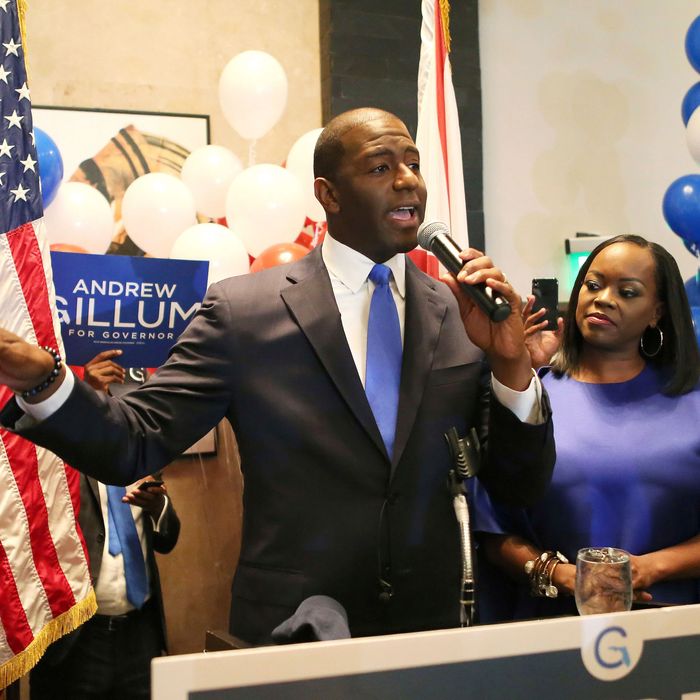 Andrew Gillum's appeal to young and African-American voters helped him spring an upset in Florida's Democratic primary.
Photo: Steve Cannon/AP/REX/Shutterstock
Pollsters did not do very well at all in anticipating Tallahassee mayor Andrew Gillum's victory in this week's Florida Democratic gubernatorial primary. Most public polls had him running fourth.
In a colloquy of polling experts on the problem at Vox, one explanation stood out as being important far beyond the community of public-opinion surveyors. Here's Celinda Lake:
Polls missed youth turnout, and that happened in other races like Alexandria Ocasio-Cortez's. The campaign also targeted campuses that just got back [in session]. Polls missed the enthusiasm and solidification of the African-American vote and the base Andrew had there.
Here's Brandon Finnegan of Decision Desk HQ:
While his better-financed opponents were roaming about the state, Gillum resonated with African-American voters as the first potential black Governor of Florida. He won every county with a significant number of voters and an African-American population that exceeded the national average.




In counties with very large African-American populations, he absolutely destroyed Graham. While all of the Democratic nominees made their rounds with African Americans, the big ones were basically fighting over white and Latino voters, leaving Gillum to dominate among African Americans and pull off the surprise win.
And then there's Patrick Murray of Monmouth University:
 It seems highly likely that the 2018 primary electorate included a large number of voters with a history of only turning out in general elections.
You can't expect a lot of precision two days after a primary election with no exit polling available. But it sure sounds like the experts admitted they were bamboozled by Gillum's ability to mobilize nontraditional midterm voters, especially the rarest — young voters — and in much of the South, the most pivotal — African-Americans.
This is something, of course, that many candidates, especially left-bent Democrats, say they are going to do to compensate for weaknesses among the broad mainstream electorate. And it's famously what Barack Obama did in 2008 — though not quite as successfully in 2012, and not at all as well in the 2010 and 2014 midterms.
But it looks like Gillum may have succeeded, with the help of a well-funded get-out-the-vote apparatus and a sharply partisan message. What makes his candidacy promising is that it seems to have especially attracted the millennial voters who turned out strongly in the 2016 presidential primary for Bernie Sanders, and the African-American voters whose poor turnout in some parts of the country damaged Democrats in the general election. Both these groups (and particularly young voters) do not usually show up proportionately for non-presidential elections.
A combo youth/minority appeal, moreover, could be the secret sauce for Democratic success in a number of sunbelt states (including Georgia, North Carolina, Arizona, Nevada, and Texas), where soon a majority of young voters will be African-American, Latino, or Asian.
But you don't have to look too far down the road to see how a mobilized youth-and-minority vote can make a difference. A new poll of millennial voters by NBC shows nonwhite voters under 34 strongly disposed against the Republican Party but not all that resolved to vote, with less than a third saying they will definitely vote. If candidates like Andrew Gillum (or Georgia's Stacey Abrams, or Texas's Beto O'Rourke) can lift minority/youth voting to parity with older white voters, it could make the difference between breakthrough victories that change the electoral map and another frustrating election night for close races.
Yes, Democrats can make enough gains among college-educated women in suburban swing districts and non-college-educated women in some heartland exurban and rural areas to win back the House this year. But it's mobilizing young and minority voters that may break the mold in the South and Southwest and make Democratic presidential prospects brighter. Gillum and candidates like him bear close watching in November as a sign that the electorate of the future may be very different.