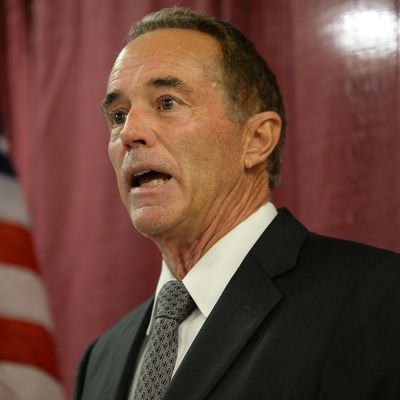 Representative Chris Collins now says his current third term in Congress will be his last.
Photo: John Normile/Getty Images
Chris Collins, the Republican congressman from western New York who was arrested and charged with insider trading on Wednesday, has announced that he will no longer seek reelection this year. Collins said that he made the decision to withdraw from the race "after extensive discussions with my family and friends over the last few days." He will not resign from office, however, insisting that, "I will fill out the remaining few months of my term to assure that our community maintains its vote in Congress to support President Trump's agenda."
Collins, who was the first member of Congress to support Donald Trump's presidential campaign, also implied that he was leaving the race to make sure Democrats would not not able to gain his seat and launch impeachment proceedings against the president. His indictment undoubtedly improved his Democratic challenger's chances this fall, but there was also a pretty good chance Collins would have been able to win a fourth term in Congress despite the indictment since his district, New York's 27th, is the reddest in the state.
Collins is continuing to maintain his innocence despite what appears to be a considerable amount of evidence suggesting otherwise. Federal prosecutors, armed with phone records, text messages, and bank records, allege that Collins used insider information to enable him and his son, Cameron Collins, to avoid $768,000 in losses after the elder Collins learned of a failed FDA trial by a Australian biotech company the two men had heavily invested in. Cameron Collins and his future-father in law, Stephen Zarsky, were also arrested on Wednesday.
Erie County's Republican comptroller, Stefan Mychajliw, quickly announced his intention to run in Collins's place this November (and emphasized his pro-Trump bona fides). The Democratic candidate in the race, Nate McMurray, welcomed a surge of campaign contributions following Collins's arrest — but still faces long odds to win the seat.
This post has been updated to include the news that Stefan Mychajliw intends to run in Collins's place.