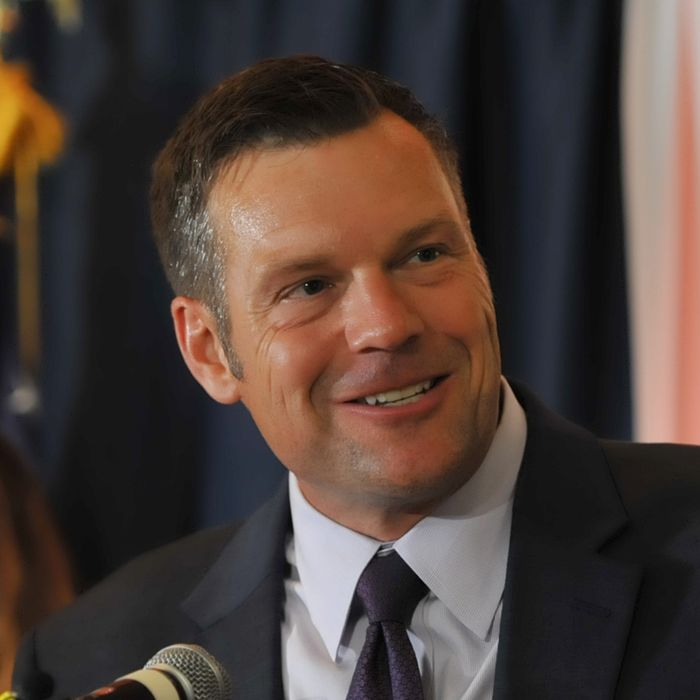 Kris Kobach probably hasn't been this happy since the Kansas legislature passed his last bill restricting voting rights.
Photo: Steve Pope/Getty Images
Ending what many observers expected to be a long, long dispute over the Kansas GOP gubernatorial nomination, perhaps including a recount, incumbent Jeff Colyer abruptly conceded this evening to secretary of state and Trump favorite Kris Kobach.
Kobach led at the end of the regular vote count by a spare 191 votes. Some minor adjustments didn't change a lot, and the major drama was over the conflicts of interest arising from Kobach's role as the state's election chief (he recused himself from the process, but only after issuing some questionable guidance to county officials).
But as provisional ballots rolled in this week, Kobach gradually increased his lead. And what seems to have convinced Colyer to throw in the towel were the final ballots from the state's largest county, and one he carried on Election Day:
So with a booming 345 vote lead (as of this moment), Kris Kobach has become the GOP nominee for governor.
We can expect a gloating tweet from President Trump, who (with some justice) can claim his late endorsement of Kobach put him over the top. But his happiness may be matched by that of Kansas Democrats, who are betting that in the end the voters of their state don't want to return to the nightmarish fiscal policies of former governor Sam Brownback with a big side order of voter suppression and anti-immigrant histrionics.
The Democratic nominee, State Senator Laura Kelly, will remind a lot of voters of former Democratic Governor Kathleen Sebelius, who similarly took advantage of a bout of GOP hyperextremism to offer calm, reasonable leadership to her state. A complication in the race will be self-funding independent candidate Greg Orman, who won over 40 percent of the general-election vote in a Senate race against Pat Roberts in 2014 — after the Democratic candidate withdrew. Maybe Orman will return the favor to Democrats this time around.
In any event, a gubernatorial election involving Kobach will have high dramatics and probably a few moments of low comedy.