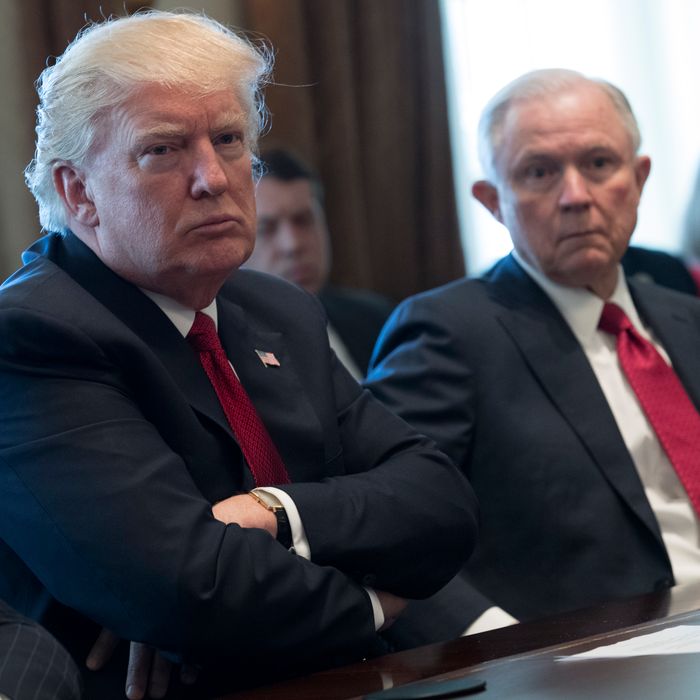 What's the point of having a catchphrase if you can't use it?
Photo: Pool/Getty Images
By recusing himself from the Russia probe, Attorney General Jeff Sessions infuriated his boss, yet paradoxically ensured his longevity in an administration known for its high turnover rate. For months it's seemed that President Trump was resigned to sniping at Sessions, as he did on the second day of Paul Manafort's trial:
But apparently this wasn't just one of Trump's periodic reminders that he really dislikes his attorney general. On Tuesday the Washington Post reported that in recent weeks the president "privately revived the idea of firing him in conversations with his aides and personal lawyers this month, according to three people familiar with the discussions." Plus Jerry Falwell Jr. is said to be urging Trump to finally rid himself of Sessions, saying the attorney general has lost the support of evangelicals.
So why does Sessions still have a job in the Trump administration? Apparently the president's attorneys managed to convince him, once again, that firing Sessions right now would create a political storm he may not be able to weather. The Post reports:
In subsequent talks with his lawyers and advisers, Trump said what he really wanted to do was fire Sessions, the people said.




His attorneys, Rudolph W. Giuliani and Jay Sekulow, advised him that Mueller could interpret such an action as an effort to obstruct justice and thwart the investigation — already a major focus of the inquiry, the people said.
Giuliani confirmed that the topic of Sessions's possible removal has come up in recent days, though he suggested the threat has passed. "If there is any action taken, the president agrees with us that it shouldn't be taken until after the investigation is concluded," he said.
It seems White House aides have accepted the idea that Sessions's firing is a matter of when, not if. Senate Republicans publicly suggested that he won't last long after the midterm elections:
"We wish the best for him, but as any administration would show, Cabinet members seldom last the entire administration, and this is clearly not an exception," Sen. Roy Blunt (R-Mo.) said in an interview Tuesday.




"Nothing lasts forever," Sen. Richard C. Shelby (R-Ala.) told The Washington Post, describing the Trump-Sessions dynamic as "a toxic relationship."




Added Sen. Bob Corker (R-Tenn.), a longtime defender of the attorney general: "My sense is the fix is in."
Senator Lindsey Graham even suggested that it would be best for everyone, including the American people, if Trump and Sessions part ways.
"The president has lost confidence in Jeff Sessions. And I'm telling you what everybody in the country knows, this is a dysfunctional relationship, we need a better one," Graham told NBC News. "We need an attorney general that can work with the president, that can lead the Department of Justice. This relationship is beyond repair, I think."
Graham added, cryptically, that the conflict between the two men is worse (and possibly more scandalous?) than we know:
When asked whether the only problem Trump had with Sessions was his decision to recuse himself from any federal probe into Russian election meddling, Graham replied, "It's much deeper than that."




"It's a pretty deep breach," he said.




When asked later by NBC News what he meant by "deep breach," Graham declined to elaborate.
So can we expect Sessions's dismissal some time after November 6? Perhaps not! The Wall Street Journal notes that while Republicans want to avoid another Saturday Night Massacre ahead of the midterms, they're also worried that if Democrats take the House, they'll try to impeach the president for obstruction of justice.
Plus, any move against Sessions could trigger a series of embarrassing departures:
White House chief of staff John Kelly has made clear he doesn't want to see Mr. Sessions fired, a person close to the White House said. Should Mr. Trump remove the attorney general, it could touch off a wave of resignations in the West Wing, this person said.
And while GOP senators haven't shown much willingness to stand up to Trump, last Thursday several top Republicans suggested they aren't interested in helping him shut down the Mueller probe.
"I find it really difficult to envision any circumstance where I would vote to confirm a successor to Jeff Sessions if he is fired because he's executing his job rather than choosing to act as a partisan hack," Senator Ben Sasse said on the Senate floor.
"We don't have time, nor is there a likely candidate, who could get confirmed, in my view, under these current circumstances," Senator John Cornyn, the number two Senate Republican, told reporters.
The Journal reports that earlier on Thursday, Sasse and Cornyn — along with Senators Thom Tillis, Jerry Moran, and John Kennedy — had breakfast with Sessions, and urged him to resist the pressure to quit.
Sessions is reportedly getting tired of Trump's attacks, but he agreed that he should stay on rather than creating a political firestorm. Plus, he still enjoys being the attorney general, particularly when he leaves the tough parts to his deputy. Per the Journal:



The attorney general especially relishes his trips away from the political cauldron of Washington to visit the local law-enforcement groups that have long supported him, people close to him say. As a result of his recusal, Deputy Attorney General Rod Rosenstein has often been left to deal with some of the most hot-button issues facing the department.
Maybe someday Trump will be able to find a time when causing a constitutional crisis works with everyone's schedule.