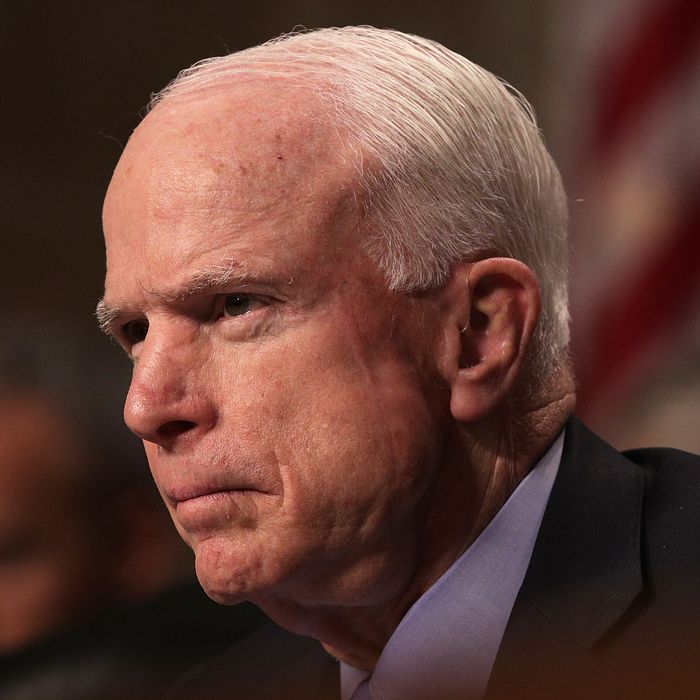 The longtime Senator died on Saturday.
Photo: Alex Wong/Getty Images
Senator John McCain, who died on Saturday at 81, was a complicated man, and a complicated politician. But, though his star may have fallen among Republican voters in recent years, he remained one of the most widely admired public figures in American life — esteemed, among other things, for his charming irascibility, honesty, willingness to buck convention, and civility in a post-civil political world. While President Trump's quasi-tribute to the man was notably chilly — not surprising, given their adversarial relationship, scores of other politicians, colleagues, and journalists paid much more wholehearted tribute to McCain. (In keeping with McCain's complex legacy, there was plenty of dissent, too.) Some of the most notable reactions, below:
President Obama: "John McCain and i were members of different generations, came from completely different backgrounds, and competed at the highest level of politics. But we shared, for all our differences, a fidelity to something higher-the ideals for which generations of Americans and immigrants alike have fought, marched, and sacrificed."
President George W. Bush: "Some lives are so vivid, it is difficult to imagine them ended. Some voices are so vibrant, it is hard to think of them stilled. John McCain was a man of deep conviction and a patriot of the highest order. He was a public servant in the finest traditions of our country. And to me, he was a friend whom I'll deeply miss."
Cindy McCain: "My heart is broken. I am so lucky to have lived the adventure of loving this incredible man for 38 years. He passed the way he lived, on his own terms, surrounded by the people he loved, in the place he loved best."
Meghan McCain: "He was a great fire who burned bright, and we lived in his light and warmth for so very long. We know that his flame lives on, in each of us. The days and years to come will not be the same without my dad – but they will be good days, filled with life and love, because of the example he lived for us."
Mark Salter, who served as a speechwriter for McCain and worked with the senator on his many books: "McCain was a romantic about his causes and a cynic about the world. He had the capacity to be both things and to live with the contradiction. He had seen human beings at their best and worst — often in the same experience. He understood the world as it is with all its corruption and cruelty. But he thought it a moral failure to accept injustice as the inescapable tragedy of our fallen nature."
Sarah Palin, McCain's Vice Presidential pick in 2008: "Today we lost an American original. Sen. John McCain was a maverick and a fighter, never afraid to stand for his beliefs. John never took the easy path in life - and through sacrifice and suffering he inspired others to serve something greater than self."
Senator Lindsey Graham, who was one of McCain's closest friends: "America and Freedom have lost one of her greatest champions … and I've lost one of my dearest friends and mentor."
Former Democratic Senator Russ Feingold, with whom McCain wrote a major campaign-finance law in 2002: "… John would have been a very good president. His fundamental respect for diverging viewpoints, his willingness to befriend people from different parties and philosophies, his intense desire not for political dominance but to get things done, and yes, his sense of humor, would have served our divided nation and fraught world well."
Senate Minority Leader Chuck Schumer: "As you go through life, you meet few truly great people. John McCain was one of them. His dedication to his country and the military were unsurpassed, and maybe most of all, he was a truth teller — never afraid to speak truth to power in an era where that has become all too rare." Schumer also proposed renaming the Russell Senate Office Building after McCain.
Senate Majority Leader Mitch McConnell: "In an era filled with cynicism about national unity and public service, John McCain's life shone as a bright example. He showed us that boundless patriotism and self-sacrifice are not outdated concepts or cliches, but the building blocks of an extraordinary American life."
Vice President Mike Pence: "Karen and I send our deepest condolences to Cindy and the entire McCain family on the passing of Senator John McCain. We honor his lifetime of service to this nation in our military and in public life. His family and friends will be in our prayers. God bless John McCain."
Dan Nowicki, a former Arizona Republic reporter who covered McCain for decades: "A scrappy political pugilist enjoying the fight and taking chances, drawing strength from old comrades from the Hanoi Hilton and energy from town-hall audiences."