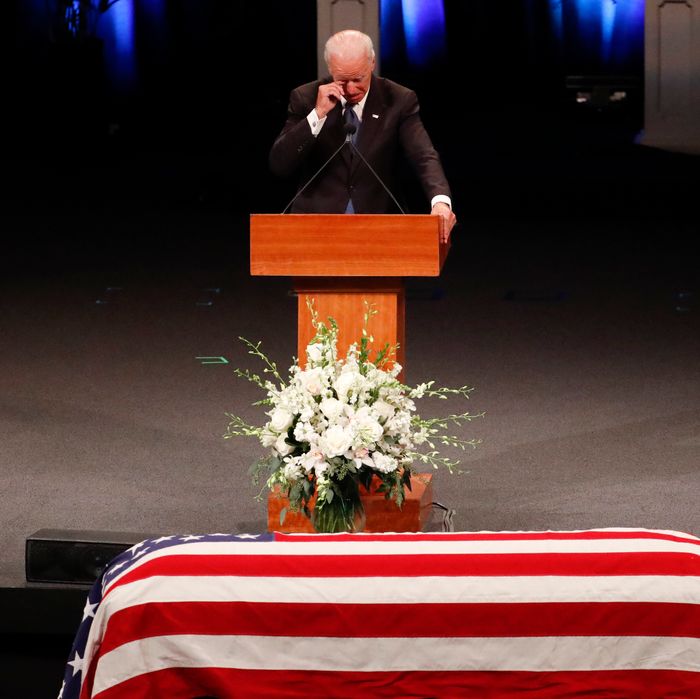 Biden wipes away a tear during his tribute to McCain.
Photo: Matt York/Getty Images
Former vice-president Joe Biden delivered an emotional tribute to John McCain during day two of a five-day celebration of the Arizona senator, who died on Saturday. As he battled brain cancer, McCain laid out meticulous plans for how he wanted to be remembered, down to music selections and how his casket would be moved from ceremonies in Arizona to Washington, D.C.
That included plans to snub President Trump. McCain made it very clear that he did not want Trump at his funeral, and the president is scheduled to be at Camp David as top figures from both parties gather to say good-bye to McCain. His memorial service at the Washington National Cathedral on Saturday is expected to include eulogies from former presidents George W. Bush and Barack Obama. On Sunday, a private memorial and burial will be held at the U.S. Naval Academy.
Here's the latest from the services for McCain.
Friday: Lying in State at the U.S. Capitol
• On Friday McCain's memorial moves to Washington, where he will become the 31st person to lie in state. The tradition goes back to 1852, and the honor has gone to just 11 presidents, 13 senators, and four private citizens, including Rosa Parks and the Reverend Billy Graham. McCain's coffin will be placed in the Rotunda of the U.S. Capitol, on the catafalque that was first used to hold the coffin of President Abraham Lincoln.
• The ceremony will start at 11 a.m., with tributes from Vice-President Mike Pence, Majority Leader Mitch McConnell, and House Speaker Paul Ryan. Then at 2 p.m., members of the public will be invited to process through the Capitol to pay their respects.
Thursday: Joe Biden Delivers Eulogy at Memorial Service in Pheonix
• During his memorial service at the North Phoenix Baptist Church in Phoenix, Arizona, on Wednesday, McCain was remembered for his devotion to the state he adopted as his home after marrying his wife Cindy, his embrace of diversity, and his commitment to U.S. ideals that went beyond party.
There were clear allusions to Trump's divisiveness, though no one uttered his name during the 90-minute service. The most pointed moment came from Grant Woods, the former Arizona attorney general who served as McCain's first congressional chief of staff, who said McCain "would not stand by as people try to trample the Constitution or the Bill of Rights, including the First Amendment."
• Woods spoke of McCain's affection for Arizona, saying he "loved the people, our diversity, our Native American community, our Hispanic culture and he loved the place — in particular the Grand Canyon, the Colorado River." The service included a hymn performed by a Navajo flutist and a performance of the song "Arizona" by a children's choir.
"In Arizona, he was our hero. I think you can see from this outpouring of support and love for John McCain that he was America's hero," Woods said, adding, "If John McCain fell in love with Arizona, Arizona fell in love with John McCain."
• Arizona Cardinals wide receiver Larry Fitzgerald Jr. talked about his unlikely friendship with the senator.
"He was the epitome of toughness and I do everything I can to avoid contact. I have flowing locks, and well, he didn't. How does this unlikely pair become friends? I've asked myself the same question. You know what the answer is? That's just who he is," Fitzgerald said.
"What made Senator McCain so special was that he cared about the substance of my heart" more than all their differences, he said.
• "My name's Joe Biden. I'm a Democrat. And I love John McCain," said the former vice-president, drawing laughs as he kicked off his eulogy. During his 30-minute speech, Biden fondly recalled working with McCain as a young senator, and the bond they forged over the years.
"The way I look at it, the way I thought about it was that I always thought of John as a brother," Biden said. "We had a hell of a lot of family fights. We go back a long way."
In another not-so-veiled reference to Trump, Biden noted that McCain "understood that America was first and foremost an idea, audacious and risky, organized around not tribe but ideals."
But the main focus of Biden's remarks was the pain he felt at losing his friend to the same type of brain cancer that killed Senator Ted Kennedy and Biden's eldest son, Beau.
"I have had the dubious honor of giving some eulogies for fine women and men I've admired," Biden said, before addressing McCain's best friend, Senator Lindsey Graham. "But Lindsey, this one's hard."
Biden told McCain's family that after all their sorrow, eventually the thought of him will mainly bring them joy.
"You know you're going to make it when the image of your dad, your husband, your friend crosses your mind and a smile comes to your lips before a tear to your eye," he said. "I promise you, I give you my word, I promise you, this I know, that day will come."
• While the service started with a performance of "Amazing Grace," it ended with a less traditional selection: "My Way" by Frank Sinatra played as McCain's casket was carried out of the church. McCain's casket was then taken to Phoenix Sky Harbor International Airport and flown to Joint Base Andrews in Maryland.
• Though White House staffers reportedly considered canceling Trump's rally on Thursday night due to memorial services for McCain, he went ahead with a planned event in Evansville, Indiana, in support of GOP Senate candidate Mike Braun. Trump gave his typical rally performance, bestowing a nickname on incumbent Senator Joe Donnelly. "A vote for Mike's opponent, sleepy Joe, is a vote for Chuck Schumer, Nancy Pelosi and who else? Maxine Waters," Trump said.
He also lobbed attacks at NBC, CNN, and the media in general, saying, "These are just dishonest, terrible people."
Trump's allies downplayed complaints that the display was inappropriate, saying Trump's base doesn't care, so it doesn't matter.
"The flags have been lowered to half-staff, he's respecting the requests of the family," former House Speaker Newt Gingrich told Politico. "I don't think anybody in the base notices or cares."
Wednesday: Lying in State in Arizona
• The day started with a private ceremony attended my McCain's family and local politicians at the Arizona state capital building in Phoenix. The senator's wife and his daughter, Meghan McCain, broke down at points next to the senator's casket.
• Despite triple-digit heat, droves of Arizonans turned out on Wednesday to pay their last respects as McCain's body lay in state at the capital building. State officials estimated that 12,000 to 15,000 people came to view McCain's casket. In the evening, McCain's children Sidney, Jimmy, and Jack visited with mourners waiting in line.