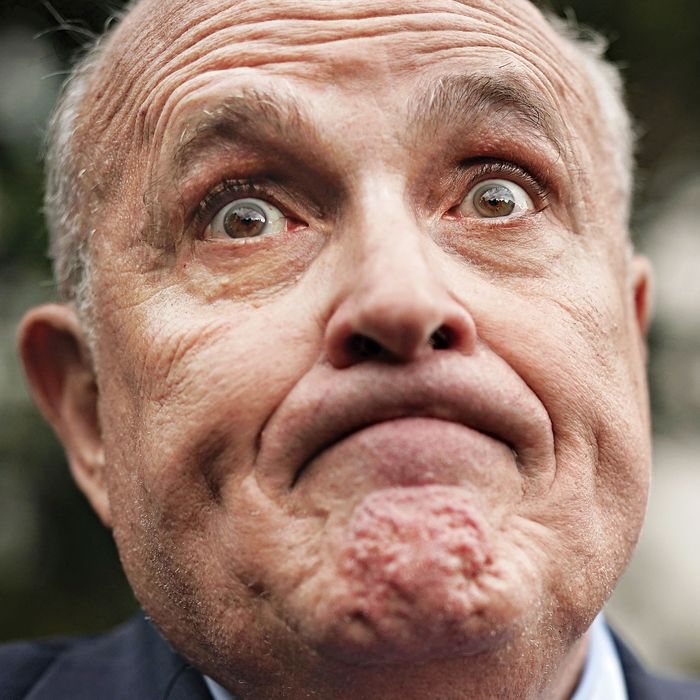 Rudy Giuliani.
Photo: Alex Wong/Getty Images
"The man that he is now is absolutely not the man he was when I married him."
Judith Giuliani is every bit as calm and cool as the empty, deeply air-conditioned Mount Fuji in Southampton where she has opted to meet late on a blistering August afternoon. Her soon-to-be-ex-husband, in commenting on her commenting on his infidelity and mendacity, has told reporters that she is spiteful and full of rage. Many of his associates have told me that she's pretty much Lucifer and Marie Antoinette rolled into one. Sitting here sipping her tea, though, she seems like a pale, petite, pristinely groomed lady with much more story to tell than nerve to tell it. So, as if to get the whole thing over with, she has raced straight to the answer to the big question that is buzzing like a bee around the table as it has been buzzing around New York and, apparently, her life:  What has happened to Rudy?
Somehow, one can't help but sense that that question is all mixed up with the question of what has happened to his marriage. No one is ordering anything to eat, but we are digging into quite some stew.
If you ask Judith to spell out the difference she sees between the Rudy she married and the Rudy she is divorcing, she will contrast his (supposedly) no-nonsense, straight-talking mayoral past with his current, presidential-lawyer habit of "dissembling, to put it kindly."
Perhaps, even now, she is looking back with the half-blind eyes of love. Rudy was never known as the soul of honesty — or, for that matter, sanity. Even as he was building his reputation for saving New York City, he was chewing out reporters, firing spotlight-stealing officials, and manufacturing enemies to vanquish. He was also simultaneously denying and flaunting an extramarital affair with his most powerful aide. Vengeance-as-competence was his signature dish, often served with a heaping side of personal turmoil. Back in the day, though, he always emanated at least some sense of calculation, and in retrospect, that was comforting. In the months since "America's mayor" resurfaced as Donald Trump's lawyer-avenger, he has, in many eyes, evinced a great deal more madness than method. Last week, civic-minded speculation about this became the stuff of headlines in the Times. The sex part had long since hit the tabloids.
"I am not upset about Maria Rosa Ryan," Judith declares, referencing the hospital administrator with whom Rudy was caught spending a night at a New Hampshire hotel in March, an episode exposed in the New York Post. (Rudy claimed that he and Ryan weren't up to anything carnal, just dining and watching The Godfather — which the former mayor is, in fairness, widely believed to consider better than sex.)
Of course, Judith sounded pretty upset when she publicly denounced that explanation in a written statement. "My husband's denial of the affair with the married Mrs. Ryan is as false as his claim that we were separated."
In person, though, she does seem significantly less embittered by Ryan than by the coterie of what she terms "enablers" who've been glued to her husband's side, in one capacity after another, for decades. "They are all on his payroll," she points out, and are thus "afraid to tell him the truth." As Exhibit A, she offers an aide who rose through the Rudy ranks from underling to City Hall chief of staff to big-time lobbyist. "Tony Carbonetti lives on Park Avenue," she avers. "He has a beach house. He has a country house. How could he be expected to criticize?"
As for Ryan, Judith stands by her claim that the affair was an affair before the Giulianis separated, and that she has seen recent cell-phone bills itemizing constant communication between them. Rudy and Ryan, neither of whom returned calls for comment, have seen plenty of each other in person, too: in Israel, France, Washington, D.C., Scotland, where Rudy combined a round of golf with attending a wedding and predicting the revolt of the American masses in the event of a Trump impeachment.
Ryan seems to be a very well-respected figure in the field of rural health care. Her involvement in Iranian-dissident politics, however, is new and strikingly coincident with Rudy's. At the end of June, they both traveled to Paris for the annual conference of Mujahadeen-e-Kak (MEK), an Iranian opposition-in-exile group.
"He had this woman with him, and her daughter and granddaughter," recalls one attendee, still aghast at the revealing attire all three sported at a conservative Muslim event. (Having married as a teenager, Ryan is both about two decades younger than Rudy and a grandmother.) Somehow installed on a preconference panel, Ryan struck this person as generally intelligent, but clueless about foreign policy. Later, at the private dinner hosted by MEK leader Maryam Rajavi, Ryan was no more covered up, but the personal nature of her relationship with the former mayor was more clearly exposed.
Wait, wait: What about Jennifer LeBlanc? Didn't Rudy say, just in mid-June, that he had lately struck up a romance with the 50-something widow who had served as the Louisiana finance chair for his 2008 presidential run?
Judith doesn't buy that one. Indeed, to knowing eyes, that whole courtship looked a little fishy: Rudy squiring LeBlanc on highly public, group outings (to see Camelot at D.C.'s Shakespeare Theatre Company with newlywed son Andrew and his wife; to the White House for the Brett Kavanaugh Supreme Court announcement), proclaiming infatuation all the while. When he endorsed Leblanc's congressional candidate over the Trump-backed incumbent, some media outlets treated it as a valentine to his new crush — an interpretation complicated by LeBlanc's polite denial of the romance. Speculation varies as to whether the LeBlanc feint was to distract attention from Ryan or to goad her to leave her marriage at last. But at no point during Rudy's southern dalliance did his northern one wane.
Judith believes that Rudy's relationship with Ryan is the first time he has cheated on her, and she filed for divorce mere days after it hit the news. Yet, when asked whether the frolicking led to the filing, she says, "Absolutely not."
"It was an ongoing process," she insists, "that began when he lost the presidential campaign." Okay, then: a process of what? Aging, dementia, galloping halitosis; loss of faith, relevance, marbles … what? Maddeningly, she goes mum.
"For a variety of reasons that I know as a spouse and a nurse," she seals it, "he has become a different man."
"Nurse" feels like a clue, as does her repeated use of the word "enablers" to describe his posse. Rumors abound as to his drinking and he denied them.
It's tricky. Even for the individual involved, it's very hard to tell an alcoholic from a problem drinker from someone who's simply going through a patch of overdoing it. There seems little doubt that Rudy has been known to overdo it. "I've seen him drink more in the past two years than I'd seen him drink in the past twenty," a friend of Rudy's told me — adding, however, that he'd put Rudy firmly in column three.
I decide to take the bait.
Last August, while hosting a barbecue with Judith here in the Hamptons, Rudy took a serious fall, necessitating an ambulance, surgery, and months of arduous therapy overseen by his wife whom, he told "Page Six," he had taken to calling "Nurse Nancy." I ask whether that fall involved alcohol. Judith declines to comment.
"John McCain was one of our very closest, dearest friends and one of Rudy's icons," she attests. Judith has refused to say anything about politics, or — much more disappointingly — about Trump. But as the nation leans into the mourning of McCain, she cites Rudy's "perfunctory tweet" about his old buddy as another "I don't know this guy" moment.
Looking through the wreckage of any breakup, one comes across the broken pieces of the original, good parts. In Judith's telling, an Eisenhower-era, mom-and-pop worldview was the fuselage. Both raised in modest Italian-American families, they bonded on "pledging the flag every day, eating dinner with our grandmothers." They bonded, too, in 2000, when Rudy was diagnosed with prostate cancer, and her background as a nurse helped her to help him. Then came 9/11, which she describes in romantic terms: He came every time she called him to counsel a family at the bereavement center. She got him a Cipro prescription in case the white powder falling from the sky turned out to be anthrax and not, as it was, asbestos. A few anecdotes in and you realize: As 9/11 hit, Rudy was just emerging from cancer, and the couple was just emerging from hiding. New York's worst time may have been their best. "I wouldn't let him get out of that truck without a mask," she says, proud to say it still.
Even when they weren't jetting all over the world in a Gulfstream or hanging out in Palm Beach and the Hamptons, theirs sounds to have been a pretty nice life. They went to Yankees games and watched Game of Thrones. She threw the kinds of parties where everybody had to make a gingerbread house; he proffered galant toasts and called her a "kinder, prettier Martha Stewart."
"He really loved me," she says. "He loved showing me off, he respected me." He respected her. She was an executive at Bristol-Myers Squibb, and Rudy treated her as the smart, professional woman she was. He was also very good to her parents. (Judith's friends also describe him as having been an attentive stepfather to her daughter, Whitney, now 30.) In 2008, on respites from the campaign in Florida, he and his late father-in-law would hang out on the balcony of her parents' Palm Beach apartment, Dad smoking cigarettes and Rudy cigars. Her mother, now 87, loved to cook for Rudy.
Some time ago, when it became clear that Judith's mother needed to go to assisted living, Rudy generously agreed to foot the bill for a top-notch facility. Recently, however, his lawyers have informed her that this support is soon to cease. There it is again: "That's not the guy I know."
Don't get Team Rudy started on the Judith they know. "She's a detestable person," offers one associate. "She'd cut your throat for a dollar." "She turned him against his own kids." "You had a whole staff of people who would have been willing to help him cheat on his wife."
First, the story goes, she stalked him and snared him at the Upper East Side cigar bar Club Macanudo. (Judith maintains that she was having a business dinner on the steakhouse side.) Once the mayor was smitten, she slowly inched from being a vaguely detected figure in the back of his limo to an increasingly familiar presence, until, eventually, she became evil incarnate. Judith grubbed for attention and freebies. She latched on to your basic Brooklyn-and-Queens, eye-talian sausage of a guy and practically dragged him to dine at Le Cirque. She habitually, needlessly lied like a rug — probably a Persian one that cost Rudy a fortune. For years, Rudy's speaking-tour contracts, as well as advance word to society hostesses, dictated that the Giulianis be seated directly next to one another — not because the two were crazy in love, but because she was crazy about controlling him.
Judith did, all admit, help Rudy through his cancer. By and large, though, Rudy-world veterans differ only as to whether Judith's irretrievable awfulness became apparent over time or announced itself in a blaze of sirens on day one.
"They did the same thing to Cristyne Lategano," Judith shrugs, referring to efforts of Rudy's aides to demonize the City Hall communications director with whom he famously conducted a long-term affair in the mid-1990s. Today, Judith describes Lategano not only as a "smart, professional woman … no brainless bimbette," but also as a friend. (Lategano, now known by her married name, could not be reached for comment.)
Finally free to return fire on those sniping at her, Judith locks and loads. "A blatant lie," she says of the charge that she caused the since-healed estrangement of the mayor from his children. "Rudy is a pretty tough guy. Can you imagine that anyone would have kept him away if he wanted to see them?"
At the notion that she did not take advice on how best to support his run for president: "They gave me no advice. End of story."
On the oft-told tale of Rudy calling a press conference, in 2000, to tell the world he was leaving his then-wife, Donna Hanover, without first telling Hanover, (who did not respond to calls for comment): "They had had separation papers drawn up," Judith rejoins, one of her only points of total agreement with her Rudy-pal detractors, namely, that the mayor's marriage to wife number two was in ruins long before wife number three came on the scene.
To the accusation that the wedding was held at Gracie Mansion because Judith said that she wanted to "fuck over" Donna for alienating his children, Judith denies ever saying any such thing. "Actually, Rudy insisted on that," she snorts. "Do you think I had the power? I was nobody and nothing."
Maybe not. But whatever she lacked in power then, she stands to gain in money now. Estimates peg Rudy's net worth at around $45 million, and to their infinite chagrin, his enablers cannot enable him now. The president's lawyer doesn't have a prenup.