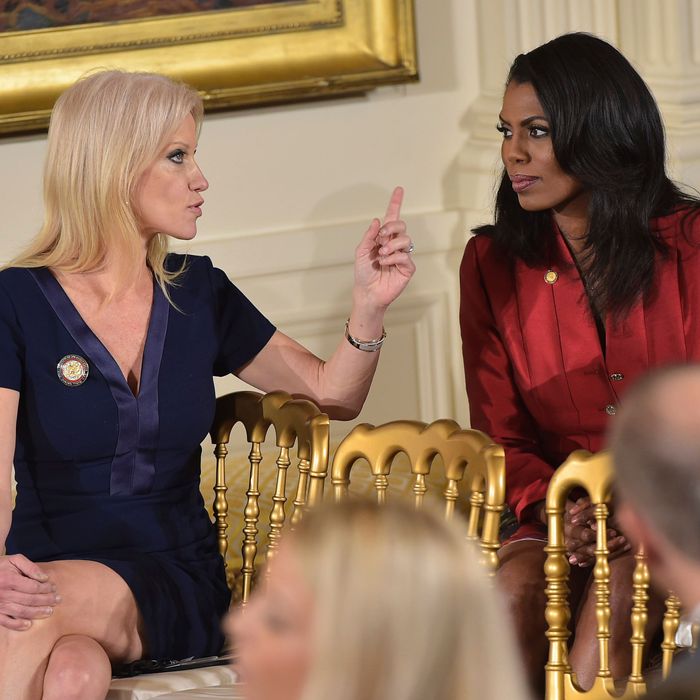 Kellyanne and Omarosa, in less contentious times.
Photo: MANDEL NGAN/AFP/Getty Images
Omarosa Manigault Newman has changed her story on whether she's heard a recording in which President Trump uses the N-word, but one does not need a possibly nonexistent tape to demonstrate that the administration does not have the greatest record on race.
White House counselor Kellyanne Conway provided yet another example on Sunday while discussing Manigault Newman's forthcoming tell-all book on ABC's This Week. Jonathan Karl asked her to name the "most prominent, African-American high-level adviser on the West Wing staff," now that the former Apprentice star has departed.
First Conway went with Ben Carson, but Karl noted that while Trump may occasionally work with his secretary of Housing and Urban Development in the White House, he's not part of the West Wing staff. Pressed for an answer, Conway named "Ja'Ron" who has "been very involved with Jared Kushner and President Trump on prison reform."
Later on the program former White House aide Marc Short revealed that Ja'Ron has a last name: Smith. While he may be doing important work, there's a reason most people haven't heard of him.
Smith works in the Eisenhower Executive Office Building, not the West Wing, and it's unlikely that he's had much interaction with the president. As ThinkProgress explains, the highest rank among White House aides is "assistant to the president." That's the position held by Conway, Chief of Staff John Kelly, National Security Adviser John Bolton, and formerly, Manigault Newman. The rank below that is "deputy assistant to the president," a position held by more than two dozen White House officials. Below deputy assistant is "special assistant to the president," which is where you'll find Smith and about 80 other people on the payroll, such as the president's social secretary, the associate director of the personnel office, and the executive assistant to the chief of staff.
Conway brushed off the implications of Karl's question, saying diversity within Trump's White House shouldn't matter because the president is doing great things for all Americans.
"There are plenty of people — if you're going by that and not by the actions of the president, which you probably should, then you should look at the fact that we have a number of different minorities," she said. "And the fact is that this president is doing well for all Americans."
It is, of course, true that there are "a number of different minorities" working in the Trump administration, but the numbers aren't all that impressive. The New York Times found that Trump's Cabinet is the whitest and most male since the Reagan administration. There has been no black senior adviser in a public-facing White House role since Manigault Newman's departure.
"There is no comparison. Black diversity in the White House is almost oxymoronic at this point," former Republican National Committee Michael Steele, who was the first African-American to serve in that role, told the Guardian.
"It's not for a lack of names or people who qualify … This continued pretense that it's so hard to find [people of color] to do the job is just ridiculous at this point."