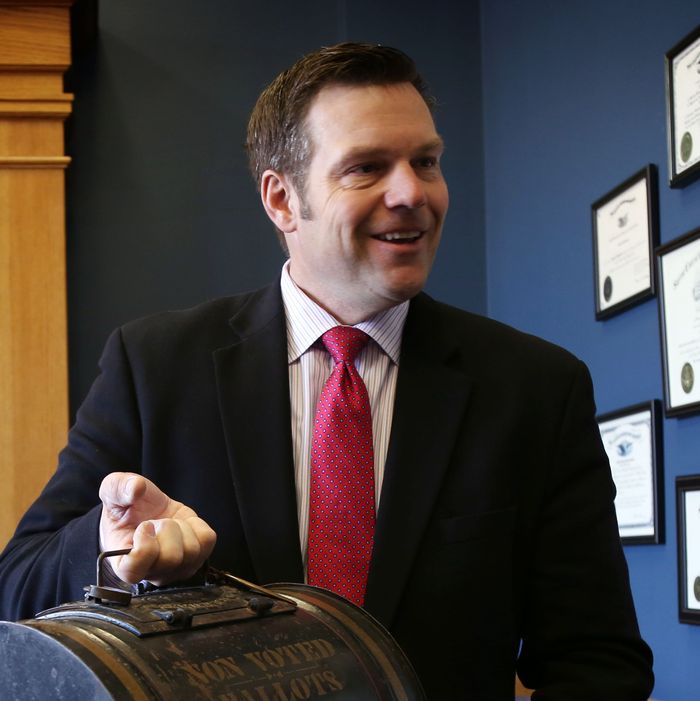 If the state had let Kobach use his ballot box from the 1890s, none of this would be happening.
Photo: The Washington Post/The Washington Post/Getty Images
Kansas secretary of State Kris Kobach said on Wednesday that he had no plans to recuse himself from a potential recount in the state's GOP Republican primary, though Kobach himself was just 191 votes ahead of incumbent governor Jeff Colyer. There's no law requiring him to do so, and Kobach — a voter-fraud crusader — suggested he'd merely be coordinating recount efforts at the county level.
He reversed his position on Thursday, hours after it was revealed that a typo had inflated his unofficial lead by 100 points. Thomas County clerk Shelly Harms said her office reported that Colyer got 522 votes, but for some reason the secretary of State's website listed his total as 422. CNN explains:
Harms shared with CNN the document she faxed the Secretary of State's office on election night listing Colyer's total as 522. She said she hadn't had time to inform the Secretary of State's office that its unofficial result total was inaccurate.




Reports of discrepancies between the listed vote totals in the race from Wyandotte and Haskell counties also came in on Thursday. As of Thursday evening, the county sites showed slightly different results from the Secretary of State's corresponding results for each county. CNN reached out to both the Secretary of State's office and the counties to confirm that their websites' unofficial totals reflect a discrepancy and to see how it would be resolved. Those offices did not respond to CNN's request for comment
Colyer had issued a public letter calling on Kobach to recuse himself, citing these discrepancies.
"It has come to my attention that your office is giving advice to county election officials — as recently as a conference call yesterday — and you are making public statements on national television which are inconsistent with Kansas law and may serve to suppress the vote in the ongoing Kansas primary election process," Colyer said. "Accordingly, I hereby request that you recuse yourself from rendering further advice in these matters and that you designate the Attorney General of Kansas to provide this function."
On CNN's Cuomo Prime Time, Kobach said he'd recuse himself, though he suggested his opponent is being a bit ridiculous. "There's really no point to it, but I said if my opponent wishes me to, I'd be happy to," Kobach said. "But it's purely symbolic. I don't think he understands the process."
Kobach said he would formally respond to Colyer's request on Friday, the same day the results from mail-in ballots will be reported. Next week county election workers will begin examining thousands of provisional ballots and deciding whether they should be counted.
It seems likely that the second-place challenger will request a recount, which he will have to pay for. Now that Kobach has recused himself, he won't be setting the fee.