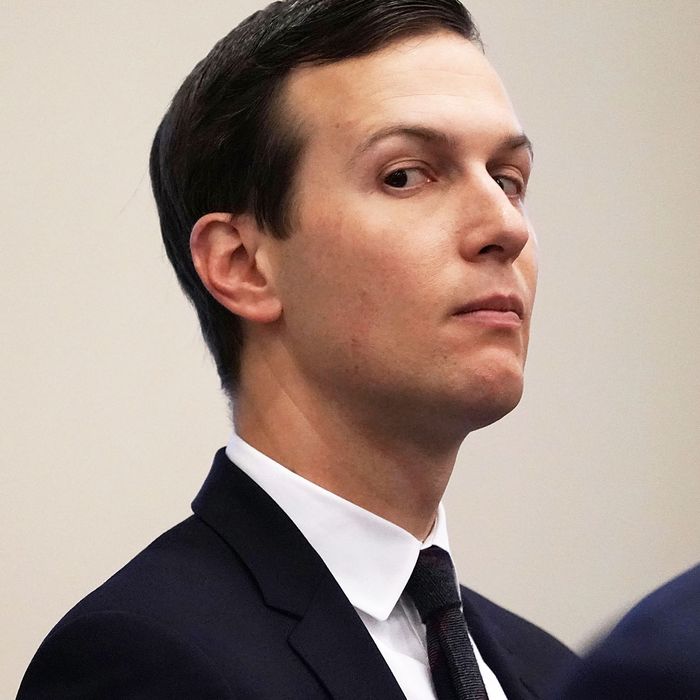 Why else would one own a newspaper?
Photo: Alex Wong/Getty Images
Last week Ivanka Trump became the closest thing the Trump administration has to a defender of press freedoms when she said that unlike her father, she does not think the press is the "enemy of the people."
But despite what the many sympathetic profiles might lead one to believe, Javanka hasn't been a great friend to journalists. BuzzFeed reported on Monday that when he owned the New York Observer, Jared Kushner went around the paper's editorial leaders to delete several stories that were unflattering to his friends and business associates.
Writing on the Hacker News forum, Austin Smith, who previously led the tech team at the newspaper, said Kushner personally ordered him to delete several published stories, and he complied. Per BuzzFeed News:
Kushner requested the removal of a 2010 story about a settlement between then-New York attorney general Andrew Cuomo and real estate firm Vantage Properties regarding allegations that the company had illegally forced tenants out of their apartments to raise rents. Kushner also ordered another 2010 article deleted about Vantage's top executive Neil Rubler. That story's URL suggests that Rubler had appeared on some sort of "10 worst landlords" list.
Smith said he also deleted a seemingly innocuous story about NBA Commissioner Adam Silver, who is friends with Kushner, buying a New York apartment.
"That Kushner, a newspaper owner of all people, would participate in an administration that labels news media the enemy of the people, is an affront to the very notion of the freedom of the press and an utter betrayal of those who worked hard and in good faith for him at the Observer," Smith told BuzzFeed News.
Smith also posted several tweets apologizing for doing Kushner's bidding:
Former Observer editor Elizabeth Spiers said she was unaware of what Kushner was doing at the time.
"If I had known about it, Jared and I would have had a big problem," she said. "Jared's such a coward. Went directly to Austin because he knew I wouldn't do it."
She added on Twitter:
Kushner stepped down as the Observer's editor and publisher when he took a job as a White House adviser, but the paper is still owned by his family trust.