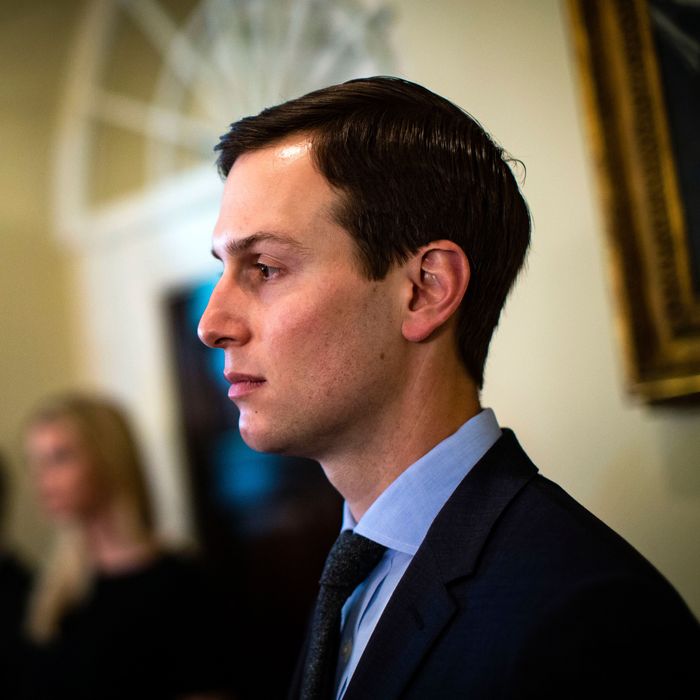 America's worst landlord?
Photo: Al Drago - Pool/Getty Images
New York City regulators hit the Kushner family real-estate company with a $210,000 fine this week, after finding that the firm routinely falsified construction applications. Specifically, the company regularly claimed that it had no rent-regulated tenants in apartment buildings that were actually home to hundreds.
To understand why Jared Kushner & Co. would do this, consider the following four-step formula for making extremely profitable — and grotesquely unethical — real-estate investments in New York City:
1) Find an apartment building with a lot of rent-regulated tenants in a gentrifying neighborhood.
2) Offer to buy said building at a discounted price (i.e. one reflecting the burden of inheriting tenants who pay well below market rate).
3) Begin endless, extremely noisy construction on said buildings — while doing some minor (but deliberate) damage to the existing structure — until the rent-regulated tenants decide to move out.
4) Replace them with market-rate tenants, and resell the building at a huge profit.
This scheme is so popular in the Big Apple, construction-permit applications require developers to disclose the number of rent-controlled tenants who live in the buildings they're looking to do work on. If that number is higher than zero, then the city could subject a developer's construction crew to strict oversight, including unscheduled "sweeps" to check for any signs that tenants are being harassed.
But when Kushner Companies bought three apartment buildings in Astoria in 2015 (when presidential adviser Jared Kushner was still CEO), the company decided that it did not want such oversight. So, instead of disclosing the 94 rent-regulated units in those buildings, the company claimed that there were actually zero such units, according to an investigation by the Associated Press.
One year after the Kushners took possession of the building, the number of rent-regulated tenants had fallen to 25. A year after that, the Kushners resold all three buildings for $60 million — or nearly 50 percent more than they had purchased them for.
But now, New York City's regulators have shown that fraud and (alleged) tenant harassment don't pay: After this week's fine, the Kushners will have effectively sold the buildings for a mere $59,790,000 (or nearly 50 percent more than they had purchased them for).