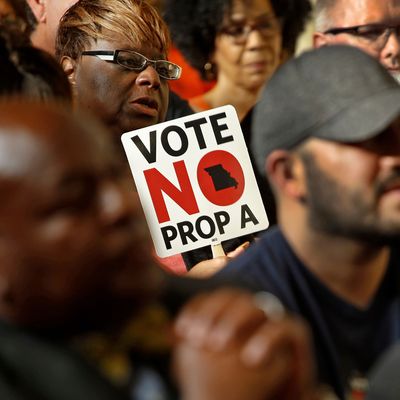 Unions are working hard to kill Missouri's proposed "right-to-work" law.
Photo: Charlie Riedel/AP/REX/Shutterstock
These are tough times for America's labor movement. The unionized portion of the workforce has been dropping steadily for decades — down to about 10 percent in 2017, about half the percentage in 1983, and less than a third of the share it claimed in the 1950s. Politically, labor has suffered as much as any Democratic constituency from GOP dominance in both federal and state governments. They are perhaps particularly aggrieved by the presidency of Donald Trump, who manages to appeal to some working-class voters while pursuing a relentlessly plutocratic agenda. And Trump's first Supreme Court justice helped produce this year's disastrous Janus v. AFSCME decision, which regardless of state laws will prevent public-sector unions — the big bright spot in union membership — from collecting fees for representing nonmembers in negotiating wages and benefits.
In effect, Janus imposes "right-to-work" rules on all government employees, reflecting those state laws that ban any employers and unions from negotiating "union shop" contracts where some form of membership — or dues-paying — is required of all union beneficiaries. Up until now 27 states have imposed "right-to-work" laws affecting private- as well as public-sector workers. Last year, after Republicans gained their first "trifecta" control of state government in years, Missouri moved to become the 28th right-to-work state. But then union activists successfully circulated a petition to make implementation of the law contingent on approval of a state ballot initiative, and the battle was on. Then Republicans counter-mobilized to move the ballot initiative from the relatively high-turnout general election in November to the August 7 primary, probably figuring they had pulled off a definitive coup.
It's unclear how the vote will go. But without question, unions in and beyond Missouri have made this a gut check, and have done about everything they can to make this a Waterloo for the rampaging anti-labor GOP. As The Wall Street Journal (probably unhappily) reports, the drive to defeat Proposition A (implementing the right-to-work law) has outspent and out-organized its opponents:
Labor groups collected more than 300,000 signatures to put the issue on the ballot, more than the 120,000 required. AFL-CIO President Richard Trumka said unions knocked on more than half a million doors to persuade voters to undo the law …




A union-backed group in the state has spent $15.2 million ahead of Tuesday's vote to undo the law passed by the Republican-led legislature in 2017, according to the latest filings with the Missouri Ethics Commission. That is nearly five times the $3.2 million spent by two groups that support the law, which allows private-sector workers to opt out of paying union dues or fees.
The talk among union folk in Missouri is upbeat, and the national implications are lost on no one, as the Associated Press notes:
"The timing of this is essential. I think everyone wants to write the labor movement's obituary," national AFL-CIO secretary-treasurer Liz Shuler said. But "it's going to energize and activate us and show that we fight back."
As the Journal observed, if unions succeed in Missouri, it would be the first time voters reversed a right-to-work law, and in fact, just the second time a state revoked such a law. The first, Indiana, repealed its law in 1965 — but then eventually reimposed it in 2012. So the "No on Prop A" campaign is fighting a lot of adverse history. But at this point, the labor movement has little to lose but another battle in a long war for survival.