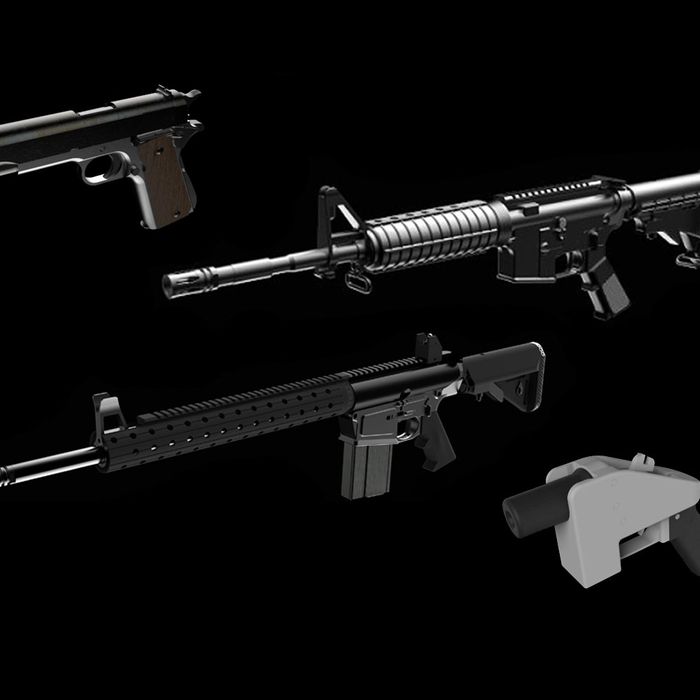 Today was supposed to mark the moment America officially entered the age of the downloadable gun.
Until a last-minute block by a Washington State federal judge last night, Austin-based 3-D-printable firearm manufacturer Defense Distributed was set to legally post blueprints for 3-D-printed firearms and parts on its website. Those include digital downloads of parts for a Beretta M1911 a Ruger 10/22, and yes, even an AR-15.
Ultimately, U.S. District Court Judge Robert S. Lasnik found that the lawyer bringing the suit against Defense Distributed had established "a likelihood of irreparable harm." A follow-up hearing in Seattle is slated for August 10.
Lasnik's ruling was the culmination of several days of heated debate across the country over printable firearm technology. On Monday, 21 state attorneys general sent a letter to Secretary of State Mike Pompeo and Attorney General Jeff Sessions, urging them to withdraw an earlier federal settlement with Defense Distributed that had opened up the possibility of selling gun blueprints. In the letter, they noted the key concerns surrounding the technology: untraceability, the bypassing of federal background checks, an ability to undermine basic security like metal detectors (3-D-printed guns can be made completely out of plastic), and ease of access for those looking to deal death.
"In addition to helping arm terrorists and transnational criminals, the settlement and proposed rules would provide another path to gun ownership for people who are prohibited by federal and state law from possessing firearms," the letter reads. "Illegal trafficking of these guns across state and national borders could also increase, and self-made, unregistered, and untraceable firearms could easily wind up in the hands of (or simply be produced directly by) dangerous individuals."
Even President Trump, whose campaign thrived off of anti-gun-control rhetoric and NRA funding, signaled uncertainty over 3-D-printed firearms this week. "I am looking into 3-D Plastic Guns being sold to the public." Trump tweeted. "Already spoke to the NRA, doesn't seem to make much sense!"
The NRA did not respond to Select All's request for comment when asked to clarify its position on 3-D-printed technology.
Defense Distributed founder Cody Wilson pushed back via a series of Tweets on Tuesday against the multiple state attempts to block the blueprints. Several hours after the ruling, however, Wilson posted one final, defeated post.
"By order of a federal judge in the Western District of Washington, DEFCAD.com is going dark," Wilson Tweeted.
DEFCAD.com, the website Defense Distributed expected to use to share its blueprints no longer listed firearm blueprints. Instead, visitors to the site see this text:
"This site, after legally committing its files to the public domain through a license from the U.S. Department of State, has been ordered shut down by a federal judge in the Western District of Washington."
Though the block, however short-term, represents a significant win for gun-control advocates, you shouldn't expect the prospect of 3-D-printed firearms to go away anytime soon. According to CNN, over 1,000 people already had access to the blueprints as of Monday. Select All also found several Reddit forums distributing some of Defense Distributed's firearm blueprints through mirrored links. The block means that the distribution of these links are indeed illegal, but as Motherboard writes, the recent headline-grabbing debate over the technology means the demand for 3-D-printed firearms are at an all-time high. Besides, when has the threat of illegality ever stopped products from reaching the internet?
How Did We Get Here?
This new domain of silicon weaponry owes its moment to a lawsuit filed by Defense Distributed against the State Department three years ago, which also centered around the dissemination of blueprints on its site. The Obama-administration State Department demanded that Defense Distributed remove the gun blueprints from its website, accusing the company of violating the International Trade in Arms Regulations, which prevents the distribution of firearms and military equipment across borders. (Since the company posted these blueprints online, anyone around the world with an internet connection, a 3-D printer, and a firearms fetish could theoretically print out a gun.)
The company's suit, which was settled last month, centered around the argument that forcing the company to remove the code for the blueprints was a violation of the First Amendment guarantees for freedom of speech. While relying on a free-speech claim for near-unfettered distribution of weapons may seem like a stretch, the argument was enough to convince the government, and has the support of digital-free-speech heavyweights like the Electronic Frontier Foundation. The EFF, which focuses on digital rights and free speech and often supports traditionally liberal causes, backed Wilson's case in a 2015 amicus brief.
In an email to Select All, EFF staff attorney Kit Walsh said that despite the amounting backlash over Wilson and Defense Distributed, they still stand by their decision and ultimate argument prioritizing free speech. "We still believe that it wasn't appropriate for the government to restrict online speech under a regime that had no objective legal standards, no judicial oversight and no deadlines for a decision," Walsh said. "Even if you dislike Defense Distributed's publication of weapons designs, the system in place had severe constitutional problems."
The freedom-of-speech arguments offered by the EFF and other Defense Distributed defenders are compelling. Compelling enough, in fact, that in his ruling yesterday, Lasnik made it a point to acknowledge that there were "serious First Amendment issues."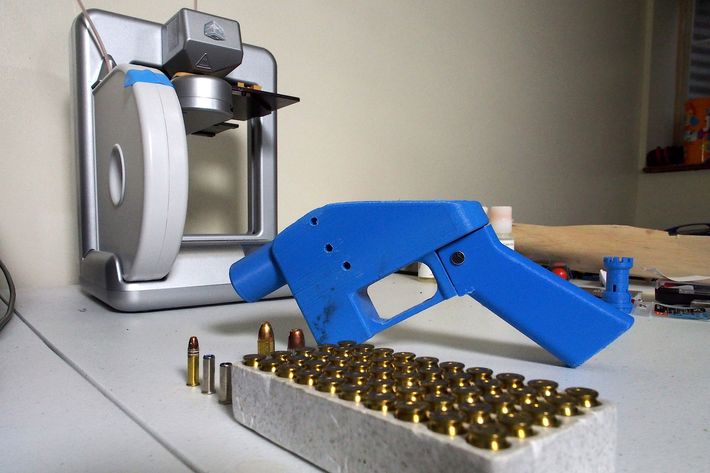 Ultimately, Wilson, Defense Distributed's 30-year-old founder and self proclaimed "crypto anarchist," opened what Wired called a "Pandora's box" of do-it-yourself firearms when he pulled the trigger on his first printed handgun five years ago. "The Liberator," as its called, broke often, could only fire a single round, and appeared to more closely resemble an ill-crafted kids' Super Soaker than the menacing armada of precision tactical weapons you might imagine in a sci-fi novel.
Since then, though, copycat makers around the globe have evolved Wilson's design, first with an all-metal 3-D-printed handgun, followed by several plastic variants capable of firing multiple rounds without fracturing. Initially, the radical libertarian pipe dream of completely independent, totally unregulated firearms was just that, due to the limited access and exorbitant price tag entwined with 3-D printing.
Those barriers are shrinking. With each subsequent minor advancement in 3-D-printed firearms, the accessibility of 3-D printers has expanded, and the costs continue to decline. Now, in 2018, anyone with a decent printer and moderate tech wherewithal can potentially download and manufacture untraceable, unregistered AR-15 lower receivers, and fully printed semi-automatic plastic handguns and firearms capable of evading detection and usurping metal detectors.
For his part, Wilson has reportedly reaped millions from Ghost Gunner — a computer-assisted gun mill that allows owners to carve blueprinted weapons out of stronger material like aluminum — but he insists that he's not motivated by money. Instead, his libertarian position follows a not-uncommon theme among radical tech disruptors and hackers: Information wants to be free.