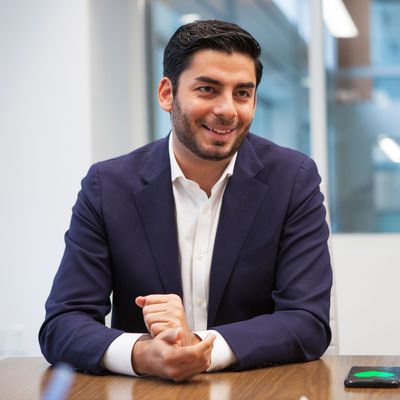 Ammar Campa-Najjar has a heaven-sent opportunity for an upset win over indicted Duncan Hunter. But Republicans may use his family heritage against him.
Photo: Congressional Quarterly/CQ-Roll Call,Inc.
The indictment on federal corruption charges of U.S. Representative Duncan Hunter and his wife has created an unexpected California opportunity for Democrats seeking to regain control of the U.S. House. Before the indictment Hunter's race in the San Diego County–based 50th district was rated as "Solid Republican" by the authoritative Cook Political Report. Cook has now reclassified it as "Lean Republican," while noting the odds have "the potential to move further." Away from Hunter, that is.
The specific beneficiary of this bad news for Hunter is his Democratic general election opponent Ammar Campa-Najjar, an under-30 former Obama staffer who's been running a left-bent campaign (he was endorsed by the Sanders-created Our Revolution group and the Justice Democrats) with a lot of Bernie-esque progressive energy and very successful fundraising despite a refusal to accept corporate donations. Campa-Najjar has already beaten the odds usually facing a first-time candidate, winning local and state Democratic Party endorsements despite the clear preference of national party officials (including House Majority Whip Steny Hoyer, and the congressman from another San Diego district, Scott Peters) for another Democrat, former Navy SEAL Josh Butner. Here's how one friendly publication describes Campa-Najjar's appeal:
Campa-Najjar has an atypical background for a candidate for Congress, to say the least. The son of a Mexican-American mother and Palestinian-American father, he spent three years of his childhood living in the Gaza Strip. He did janitorial work to help the family as a teenager. "My mom kinda raised me by herself, for most of my life," Campa-Najjar told The Intercept in May. "And she couldn't afford a home — single, working-class mom, working as a receptionist at a doctor's office, not making too much. So we moved in with my aunt, and then we lived with my grandfather, my mom's father." Campa-Najjar later went on to work in politics and government, with jobs with the 2012 Obama re-election campaign, the U.S. Hispanic Chamber of Commerce, the White House, and the Department of Labor.
Campa-Najjar's ability to turn his own story into an upbeat, inclusive message was illustrated by an op-ed he published in the Washington Post immediately after Trump's election as president:
After not being considered Arab enough in Gaza, Latino enough for the barrio, or American enough in my own country, after so many shut doors, the door to all others finally opened. On that day, in those hallowed halls, I cried. The pain was given purpose: to live to tell you this story and to give others hope ….




[E]ven in our darkest hours as a nation, don't let anyone tell you our differences are too vast to bridge, or that your individual struggles are too hard to overcome. Chase the American Dream, have faith in the alchemy of America, turn your pain into purpose and begin writing your own ultimate comeback story.
But there was another obstacle he had to overcome before arriving at his current supreme opportunity. In February the Israeli newspaper Haaretz disclosed that Campa-Naijar's paternal grandfather was one of the perpetrators of the infamous Black September massacre of Israeli atheletes at the 1972 Olympic Games in Munich.
Haaretz gave Campa-Naijjar the opportunity to make his own position on his family legacy clear:
Campa-Najjar doesn't defend the actions of his grandfather, calling them "horrific. Innocent civilians were murdered. There is never justification for killing innocent civilians." His thinking is also different from that of his father, whom, according to a 1996 Washington Post article, was proud of Yusuf al-Najjar and refused "to accept that killing athletes was more repugnant than the violence of Israeli occupation over the years."




According to Campa-Najjar, "I'm against 'comparisonism' — competing who suffered more. Too many people have been killed. What my grandfather did was inexcusable. The goal is for our generation to be better than our predecessors, and find a way to end this conflict."
After the Haaretz piece appeared, Campa-Najjar was quickly defended by local rabbis in San Diego, and the controversy, such as it was, blew over. He went on to edge Butner in the June 5 primary and was given the added validation of an endorsement from his former boss Barack Obama.
But now with Hunter's indictment Campa-Najjar's campaign will come under a brighter and harsher spotlight. California's 50th is a district Republicans just can't afford to lose: Donald Trump carried it by a 55/39 margin in 2016. The same year Hunter was reelected with 64 percent of the vote even though he was already under investigation by the Federal Election Commission for illegal personal use of campaign funds.
You have to figure Republicans are going to be tempted to bring Campa-Najjar's grandfather up again, if only to distract from continued publicity over the abundant examples of Hunter's almost comically inept financial shenanigans contained in the federal indictment.
No fair-minded person could possibly blame Campa-Najjar for his grandfather's sins, aside from the fact that he has repeatedly denounced them. He was born in California in 1989, 16 years after Yusuf al-Najjar and his wife were assassinated by an Israeli commando team in a reprisal for the Munich massacre. No one has a shred of evidence linking Campa-Najjar to Palestinian terrorism other than the accident of his birth.
Campa-Najjar's inspiring story may not inhibit a desperate incumbent congressman or a GOP frantic to maintain its hold on Congress. If falsely labeling him a "socialist" (he rejects the label) or simply stressing his decidedly non-Anglo-Saxon background doesn't work, get ready for some serious demagoguery in the 50th Congressional District of California.