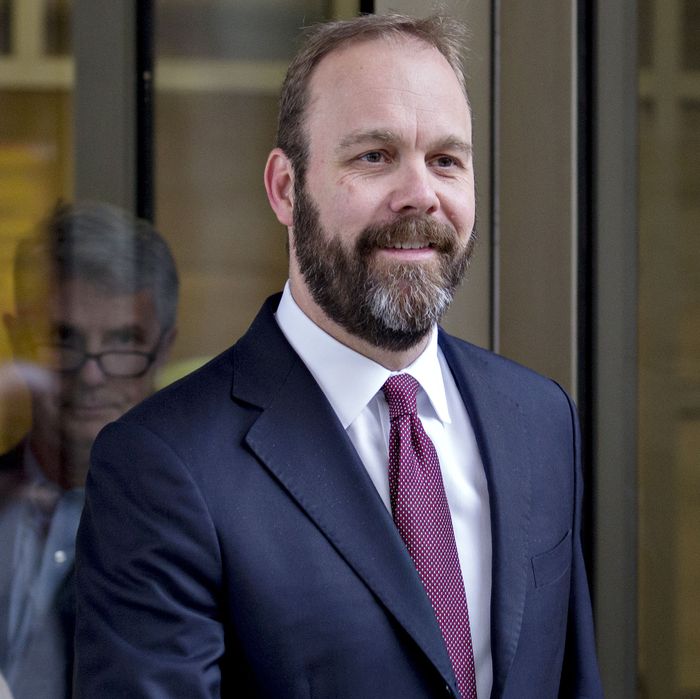 Rick Gates had a lot of affairs.
Photo: Andrew Harrer/Bloomberg via Getty Images
The testimony of Rick Gates, Paul Manafort's longtime deputy and the star witness in the government's bank-fraud and tax-evasion case against the former Trump campaign manager, came to a dramatic end Wednesday with defense attorneys accusing him of lying about the number of extramarital affairs he's had.
The accusation came after Manafort's lawyer, Kevin Downing, established that Gates knew his plea deal with Special Counsel Robert Mueller was contingent on his telling the truth. Then he suggested that Gates had not been honest.
"Do you remember telling the office of the special counsel you actually engaged in four extramarital affairs?" Downing asking, drawing an immediate objection from Greg Andres, the special counsel's lead prosecutor. Downing said that the question, which came one day after Gates admitted to having a single affair ten years ago, was relevant because it could prove that Gates had lied to investigators. That, Downing said, would invalidate his plea deal.
Before Gates could respond to the question or Downing could provide evidence that Gates lied about the alleged affairs, Judge T.S. Ellis III forced the lawyer to change directions.
Wednesday's drama comes after Gates spent large chunks of Monday and Tuesday on the stand detailing a long list of crimes he and Manafort committed, sometimes together, sometimes separately. He admitted to committing fraud on a massive scale and extorting money from Manafort, along with assisting his former boss in filing false tax returns and bank fraud. So frequent were Gates's crimes that he could not answer definitively when asked if he had stolen money from the Trump inauguration committee, for which he served as deputy chairman. It's "possible," he said. Then there was the affair, repeatedly referred to as his "secret life," that he said took place for five months in London.
Emphasizing Gates's infidelity is a part of the defense's attempt to puncture his credibility and call into question the crimes he's accusing Manafort of committing. On Tuesday, Downing straight out asked Gates: "After all the lies you've told and fraud you've committed, you expect this jury to believe you?"
"Yes, I made a decision," Gates said. "I'm here to tell the truth."
Later Wednesday, an FBI witness told jurors that Manafort collected more than $65 million in foreign accounts for his political work in the Ukraine between 2010 and 2014. He spent $15 million of it on gaudy clothes and other luxuries, the witness said.
Prosecutors also called an expert IRS agent to lay out in clear terms the financial crimes Manafort is accused of committing. The Washington Post has a run down of what he said:
Welch said Manafort received about $15.5 million from Ukraine which he then paid directly to vendors, and which he did not report or pay taxes on. The money never entered Manafort's business or personal accounts in the United States, Welch said. Manafort also falsely classified another $1.5 million in income as a loan, Welch testified.
Prosecutors ended the day by saying they have eight witnesses left to call and expect to rest their case on Friday.