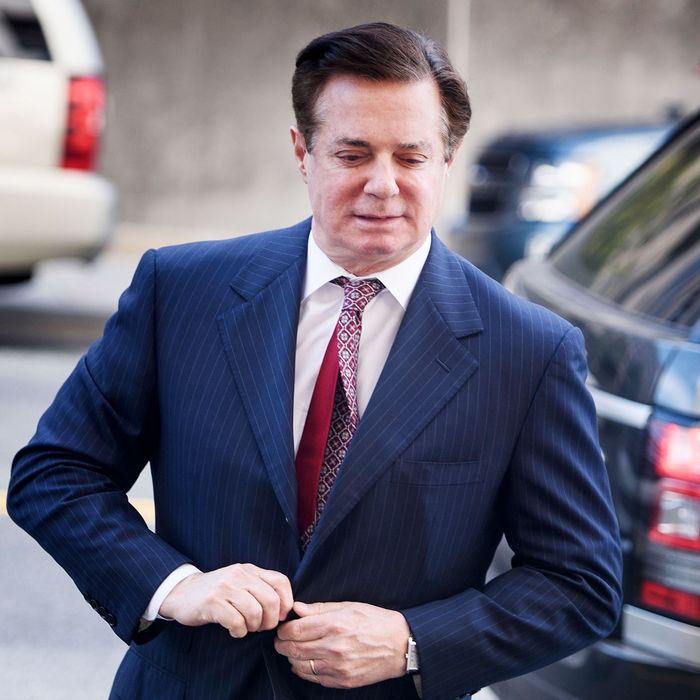 Case clothesed.
Photo: Brendan Smialowski/AFP/Getty Images
Paul Manafort's elaborate suit collection was the subject of much discussion in a Virginia courtroom Wednesday, as his trial for bank fraud and tax-evasion charges entered its second day.
In an attempt to illustrate for jurors the lavish lifestyle Manafort led while working as a consultant for pro-Russian politicians in Ukraine, prosecutors produced volumes of invoices showing his regular purchases of pricey menswear. But when they tried to submit into evidence photos of the suits, U.S. District Judge T.S. Ellis III reprimanded them.
"The government doesn't want to prosecute someone for wearing nice clothes," he said at one point, pushing the prosecutors to move on.
But the lawyers from Robert Mueller's team insisted that the suits were an important illustration of Manafort's wealth at a time when he wasn't paying his share of taxes. Manafort spent $1.26 million on clothes at two high-end fashion shops, prosecutors showed.
Manhattan's Alan Couture was the beneficiary of much of Manafort's spending. Maximillian Katzman, whose father founded the shop, said that Donald Trump's former campaign manager was one of the store's top-five customers. Manafort, he said, always paid via wire transfer from banks in Cyprus, which is where prosecutors say Manafort hid loads of cash he made in Ukraine. He also allegedly hid that income from the U.S. government.
Ronald Wall, the CFO of House of Bijan in Beverly Hills, also took the stand. Manafort was a "very good customer" at the high-end clothing shop that calls itself "the world's most expensive store," he said. Wall also testified that Manafort paid via wire transfer.
As the afternoon wore on, an exasperated Ellis reminded prosecutors, who also called to the stand an employee of a Mercedes dealership where Manafort bought a car, that they were not there to prove he spent wildly. "You have to prove beyond a reasonable doubt that he signed tax documents to show he knowingly didn't represent his true income," Ellis said.
The judge's testiness also revealed itself when he complained about the unpronounceable names on the suits Manafort wore, saying, "If it doesn't say 'Men's Wearhouse,' I don't know it." Ellis also reprimanded attorneys for rollings their eyes at him — as if they're thinking "Why do we have to put up with this idiot judge?" Ellis said.
Day three of Manafort's trial will see the testimony of two more vendors and Manafort's bookkeepers and tax accountants.