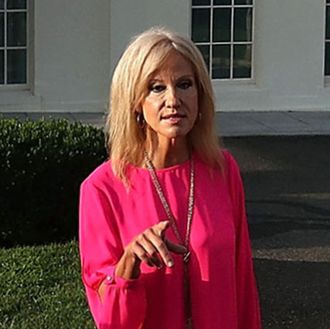 Kellyanne Conway.
Photo: Mark Wilson/Getty Images
Kellyanne Conway's job is to defend the indefensible. The counselor to the president employs a number of evasions for this purpose — most famously, her trick of pretending to answer a question by repeating a word in the question while changing the subject. Today, in response to questions about Trump's latest violation of governing norms, denying a security clearance to the former CIA director, Conway snapped at reporters that people are unduly obsessed with Trump:
People are just obsessed with Donald Trump just because he's the most powerful person in the world and does almost nothing to conceal his sociopathic narcissism. It's so weird!