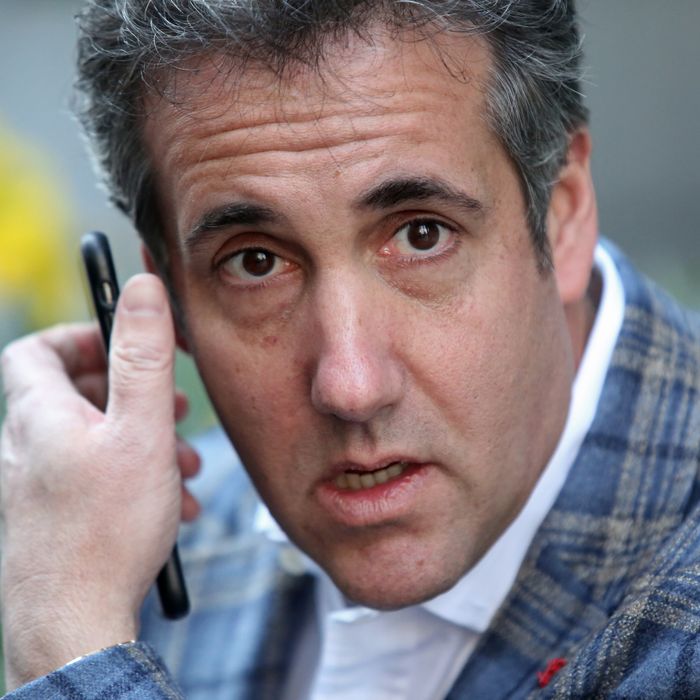 So many ways to say, "I'm flipping."
Photo: Yana Paskova/Getty Images
Capping off the most exciting weekend for Watergate aficionados since the premiere of the Slow Burn podcast, on Sunday night, Michael Cohen's lawyer, Lanny Davis, revealed that he's been consulting with John Dean, the former White House counsel who helped bring down Richard Nixon's presidency.
"I reached out to my old friend John Dean because of what he went through with Watergate, and I saw some parallels to what Michael Cohen is experiencing. I wanted to gain from John's wisdom," Davis told Politico.
"I certainly don't want to raise expectations that Mr. Cohen has anything like the level of deep involvement and detailed knowledge that John Dean had in the Nixon White House as a witness to Nixon's crimes, but I did see some similarities and wanted to learn from what John went through."
Dean confirmed that he's been talking with Davis. He'd already come up this weekend in the drama surrounding Don McGahn, with the New York Times reporting that Trump's White House counsel has been talking to Russia probe investigators because he didn't want to wind up like Dean, doing time for obstruction of justice. (Dean became a key witness for the prosecution and he only wound up serving four months in prison.)
While Cohen once said he'd "take a bullet for the president," in recent months he's made it quite clear that's no longer the case. Since the Feds raided Cohen's office and residence in April, he's ended his joint defense agreement with Trump, announced in a TV interview that "my wife, my daughter, and my son, and this country have my first loyalty," and released a secret recording of Trump, which proves he knew about the hush money payments to Karen McDougal.
So why is Cohen's legal team signaling his willingness to flip once again? A new report from the Times sheds some light on the situation. It was previously reported that federal prosecutors in the Southern District of New York are investigating Cohen for bank and tax fraud, in addition to potential campaign finance violations related the hush payments. The Times revealed that prosecutors are focused on more than $20 million in loans obtained by taxi businesses owned by Cohen and his family in 2014:
Publicly filed financing statements indicate that Mr. Cohen used 32 taxi medallions as collateral for the Sterling [National Bank] loans. The medallions were then valued at more than $1 million each, and generated more than $1 million a year in income.




The loans were made to 16 separate companies controlled by Mr. Cohen and his family, each company owning two taxi medallions, the person who reviewed the transactions said. Mr. Cohen and his wife also personally guaranteed the loans, according to the filings.




The tax fraud aspect of the investigation has been focused in part on whether Mr. Cohen properly reported the income from the medallions, which was sometimes in cash, people with knowledge of the matter said.
The paper also reported that the investigation has entered its final stage, and prosecutors may file charges by the end of August. It's unclear if Cohen's attorneys have already had detailed conversations with federal prosecutors about a plea deal, which would likely also involve Cohen talking to Special Counsel Robert Mueller. If an agreement can't be finalized by the end of the month, the matter will probably drag on until after the midterms, as the Justice Department has an informal policy of not releasing sensitive information in the weeks before an election (though as we all know, sometimes they ignore that).
Using the last few days of summer vacation to brush up on Watergate is probably good advice for everyone.