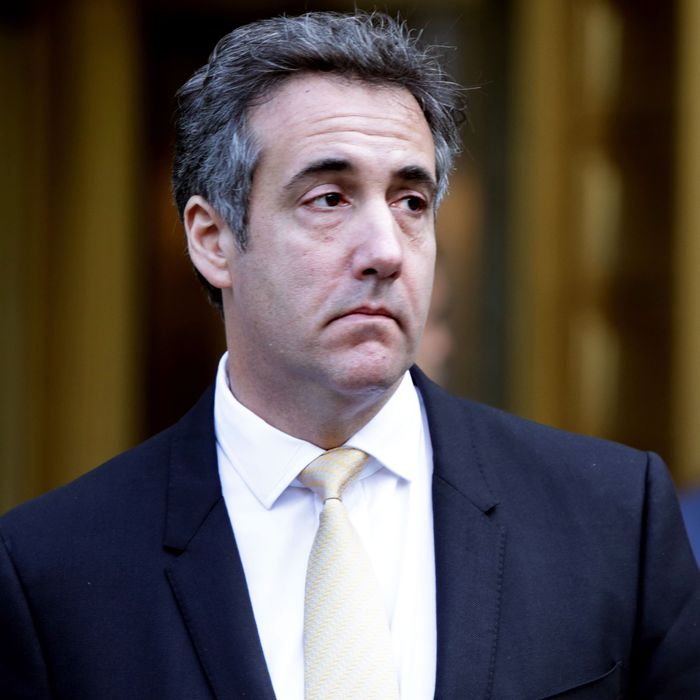 Photo: Yana Paskova/Getty Images
Michael Cohen has officially welcomed himself to the #Resistance.
Less than 24 hours after implicating the president in a federal crime (whilst pleading guilty to several of his own), Cohen is already dropping truth-bombs on Donald Trump — and monetizing liberal outrage — like an old-school "game theorist." On Wednesday morning, Cohen's lawyer Lanny Davis announced that his client would never accept a pardon from a "criminal" like Trump (ostensibly, because he only accepts decade-long business partnerships with such criminals).
"I know that Mr. Cohen would never accept a pardon from a man who he considers to be both corrupt and a dangerous person in the Oval Office," Davis said in an interview with NPR. "He has flatly authorized me to say under no circumstances would he accept a pardon from Mr. Trump, who used the pardon power in a way that no president in American history has ever used a pardon — to relieve people of guilt who committed crimes who are political cronies of his."
"The president of the United States is a criminal," Davis continued. "He has not pled guilty to a crime but his own lawyers have described him directing somebody to do something that is a criminal act."
Cohen also let it be known (through Davis) that he would love to chat with Robert Mueller about Donald Trump's charity, business dealings, and alleged connections to Russian hacking — as he has knowledge on those "subjects that should be of interest to the special counsel."
Meanwhile, the Michael Cohen Truth Fund began accepting donations Tuesday night —and has already brought Trump's (multi-millionaire) former fixer more than $21,000 (or enough to spare roughly seven human beings from dying of malaria). On the fundraiser's webpage, Davis writes:
On July 2, 2018, Michael Cohen declared his independence from Donald Trump and his commitment to tell the truth.




On August 21, Michael Cohen made the decision to take legal responsibility and to continue his commitment to tell the truth.




Michael decided to put his family and his country first. Now Michael needs your financial help – to pay his legal fees.




The Michael Cohen Truth Fund is a transparent trust account, with all donations going to help Michael Cohen and his family as he goes forward on his journey to tell the truth about Donald Trump.
All of this is, of course, bad news for Donald Trump. But it could also prove fatal to Michael Avenatti's 2020 hopes. Stormy Daniels's attorney recently launched a bid for the Democratic nomination, arguing that no one had done more to bring Trump to justice. But it was Cohen — not Avenatti — who just implicated the president in a criminal conviction; and all signs suggest the former fixer is only getting started. What's more, Cohen's background in the taxi business makes him a natural champion of the progressive crusade to hold Uber (and other tech monopolies) accountable.
To be sure, Cohen's criminal convictions will complicate matters. His field operation in Iowa could be hampered by the candidate's confinement in federal prison. But from a messaging standpoint, Cohen could turn that weakness into a strength: To beat a white-collar criminal you've got to think like a white-collar criminal — and who can do that better than the genuine article?
The president, for one, knows a worthy adversary when he sees one.
For much of Cohen's life, he's been greedy, greedy, greedy for Donald Trump. But now, he wants to be greedy for the United States.