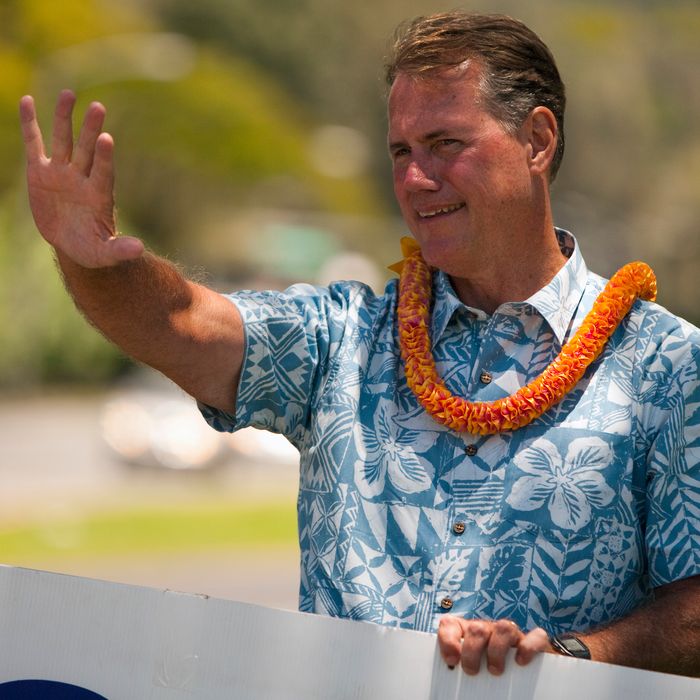 Ed Case on the campaign trail in Hawaii this summer.
Photo: Marco Garcia/AP
Former "Blue Dog" Democrat Ed Case looks set to return to the House of Representatives after a 12-year absence following his victory in Saturday's crowded Democratic primary for Hawaii's first congressional district. The moderate's win in the heavily Democratic state runs counter to the leftward shift among many Democrats since the election of President Donald Trump.
Governor Daniel Ige, meanwhile, was able to hold off Representative Colleen Hanabusa in the Democratic governor primary despite his administration having faced criticism over its poor handling of last year's false nuclear missile alert and the more recent major eruption of the Kilauea volcano. The well-known Hanabusa vacated her House seat to run against Ige, but came up nearly seven points short, with Ige ultimately receiving 50 percent of the vote.
Case, a late entry into the race to replace Hanabusa, defeated six other candidates, including Lieutant Governor Doug Chin, a former state attorney general who led Hawaii's high-profile legal efforts to challenge President Trump's travel ban. Case received 40 percent of the vote, while Chin received the next highest total with 25 percent.
In a midterm election cycle which has seen a lot of candidates emerging from the left to challenge Republicans and even some Democrats in Congress, Case's victory and more moderate mindset definitely stand out. During his last stint in the House, Case was an Iraq War-supporting member of the Blue Dog coalition, a caucus of Democrats who are more fiscally conservative and bipartisanship-enthused than the rest of the party. The once-powerful coalition is now a shadow of its former self, however, having only 14 members, down from 54 a little under a decade ago.
Case was elected to Congress in 2002, but left the House in 2006 to mount a failed primary challenge against Senator Daniel Akaka. He went on to lose another two elections: one in Hawaii's 1st district in 2010, and another primary for Akaka's seat in 2012 after the senator retired. Case then indicated he was done with politics and took a job at Outrigger Enterprises Group, a large hotel chain and management company based in Honolulu, where was an executive vice-president until now.
But neither Case's primary losses nor the evolution of the post-Trump left drove him to shift his views for this year's campaign, where he once again emphasized his moderate views and desire to seek bipartisan compromise in Washington. That kind of attitude may still be valuable in some swing districts across the U.S., but a lot less so in Hawaii's 1st, where 63 percent of voters supported Hillary Clinton in 2016.
"I was clearly saying we need to fix Washington and we need to work together, and that message clearly resonated with many voters," Case explained after his victory. It also stands to reason that a narrower field of candidates might have led to a different outcome, and that, as some Hawaii political analysts have suggested, Case's name recognition was a decisive advantage in the crowded race.
Another candidate Case defeated was State Representative Kaniela Ing, a Democratic Socialist who campaigned on single payer health care and free college tuition, and who has received some continental press coverage — as well as some help on the trail from congressional candidate (and Democratic Socialist icon) Alexandria Ocasio-Cortez. Ing finished fourth at the polls on Saturday, with a little over 6 percent of vote.
Elsewhere in blue Hawaii, Saturday's primaries went as expected. The popular congresswoman and Iraq vet Tulsi Gabbard easily won reelection in her primary race, and Mazie Hirono got the nod for another term in the U.S. Senate. They, Ige, and Case are all expected to win their elections this November.