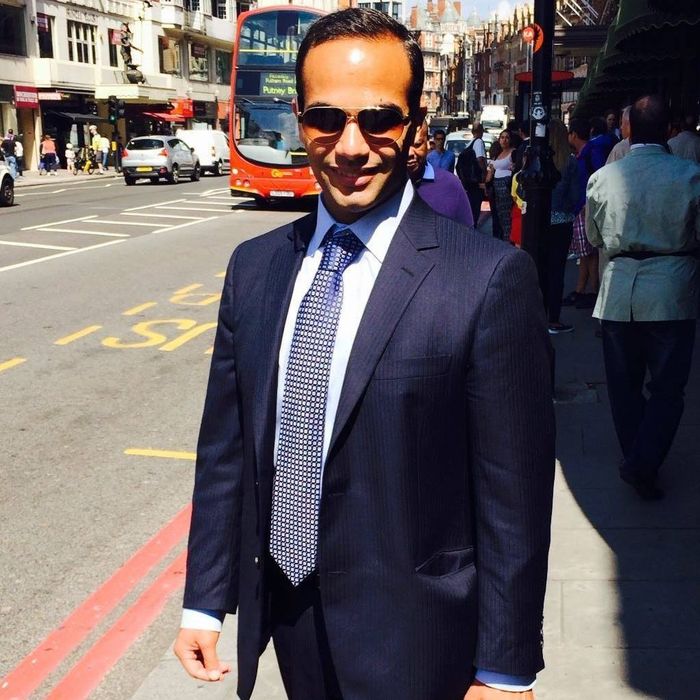 George "Coffee Boy" Papadopoulos in London.
Photo: LinkedIn
Special counsel Robert Mueller's team has recommended a prison sentence of up to six months for former Trump campaign aide George Papadopoulos, arguing in a court filing on Friday that he successfully sought to harm the Russia investigation in its critical early stages. Last October, Papadopoulos pleaded guilty to charges of lying to the FBI regarding his contacts with Russian operatives during the Trump campaign — including at least one meeting where he was offered thousands of emails meant to damage Hillary Clinton's campaign. Papadopoulos did not ultimately provide "substantial assistance" to investigators, however, and prosecutors insisted his crime — which consisted of "at least a dozen lies" — "was serious and caused damage to the government's investigation into Russian interference in the 2016 presidential election."
Papadopoulos, who is one of the 32 people charged with crimes by the Mueller investigation thus far, signed no formal cooperation agreement as part of his plea agreement, but prosecutors had said that they would not seek the maximum possible sentence of five years, opting for zero to six months instead. They also agreed to inform the judge of any cooperation he did provide, but it sounds like they weren't very impressed on that front, and even pointed out that Papadopoulos' wife, Simona Mangiante, had subsequently inflated the significance of his assistance in media interviews.
The Mueller team set the record straight on Friday.
"Much of the information provided by the defendant came only after the government confronted him with his own emails, text messages, internet search history, and other information it had obtained via search warrants and subpoenas well after the defendant's FBI interview as the government continued its investigation," prosecutors said in the filing.
"The government does not take a position with respect to a particular sentence to be imposed, but respectfully submits that a sentence of incarceration, within the applicable guidelines range ofzero to six months' imprisonment, is appropriate and warranted."
There were also specific details in the court filing about what damage Papadopoulos caused. The campaign aide, who the Trump team has tried to characterize as nothing more than a "coffee boy," had "lied in order to conceal his contacts with Russians and Russian intermediaries during the campaign and made his false statements to investigators on Jan. 27, 2017, early in the investigation, when key investigative decisions, including who to interview and when, were being made."
With the intent of harming the investigation, Papadopoulos "repeatedly lied throughout the interview in order to conceal the timing and significance of information the defendant had received regarding the Russians possessing 'dirt' on Hillary Clinton, as well as his own outreach to Russia on behalf of the campaign," they explained. He also "hindered the government's ability to discover who else may have known or been told about the Russians possessing 'dirt' on Clinton" — as in who else on the Trump campaign.
One of the contacts that Papadopoulos misled investigators about communicating with was Joseph Mifsud, a Kremlin-linked professor in London who allegedly reached out to Papadopoulos on behalf of Russia. Mueller's team claimed on Friday that those lies "undermined investigators' ability to challenge the professor or potentially detain or arrest him while he was still in the United States," noting that "the professor" left the U.S. a few weeks after Papadopoulos's first voluntary interview, and hasn't returned since.
President Trump originally called Papadopoulos an "excellent guy" during the 2016 campaign, but after his former aide pleaded guilty, Trump then claimed that "few people knew the young, low level volunteer named George, who has already proven to be a liar."
Papadopoulos's sentencing is scheduled for September 7, but his wife, Mangiante, told CNN on Friday that she thinks he should walk away from the plea agreement. Papadopoulos's lawyer, when reached by reporters on Friday, said he could not comment on the court filing.