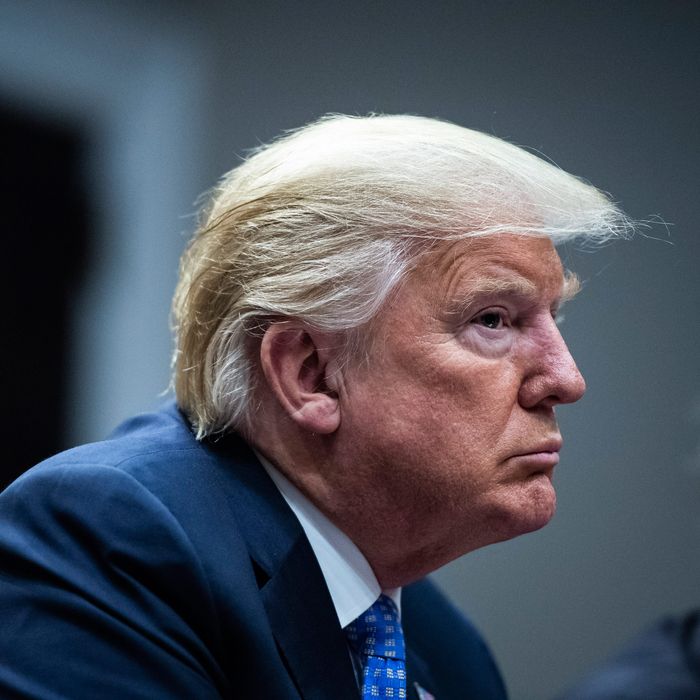 TGIF.
Photo: Jabin Botsford/The Washington Post via Getty Images
As an increasing number of President Trump's former associates find themselves ensnared by federal criminal investigations, the president still holds one trump card, as it were, to try to convince them not to blabber about his unsavory past: the power of the presidential pardon. The newly disloyal Michael Cohen, who has shown little compunction about damaging the president, may be a lost cause. But in the case of ex-campaign manager Paul Manafort — who has steadfastly maintained the code of omerta the president respects so dearly — Trump has reportedly considered wielding his awesome power as a reward.
There's one major problem with Trump's plan, though (other than the abject corruption and potential for constitutional crisis, that is): Presidential pardons do not cover state-level charges.
This is why the news that Manhattan district attorney Cyrus Vance is considering pursuing charges against the Trump Organization may be such a significant development.
As with so much else that is plaguing the president right now, the charges would involve the $130,000 Michael Cohen paid Stormy Daniels in 2016, to ensure that she would not go public with the story of her affair with Trump. The New York Times reports:
The Trump Organization recorded the reimbursement as a legal expense. But Mr. Cohen, Mr. Trump's longtime fixer, said on Tuesday that he paid Ms. Clifford, better known as Stormy Daniels, to buy her silence during the 2016 campaign. Federal prosecutors have said the reimbursement payments were for sham legal invoices in connection with a nonexistent retainer agreement. Mr. Cohen, who pleaded guilty to federal campaign finance charges, did no legal work in connection with the matter, prosecutors said.
There's more. The Times also reports that New York's attorney general, Barbara Underwood, is moving forward with state-level tax fraud charges against Michael Cohen, who already pleaded guilty to similar, federal charges in court this week.
The new charges would center around whether the Trump Organization falsified the representation of the payment made to Daniels. If it could be proven that such falsification was intentional, the company could be hit with felony charges. And if the accusations roped in other Trump Organization figures who might have knowledge of suspicious activity, and who could not be dissuaded from talking by the possibility of a pardon, things could get even messier than they are now.
As the Washington Post's Catherine Rampell writes, Cohen's plea this week  raised the question of whether the president, who has been speaking in the vernacular of a mob boss more than ever, committed the crime that famously brought down Al Capone: criminal tax fraud.
As a nerve-racking week for the president draws to a close, this is not what the man needs.