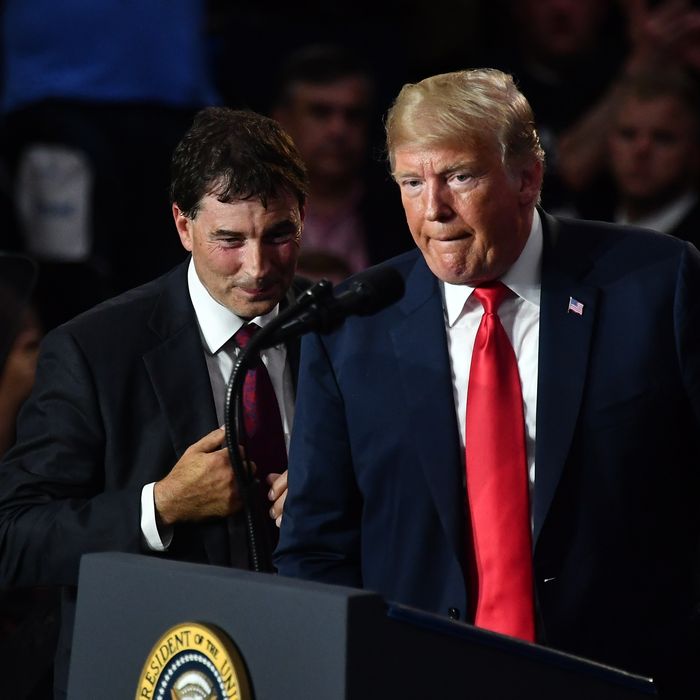 President Trump and Troy Balderson at Saturday night's rally.
Photo: MANDEL NGAN/AFP/Getty Images
An August special election for a congressional seat Republicans have held for decades isn't the kind of thing that would usually draw any interest from GOP leaders at the national level. But with House Speaker Paul Ryan, Vice-President Mike Pence, and even President Trump showing up in Ohio's 12th Congressional District in recent days, it's obvious that Republicans are very concerned about losing Tuesday's special election, the last before voters head to the polls in November.
The congressional seat has been vacant since January, when nine-term congressman Patrick Tiberi resigned. President Trump won the district in the Columbus suburbs by 11 points in 2016, but Tuesday's election is a toss-up. A month ago, a Monmouth University poll had
Troy Balderson, a 56-year-old Republican state senator, leading his opponent by ten points. But a Monmouth poll released Wednesday showed Danny O'Connor, the 31-year-old Democratic candidate, trailing Balderson by only one point. As the Washington Post notes, when you dig a bit deeper into the polls, there's even more bad news for Republicans:
O'Connor supporters are 16 percentage points more likely to say they have a lot of interest in this election than Balderson's.




It hints at a troubling trend for Republicans that has been lapping at their feet in other primaries and special elections this year: In the Trump era, Democrats seem more motivated than Republicans to vote.
National Republican groups have spent $3.5 million, far more than Democrats, on TV ads that attempt to link O'Connor with Nancy Pelosi, though the moderate Democrat has said he won't back her for party leader. The Republican National Committee opened two offices in the district and put at least $500,000 into a get-out-the-vote effort. And the most dramatic effort came on Saturday night, when President Trump held a rally in the district — though there was concern even before the rally that the president might do more harm than good. The 12th District has a higher percentage of people 25 and older with college degrees than any other district in the state, and Trump's popularity there has waned. The latest Monmouth poll had his approval rating in the district at 46 percent, though in 2016 he received 52 percent of the vote in the district.
"The best-case scenario is that the presence of the president reminds not only Republicans but center-right voters that there's a special election on Tuesday," Doug Preisse, chairman of the Franklin County Republican Party said Thursday. "Of course, we have no control — as seemingly no one else does — to what [Trump] may say, so 'Get Out the Vote' … probably won't be the headline."
Indeed, Trump made multiple flubs even before he arrived in Lewis Center, Ohio. On Thursday he accidentally tweeted his endorsement of Representative Steve Stivers, a Republican running unopposed in another Ohio district, rather than Balderson (he eventually deleted and replaced the tweet). Then on Saturday morning he lobbed an attack at NBA star LeBron James, who he spotted on CNN discussing a school for at-risk children that he recently helped open in Akron, Ohio, his hometown.
Trump touched on all his hits during Saturday night's rally, going after coastal elites, the "Russian witch hunt," and the "fake news media." He did praise Balderson as "really tough … really smart" and "the guy that's gonna do things." Trump called O'Connor "a low-level person that did nothing," claimed he's controlled by Pelosi, and gave him the nickname "Danny boy." But Balderson only got to speak for four minutes. He used his time to praise Trump and give O'Connor his own nickname, "Dishonest Danny."
Republicans have tried to argue that special elections are unique, and Democrats' recent success won't translate into the midterms. But the Ohio race has come to be seen as a final test of how Republicans might fare in key suburban districts nationwide. Recent trends suggest the map may start looking even better for Democrats in the lead-up to the midterms, but at least one Republican still isn't buying it. "I think it could be a red wave," Trump proclaimed to cheers at Saturday's rally.