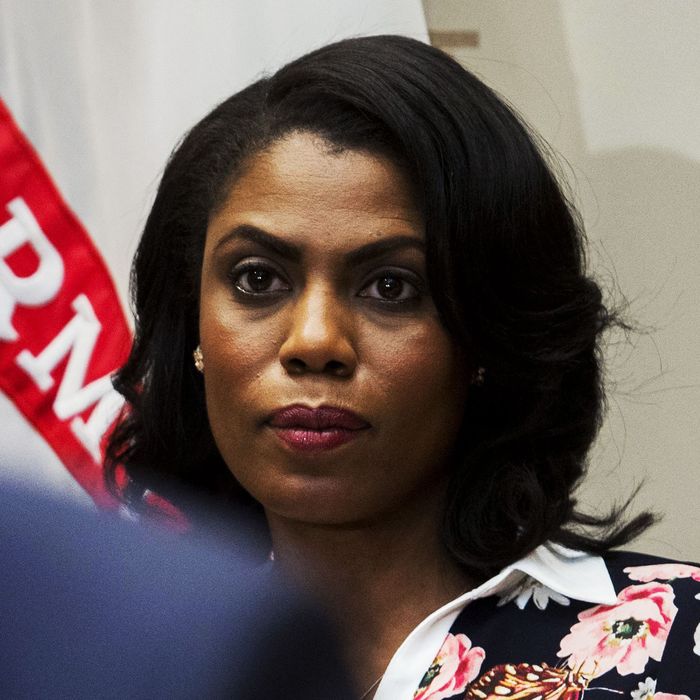 She didn't go there to make friends.
Photo: Saul Loeb/AFP/Getty Images
Earlier this week, sources told the Daily Beast that Omarosa Manigault Newman — former villain on The Apprentice and aide to the Trump White House — had secret recordings of conversations she had with the president and other members of his administration in the West Wing.
On Friday, the Washington Post revealed that it has gained access to the secret tapes — and confirmed that the conversations captured on them match certain exchanges that Newman purports to document in her upcoming book, Unhinged: An Insider's Account of the Trump White House.
At first blush, this news looks like a potentially grave political threat to the Trump administration. But while Omarosa has the tapes, it's far from clear that she's "got the goods."
The Post did not obtain the full text of Manigault Newman's upcoming tell-all, only excerpts. But the (as yet, unverified) allegations contained within the pages they did get aren't exactly bombshells. Here's a quick rundown:
• Shortly after Manigault Newman lost her White House gig, Trump campaign adviser (and presidential daughter-in-law) Lara Trump offered to pay Omarosa $15,000 a month to not talk about what she heard and saw during her time with the administration. Specifically, the contract (allegedly) forbid her from making "any comments about President Trump or his family; Vice President Pence or his family; or any comments that could damage the president." The contract also suggested that Omarosa would do "diversity outreach" for Trump's 2020 campaign.
• There are outtakes from The Apprentice that depict Trump saying the N-word. Omarosa spent months trying to get her hands on these tapes; apparently she failed.
• One time, Omarosa walked into the Oval Office to find President Trump "chewing up a piece of paper" while his former lawyer Michael Cohen was exiting the room. She has no idea what this paper was. But given Trump's germophobia, she presumes it must have been very "sensitive" (one might presume that it was very fictional).
• The president keeps a tanning bed in the White House, over the objection of at least one White House usher.
If Omarosa can verify that tanning bed allegation — and prove, once and for all, that Donald Trump's gorgeous skin tone is not 100 percent natural — then her book's release could be the beginning of the end of the Trump presidency.
Or, ya know, maybe not.