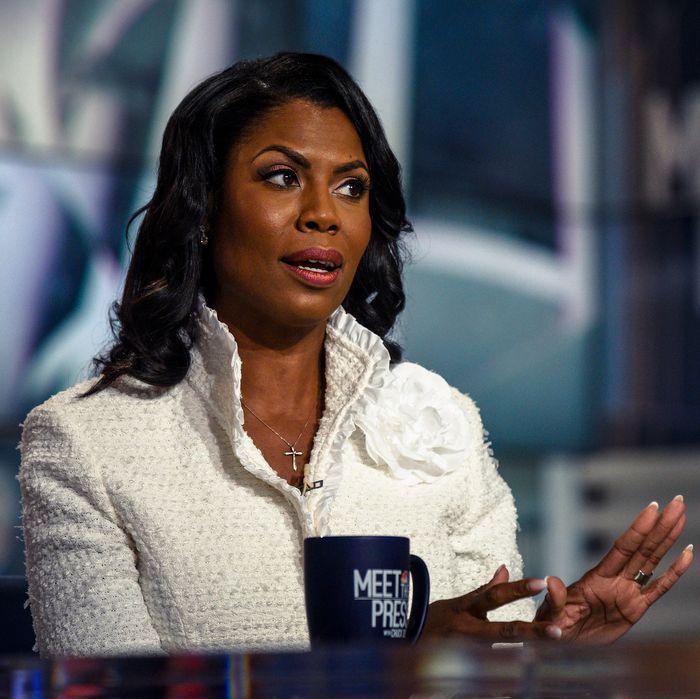 It takes more than vague legal threats to stop Omarosa.
Photo: NBC NewsWire/NBCU Photo Bank via Getty Images
As rumors swirled about the White House gossip contained within Michael Wolff's Fire and Fury, President Trump's legal team tried to block the book's release by threatening to sue the publisher. This foray into book banning only managed to drum up more interest in the tome, and move up its release by a few days.
Nine months later, the administration is facing the release of another book full of wild allegations about life in the Trump White House. But rather than trying to prevent Omarosa Manigault Newman's Unhinged from hitting bookshelves on Tuesday, Trump allies are making vague claims about how the former director of communications for the Office of Public Liaison might have broken the law by secretly recording conversations in the White House. They may be able to convince more Americans that the former Apprentice villain has a "lack of character and integrity," as White House press secretary Sarah Huckabee Sanders said on Sunday. But it seems unlikely that she violated any laws, and pressing the point raises new questions about security in Trump's White House.
Sunday on Meet the Press, Manigault Newman released a tape publicly for the first time, playing a recording of White House chief of staff John Kelly firing her. Since the conversation took place in the Situation Room, many conservatives declared it was not just illegal, but a threat to national security.
White House officials picked up on this idea, issuing a vague legal warning on Sunday evening. ABC News reported:
Omarosa Manigault Newman's former White House colleagues are looking into legal options to stop her from releasing more tapes and to punish her for secretly recording her conversation with Chief of Staff Gen. John Kelly, White House officials tell ABC News.
Former White House press secretary Sean Spicer told ABC News that Manigault Newman had "top secret" security clearance at a minimum, which would have involved agreeing to security protocols, so she might have violated federal law.
"It's an unbelievable violation of protocol and the law," Spicer said. "You can lose your security clearance for bringing your device into SCIF — to bring it in is a violation but to willfully record it — you're entering a whole other realm."
But of course, the conversation was about Manigault Newman losing her job entirely. And NBC News reported in February that internal White House documents showed she had "no clearance at all."
Spicer didn't elaborate on this new realm of legal consequences. Washington, D.C., has "one-party consent" on recordings, so merely flicking on her recorder without telling Kelly isn't illegal. (As Law & Crime notes, she could be in trouble if she secretly recorded conversations at Mar-a-Lago, as Florida has two-party consent.) Legal experts and former national security officials said that while the security implications are concerning, the recording probably isn't illegal.
Ned Price, who was a National Security Council spokesman for the Obama administration, told the Washington Post that the Situation Room "is the inner sanctum within an already-secure facility where the most sensitive of the most sensitive information is discussed." He added, "It's where negotiations with Iran were hashed out. It's where contingency plans for nuclear launches have been developed. The fact that she was recording a conversation in there really raises alarm bells in the minds of people who have worked in that room."
But while cell phones and recording devices are barred from the room, Price said that in his experience there was no screening process. "It's a system based on honor and integrity, and there's a sign outside that says, 'Place your phones here,' " he said.
National security lawyer Bradley Moss said that as long as classified information wasn't discussed, merely recording a conversation in a Sensitive Compartmented Information Facility isn't a crime.
Tommy Vietor, another former Obama NSC spokesman, agreed, saying that despite the Situation Room's history and mystique, it's "just a bunch of conference rooms."
After initially suggesting that Manigault Newman might have broken the law, Lawfare executive editor Susan Hennessey said that's probably not the case since didn't have security clearance.
TPM's Josh Marshall also questioned why Kelly opted to fire Manigault Newman in the Situation Room, since it's not just a place to have a private chat, but "a large conference room complex specifically designed for handling national security briefings, remote conferences and crisis management."
Manigault Newman asked the same question, wondering on Meet the Press, "Why not have the meeting in the chief of staff's office? Why put me in the Situation Room and lock the door?" She suggested the location was part of an effort by Kelly to intimidate her, but Politico reported that he chose the location precisely to prevent her from recording their conversation:
Going into the conversation, Kelly had anticipated a fight, according to two senior administration officials. And rumors had also begun to spread through the White House that Manigault Newman was recording conversations, according to a former senior administration official. Those people said that's why Kelly took Manigault Newman into the Situation Room, where officials are asked to surrender their electronic devices, which are put under lock and key, before entering.
Apparently Kelly didn't take sufficient steps to make sure a person being fired for, as he puts it, "some pretty serious integrity violations," actually followed the rules. And there's the larger question of why Trump thought it was a good idea to hire a notorious TV villain to work in the White House.
But at this point, it doesn't look like there's much Trump officials can do to stop Manigault Newman from dishing on her time in the administration. ABC News reported that Trump administration sources are afraid of what she might release next — which may be why they're floating the dubious possibility of legal consequences.
"People now understand that she has a lot," a former White House official said. "It's stopping people from punching back."
Another former official added, "If you pissed off Omarosa, buckle up — it's going to be a tough couple of weeks."