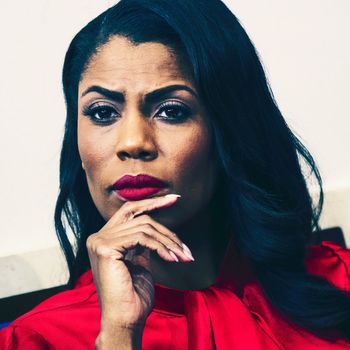 Trump's problem of the week.
Photo: Drew Angerer/Getty Images
Omarosa Manigault Newman, the ex-Apprentice contestant who served as the director of communications for the Office of Public Liaison last year, revealed on Meet the Press Sunday that she had recorded White House Chief of Staff John Kelly firing her.
On the tape, which Manigault Newman said was recorded in the Situation Room, Kelly can be heard citing "some pretty serious integrity violations" as the reason for her dismissal, and telling Manigault Newman that his decision was not negotiable.
In February, Politico reported that Manigault Newman was fired for using a White House car service as a pick-up and drop-off service. After Kelly let her go, she reportedly tried, unsuccessfully, to reach Trump directly to issue a personal appeal, setting off a secret-service alarm in the process.
Like many of the assorted presidential hangers-on who populated the White House in the early days of Trump's administration, her responsibilities there were never entirely clear.
The former Apprentice contestant has been on the warpath ever since she was forced out, and the level of damage she might do to the Trump administration, armed with appear to be several secret recordings, remains to be seen.
In her new tell-all Unhinged, she writes that a tape exists of Trump saying the n-word during his Apprentice days, though she claims not to have heard it. In a subsequent interview, she changed her story to say that she had heard Trump utter that word, a reversal that highlighted her not-exactly-sterling level of credibility.
On Meet the Press, she again said that she had indeed been privy to the recording, telling Chuck Todd that "I heard his voice as clear as you and I are sitting here."
In response to her media tour, the White House has painted Manigault Newman as a vengeful, untrustworthy opportunist. Kellyanne Conway said on ABC's This Week that "the first time I ever heard Omarosa suggest those awful things about this president are in this book." GOP spokeswoman Ronna McDaniel and others also played up the national-security implications of her clandestine recording, though it's not like this administration has been diligent about security enforcement in the West Wing before.
The casting of Manigault Newman as unstable, of course, raises the question of why the Trump administration hired someone like her in the first place.
At his Bedminster golf club on Saturday, President Trump responded to a question about Manigault Newman by calling her a "lowlife."