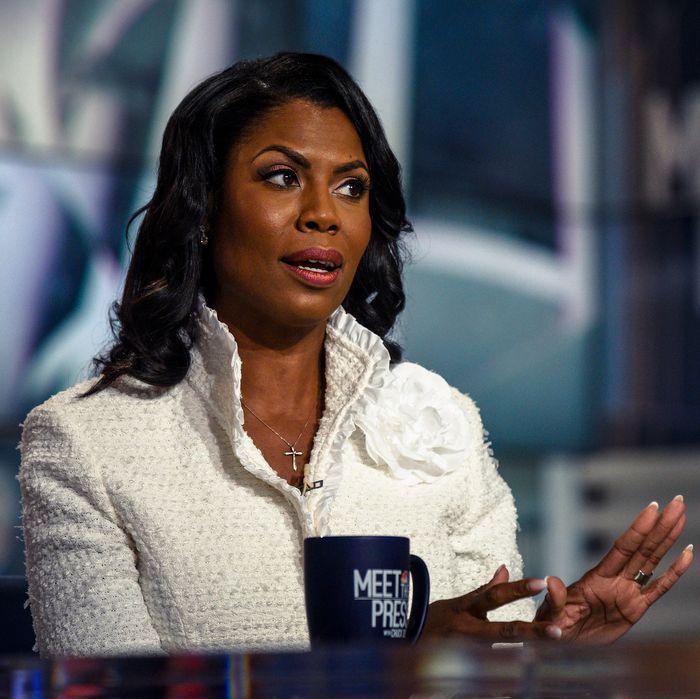 Not going away anytime soon.
Photo: NBC NewsWire/NBCU Photo Bank via Getty Images
Omarosa Manigault Newman may have as many as 200 audiotapes that she recorded during her brief, tumultuous tenure at the White House. In keeping with her status as a savvy media operator, she is releasing them in a slow drip, all the better to keep her book, "Unhinged," on the best-seller list and torment the Trump administration for weeks, or perhaps months, to come.
But it may get worse for her former co-workers.
A source "with direct knowledge of the records" told the AP that Manigault Newman has a "stash of video, emails, text messages and other documentation" that support the many eye-opening claims she makes in the book.
In a PBS interview earlier in the week, Manigault Newman said, "I have a significant amount, in fact, a treasure trove, of multimedia backup for everything that's not only in "Unhinged," but everything that I assert about Donald Trump."
The report did not give an indication of what might be included on the videos, nor which of the accounts in her book they may support.
But visual evidence would provide yet more proof that Manigault Newman, who built a reputation for reality-show exaggeration and deception, is actually a credible (or at least semi-credible) source.
So far, Newman has released tapes of White House Chief of Staff John Kelly firing her; a conversation in which presidential daughter-in-law Lara Trump appears to offer her a lucrative campaign job in exchange for keeping silent about what she saw at the White House; and a phone call from 2016 that bolstered her unconfirmed claim that a tape exists of President Trump using the N-word
As Trump has gone on the attack against the former Apprentice contestant, his administration is attempting to silence her with the threat of legal action. But, given that she probably didn't break any laws by recording her colleagues, that effort is unlikely to go anywhere.
"I will not be silenced. I will not be intimidated. I'm not going to be bullied by Donald Trump," Newman told the AP in a typically defiant rebuttal.
It looks  like the president might need to create some fresh distractions very soon.