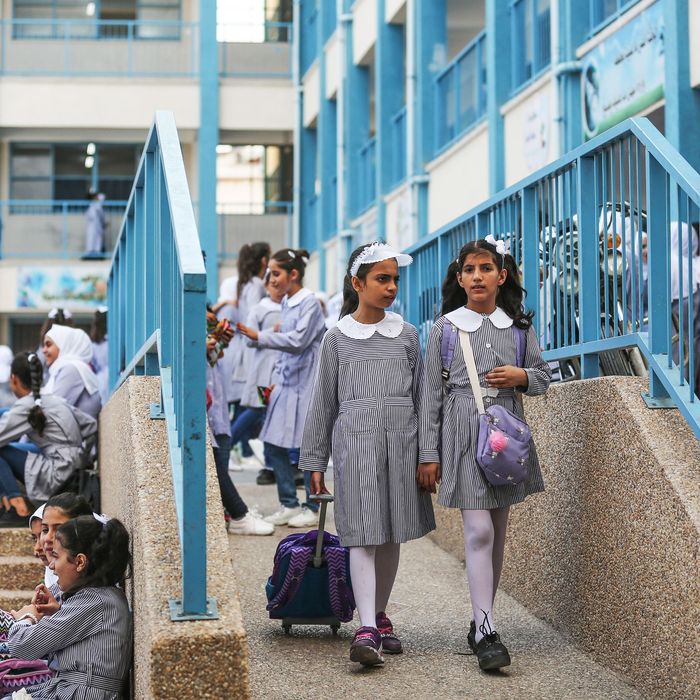 Students at school run by the United Nations Relief and Works Agency for Palestine Refugees.
Photo: Anadolu Agency/Getty Images
Multiple outlets reported on Thursday that the Trump administration plans to suspend hundreds of millions of dollars of aid to a long-running United Nations program that supports Palestinian refugees, the latest in its efforts to exert leverage over Palestinian leadership on key elements of a Middle East peace process.
The U.S. will hold back $290 million of the $350 million it usually provides to the U.N. Relief and Works Agency, which was founded in 1949, a year after Israel's birth. (The Trump administration had released $60 million of the $350 million earlier this year.) The U.S. had long been the biggest donor to the agency, providing about 25 percent of its funding; The Guardian reports that Germany plans to make up at least some of the financial shortfall.
The money goes to Palestinians who live in Gaza and the West Bank, but also in Syria, Lebanon, and Jordan. Most are descendants of people who were pushed out of Israel in the run-up to its creation, and they are considered refugees by the U.N. But the Trump administration wants to vastly reduce the number of people who are granted that status, from 5 million to about 500,000. The new number would only include people who were directly displaced, not their offspring.
That mission is part of a larger campaign by the Trump administration to pressure Palestinians to drop one of their key demands for Middle East peace: a "right of return" to Israel for the five million people in question.
The New York Times reports that the drastic cuts were pushed most forcefully by Jared Kushner, who has been the point man for Middle East peace, despite his lack of any prior experience. Kushner won out over Secretary of State Mike Pompeo, who argued for a more incremental cut. Kushner's plan for lasting peace thus far has been to cast doubt on Palestinians' commitment to peace, demand they abandon many of their most stringent demands for a deal with Israel, and wield American financial influence to make their refusal to cede to U.S. demands more difficult.
Earlier this week, the U.S. announced it would cut more than $200 million in aid to Palestinians in the West Bank and Gaza.
And in a major blow to the Palestinians earlier this year, President Trump officially recognized Jerusalem as the capital of Israel — a change long sought by Prime Minister Benjamin Netanyahu and much of the Israeli Establishment.