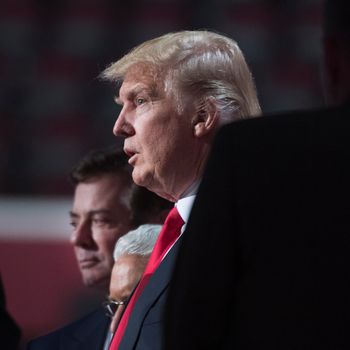 Trump wonders why strange man keeps tailing him at Republican National Convention.
Photo: Tom Williams/CQ-Roll Call,Inc.
President Trump seemed eerily subdued on Wednesday, as the White House grappled with how to respond to the simultaneous blows of Paul Manafort's conviction and a guilty plea from Michael Cohen that implicated the president in a federal crime. The Washington Post reported that Trump had mostly resisted the urge to lash out publicly, and just seemed mopey:
Instead, Wednesday was a moment for calculation and conversation, a pause for a rattled administration, according to White House officials and outside advisers familiar with the discussions. Several advisers who spoke to Trump said he seemed more frustrated than furious, more sad than screaming.
But Trump may be regrouping, with help from the 20 percent of the media that he doesn't consider the "enemy of the people." On Wednesday night he posted a tweet suggesting he'd spend the following morning pontificating on Fox News for three hours.
This did not seem entirely implausible in light of Trump's rambling, legally damning interview with Fox & Friends in April. But upon further investigation, it appears he meant that clips of his interview with Ainsley Earhardt, which was taped Wednesday, will be played throughout the program.
But, never fear: It sounds like the taped segments may still contain plenty of unhinged Trump musings. While plugging the interview on Hannity, Earhardt said Trump "mentioned pardoning" Manafort — not because the conviction of Trump's former campaign chairman reflects poorly on him, but because he's a swell guy.
"I think he feels bad for Manafort," Earhardt said. "They were friends, he didn't work for him for very long. He worked for him for basically a hundred days."
Legal experts have repeatedly cautioned that pardoning Cohen or Manafort would be a remarkably bad move on Trump's part. They could still be charged with state crimes, which Trump would have no way of thwarting. Also, it would increase the legal risk to Trump: Cohen and Manafort would not be able to plead the Fifth Amendment if called to testify, and the pardons themselves would bolster the argument that Trump is obstructing justice.
When asked about the possibility of Trump pardoning Manafort at Wednesday's press briefing, White House Press Secretary Sarah Huckabee Sanders said, "I am not aware of any conversations regarding that at all." She also noted that in a recent interview, Trump said he hadn't been considering pardons. ("I haven't even thought about it," Trump said when the topic came up on Friday.)
The denial from Sanders means even less than usual, since the Trump team has repeatedly lied about the hush payments Cohen facilitated. While he didn't explicitly mention pardons, on Wednesday morning Trump attacked Cohen, while declaring his appreciation for Manafort's loyalty and declaring him a victim of the special counsel's "witch hunt."
Is Trump just letting off steam, or is he testing the waters for a Manafort pardon? On Wednesday, several Senate Republicans warned Trump against using his powers to save Manafort.
"It would be an enormous mistake and misuse of his power to pardon," said Senator Susan Collins.
Senator John Thune, the third-ranking member of the GOP leadership, said he's not aware of any circumstances related to Manafort's case that would warrant a pardon.
"Pardons should be used sparingly and you have to have some awfully compelling circumstances I would think and I certainly don't know what those are in this case," he said. "Pardons need to be earned."
Perhaps he'll change his mind after seeing more Fox News reports on Trump's unselfish desire to help out a near-stranger being targeted by that fiend Robert Mueller.