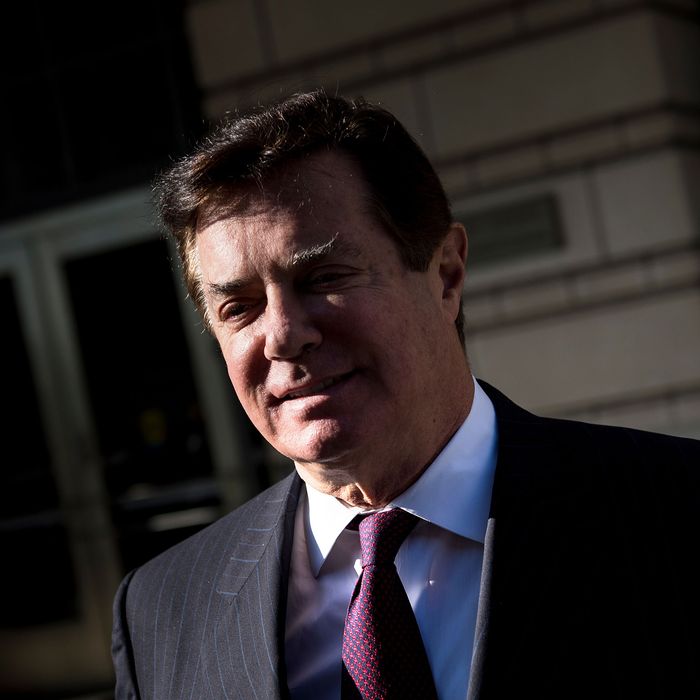 It hasn't been a great year.
Photo: Brendan Smialowski/AFP/Getty Images
Paul Manafort's ongoing trial in Virginia, on charges that include bank and tax fraud, may be a sideshow to Special Counsel Robert Mueller's larger Russia investigation, but it produced a pretty compelling moment of courtroom drama on Monday.
Rick Gates, Manafort's former partner in crime (literally, it turns out), took the stand to detail the many shady sides of the international lobbying business he helped the ex-superlobbyist run for years. Gates said that, at the direction of his boss, he helped Manafort falsify his tax returns, failed to report 15 foreign bank accounts, and did not register Manafort as a foreign agent, as is required by law.
Gates, who cut a plea deal with Mueller months ago, also confessed to embezzling hundreds of thousands of dollars from Manafort, in part by fabricating expense reports.
As a sober Gates recited his testimony, Manafort reacted about the way you'd expect.
Manafort, a flamboyant figure in Washington for decades, became known for his consulting and lobbying work for ethically questionable international leaders like Ukraine's Viktor Yanukovych. With an enormous salary serving his expensive lifestyle (earlier in Manafort's trial, we learned about his taste for ostrich jackets), Manafort had a pretty good racket going on, until he plunged into debt and made the fateful decision to run President Trump's long-shot campaign in 2016. When Robert Mueller began investigating Russian interference last year, Manafort's questionable lobbying work — the sort of activity that has historically rarely been investigated in Washington — was put under a microscope, exposing him and his associates.
Gates was charged along with Manafort last October, and pleaded guilty to conspiracy and lying to the FBI in February. But Manafort has refused to cut a deal with Mueller, perhaps hoping that the president will bail him out of his predicament with a pardon.