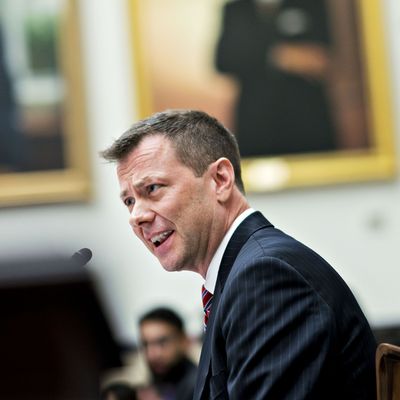 Strzok's impassioned defense of his texts wasn't enough to save him.
Photo: Andrew Harrer/Bloomberg via Getty Images
Peter Strzok, the FBI agent who became a favorite target of President Trump and other Republicans when it was revealed that he had sent anti-Trump text messages in the run-up to the 2016 election, was fired from the agency on Monday.
FBI Deputy Director David L. Bowdich ordered the dismissal, which went against a previous FBI recommendation that Strzok be suspended for 60 days. His willingness to opt for a maximumly severe punishment gives off the appearance that he bowed to political pressure, months after another Trump foil at the FBI, Andrew McCabe, was fired by Attorney General Jeff Sessions just days before being able to collect his pension.
Strzok headed up the FBI's investigation into Russian electoral interference in 2016, and also led the probe into Hillary Clinton's emails in 2016. He was folded into Special Counsel Mueller's Russia team before being dismissed after the texts were revealed.
At issue are messages sent between Strzok and Lisa Page, a fellow agent with whom he was having an affair. In one exchange from August 2016, Page messaged Strzok that Trump might actually be elected, and Strzok responded,  "No. No he won't. We'll stop it."
For months, the pair's behavior has been the subject of many (bizarre) Trump tweets, cited as evidence that the supposed "witch hunt" investigation into Trump was biased from the start. (Those assertions have ignored the fact that a large part of the Republican Establishment held similar views about Trump at the time Strzok sent his texts, or that Strzok also inveighed against Bernie Sanders.)
On Monday, the president rejoiced.
An inspector general's report released in June found no evidence that Strzok's political views influenced his actions, but did conclude that the texts spoke to a "willingness to take official action to impact the presidential candidate's electoral prospects."
Last month, Strzok defended himself in hours of fiery testimony before House Republicans. He said that he had been particularly disgusted with Trump's rhetoric against war hero Khizr Khan before sending the "we'll stop it" message, and that "at no time in any of these texts did those personal beliefs ever enter into the realm of any action I took."
In a statement, Strzok's lawyer Aitan Goelman said that his firing "should be deeply troubling to all Americans.'