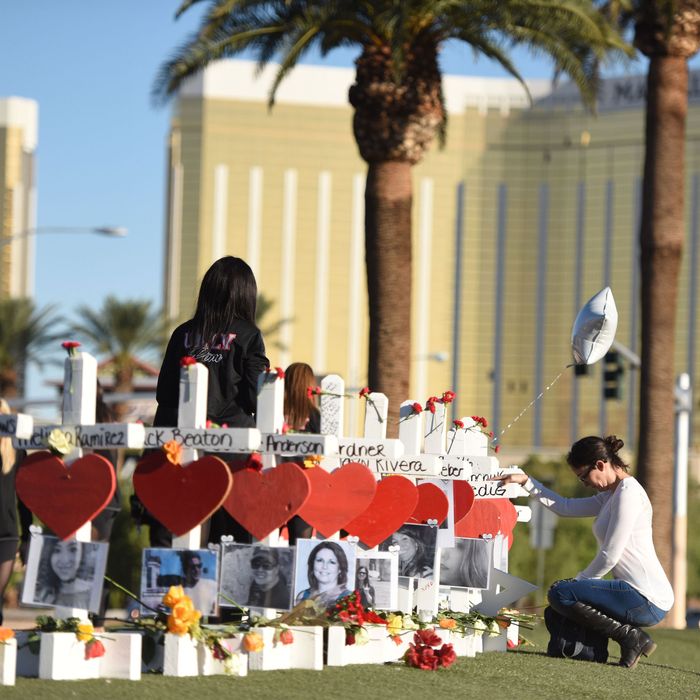 A vigil for the victims of last October's mass shooting in Las Vegas.
Photo: Robyn Beck/AFP/Getty Images
Ten months after Stephen Paddock opened fire on a crowd of concertgoers in Las Vegas, killing 58 and injuring hundreds more, the Las Vegas Metropolitan Police Department has closed its investigation without finding a motive.
Investigators spent thousands of hours combing through Paddock's financial records and interviewing those close to him, Clark County sheriff Joe Lombardo said. They dug through 22,000 hours of video, 252,000 images, and pursued 2,000 leads. Through it all, they were never able to come up with a plausible reason why he opened fire from the 32nd floor of the Mandalay Bay hotel.
"What we have been able to answer are the questions of who, what, when, where, and how," Lombardo said. "What we have not been able to definitively answer is the 'why' Stephen Paddock committed this act."
An 187-page report lays out some final details about how Paddock pulled off the massacre. He began collecting weapons in October of 2016 and spent $95,000 on guns and ammo. When police discovered him in his hotel room, dead from a self-inflicted gunshot wound, he was surrounded by two dozen guns and 5,000 unused rounds of ammo. He'd already fired 1,000 rounds into the Route 91 Harvest country music festival across the street from the hotel.
The report offers insight into the last months of Paddock's life, during which he blew through $1.5 million and became obsessed with guns. He'd begun acting out of character in the lead-up to the shooting, it says. A doctor told investigators that Paddock may have been bipolar, while his brother said he had "mental illness and was paranoid and delusional." Paddock's girlfriend, Marilou Danley, said he told her he had "chemical imbalance."
Along with Paddock, the only other person to face charges in the shooting is Douglas Haig, an Arizona man who sold Paddock ammunition a month before the shooting. Haig faces charges of "conspiracy to illegally manufacture and sell the ammunition," the Las Vegas Review-Journal reports.