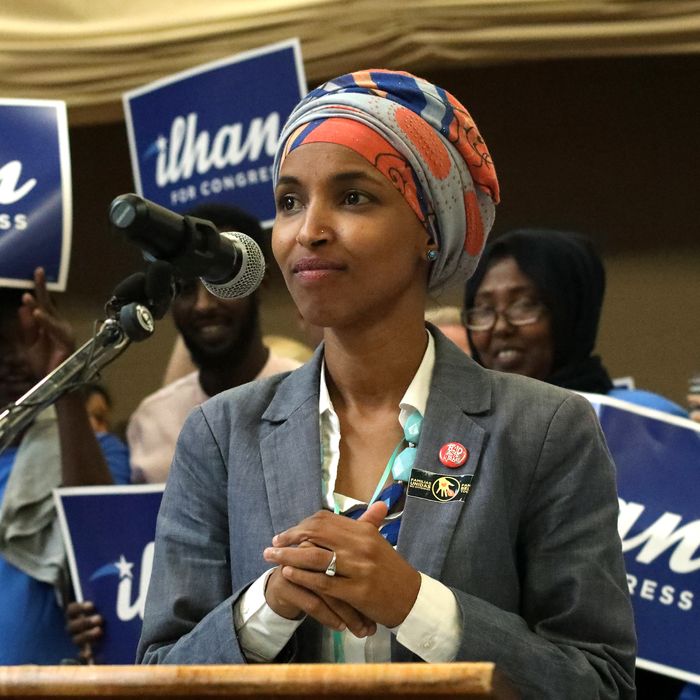 Ilhan Omar, who is likely to be one of the first two Muslim women in Congress.
Photo: Bloomberg/Bloomberg via Getty Images
In Tuesday night's primaries Democrats looked like a party ready to make history, while Republicans continued rejecting their pre-Trump past. If Democrats have their way in November, Vermont will have the nation's first transgender governor, Connecticut's congressional delegation will include a black Democrat for the first time, and Minnesota will send one of the first of two Muslim women to Congress. Meanwhile on the Republican side, Trump critic Tim Pawlenty's comeback attempt failed, and other candidates struggled with allegations of previous disloyalty to the president. Though the race took place last week, the president scored another primary win on Tuesday night when Kansas governor Jeff Colyer conceded to Kris Kobach, a close Trump ally.
Here's a look at the night's most significant results.
Connecticut
• Ned Lamont is at the top of a Democratic ticket in Connecticut once again after a rocky political history. The wealthy businessman pulled off a shocking upset in 2006, beating then-Senator Joe Lieberman in the Democratic congressional primary. However, Lieberman refused to bow out of the race, running as an independent and winning. Four years later Lamont lost the Democratic gubernatorial primary to Dannel Malloy.
Malloy went on to win that race, but after serving two terms he opted not to run again, with polls showing he's the country's least popular governor. Republicans are hoping to capitalize on that to flip the state red, though Democrats outnumber Republicans by five to three in Connecticut.
There was an upset in the Republican gubernatorial race, with Bob Stefanowski, a former GE executive, beating the party-endorsed Danbury mayor Mark Boughton and three other candidates. Stefanowski embraced Trump during the campaign, though he didn't vote for him — or Hillary Clinton, or any other candidate in the last 16 years.
• Jahana Hayes is one step closer to being Connecticut's first black Democrat in Congress after winning her primary on Tuesday. Hayes, who President Obama named the National Teacher of the Year in 2016, beat longtime politician Mary Glassman in the state's Fifth Congressional District primary, winning 62 percent of the vote to Glassman's 38 percent. The seat opened up when Democratic Representative Elizabeth Esty retired amid claims that she mishandled an allegation of sexual misconduct against a top staffer.
Hayes, who was thought to be a long shot, touted her impressive life story on the campaign trail, describing how she rose to the top of her field despite growing up in a housing project in Waterbury, Connecticut, being raised by her grandmother as her mother battled drug addiction, and becoming a mother at 17.
"This is my home, where people are strong, but they aren't supposed to run for Congress," Hayes said in a campaign video. "If Congress starts to look like us, no one can stop us. This is our moment to act, to organize, and bring our truth to power."
Hayes will face Republican Manny Santos, the former mayor of Meriden, Connecticut, in November. He's said he only disagreed with Trump one time: "When he suggested raising the age of owning long guns to age 21 … it's just, it's a nonstarter for me." The district is seen as solidly Democratic.
Minnesota
• In another sign that the GOP is firmly the party of Trump, Republican County Commissioner Jeff Johnson defeated former governor Tim Pawlenty in the GOP gubernatorial primary. TPaw, who fizzled in the 2012 GOP presidential primary, was the heavy favorite with much higher name recognition and a big fundraising advantage, but his comeback attempt flopped.
Pawlenty had struggled to move past his criticism of Trump as "unhinged and unfit" during the 2016 race. During their debate, he noted Johnson once publicly called Trump a "jackass," but the county commissioner still went on to vote for him. "I supported him. You told people not to vote for him," Johnson said.
There was an upset in the Democratic gubernatorial race too, with U.S. Representative Tim Walz beating the front-runner, state attorney general Lori Swanson, in a three-way race.
• Allegations that he physically abused an ex-girlfriend did not stop Representative Keith Ellison from winning the Democratic primary to be Minnesota's attorney general. Ellison took 49.9 percent in a field of five candidates.
Ellison denied the allegations of physical and emotional abuse, which were shared last weekend by the son of his ex-girlfriend Karen Monahan, an environmental activist. He denied claims that video shows him dragging Monahan out of bed and cursing at her, saying, "This video does not exist because I never behaved in this way, and any characterization otherwise is false."
Monahan said the video is real but she doesn't plan to release it. "It sets the expectation for survivors of all kinds of forms of abuse, whether it be abuse toward women, abuse from police officers, abuse from other people in power, to have to be the ones, like I'm doing right now, to show and prove their stories," she said. "It's feeding into that."
The state hasn't had a Republican attorney general since 1955, but the GOP is hoping that the scandal might help hand the seat to their nominee, Doug Wardlow.
• Progressive Minnesota state representative Ilhan Omar is poised to become one of the first Muslim women in Congress after winning a crowded primary to replace Ellison. She won 48.2 percent of the vote, beating five other candidates in Minnesota's Fifth Congressional District.
Ellison is currently one of two Muslims in Congress, but they are both male. With Cook Political Report rating the district D+26, Omar is expected to win her race against Republican Jennifer Zielinski in November. Omar will likely be joined in the next Congress by another Muslim woman, Michigan's Rashida Tlaib, who won the Democratic primary to replace Representative John Conyers, who resigned amid sexual-misconduct allegations.
Omar would also be the nation's first Somali-American legislator. She talked about her experience coming to America at 12 after living in a refugee camp in Somalia during a recent appearance on The Daily Show. "I am America's hope and the president's nightmare," she quipped.
Vermont
• Christine Hallquist scored a historic victory on Tuesday night when she won the race to be the Democratic gubernatorial candidate in Vermont, becoming the first transgender person to be a major party's nominee for governor. Hallquist, a former power utility CEO, beat three other candidates, taking 48 percent of the vote. She'll face incumbent GOP governor Phil Scott, whose popularity in the state recently plummeted, though political analysts still consider the state solidly Republican.
Wisconsin
• While he once labeled fellow 2016 GOP presidential candidate Scott Walker "not smart" and called the state "a mess" under his tenure as governor, President Trump endorsed Walker last week in his quest for a third term. Walker won the GOP primary with 92 percent of the vote on Tuesday.
Tony Evers, the Wisconsin state schools superintendent, won the Democratic gubernatorial race decisively, taking 42 percent of the vote in an eight-way race. A recent poll showed Evers leading Walker by 13 points.
• In the Republican Senate primary, longtime state lawmaker Leah Vukmir managed to beat Kevin Nicholson, though she had been down in the polls for months and a recording recently emerged of her calling Trump "offensive to everyone" during the 2016 race. During their debate, neither candidate could come up with a single thing to criticize about the president. Vukmir said "a liberal elite and the media want nothing more than to bring this president down. I want to see President Trump succeed. When he succeeds, America succeeds."
Vukmir will face Democratic Senator Tammy Baldwin in November. Cook rates the race "likely Democratic."