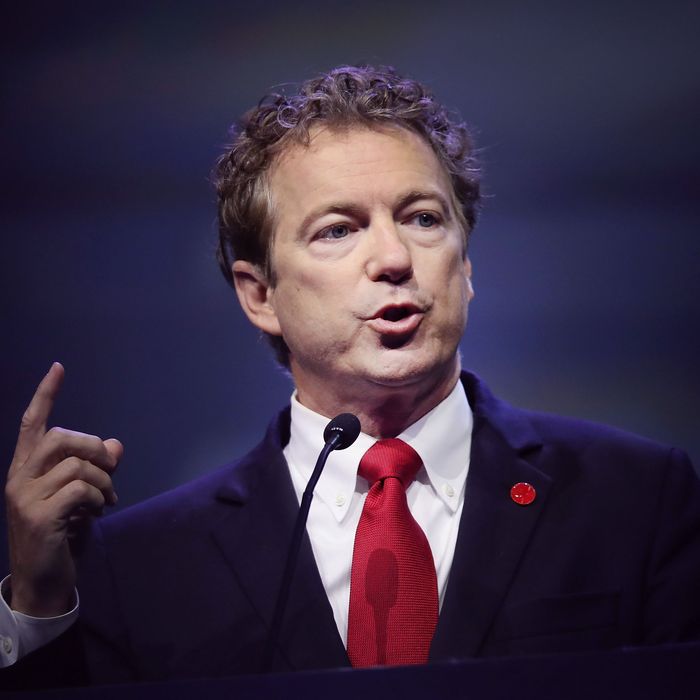 Trump has few bigger defenders on Russia than Rand Paul.
Photo: Scott Olson/Getty Images
Senator Rand Paul, who has carved out a spot as Donald Trump's "Russia wingman," is headed to Moscow this weekend to meet with Russian lawmakers, Reuters reported Thursday. Paul's goal on the trip, he wrote in a Politico piece published last month, is "to discuss common ground with their leaders and help prevent further, unnecessary escalation of tensions."
Paul's trip to Moscow comes one month after a group of senators visited the Russian capital and confronted their counterparts, including Russian foreign minister Sergey Lavrov, about the Kremlin's actions in the 2016 U.S. presidential election. But based on what he's said in the past, Paul appears to have little interest in taking the Russians to task.
Last month on CNN, Paul said it was a "waste of time" to try to hold Vladimir Putin responsible for election interference. "I think we mistake our response if we think it's about accountability from the Russians. They're another country, they're going to spy on us, they do spy on us, they're going to interfere in our elections," Paul said.
"We all do it," he added on the eve of Donald Trump's meeting with Putin in Helsinki, drawing criticism for equating the U.S. to Russia.
In recent months, Paul, a longtime skeptic of U.S. intelligence services, has emerged as Trump's biggest defender against the Russia investigation, even adopting the president's language to talk about the "witch hunt." He was also the most vocal defender of Trump's meeting with Putin, repeatedly saying that he thinks "it's a good idea for us to have conversation even with our adversaries."
For his trouble, he got an "atta boy" from the president.