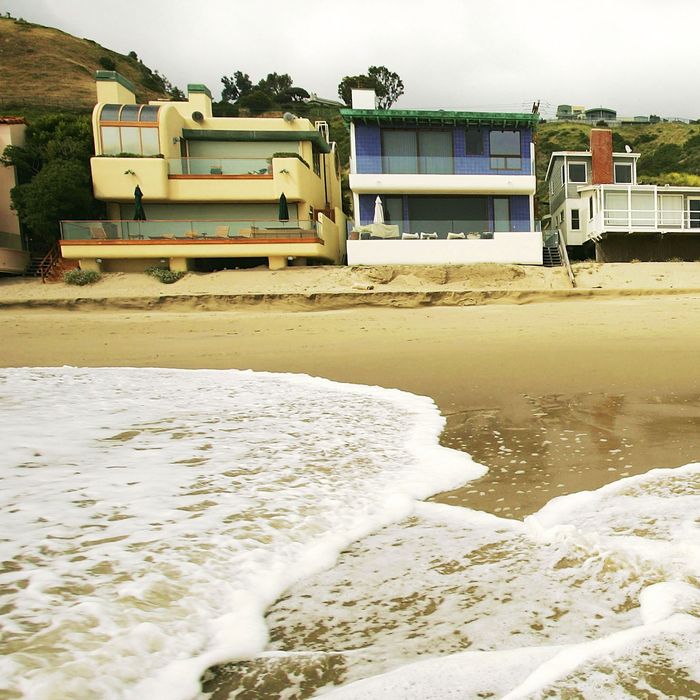 You can rent California beachfront property you inherited from your family without paying anything like current property taxes.
Photo: David McNew/Getty Images
The story of California's famous property-tax-limitation law, enacted as Proposition 13 forty years ago, is partly one of a singular tax system in which public functions that rely upon property levies elsewhere are in California often based on other types of revenues. But it's also a story of a few much-lauded benefits for worthy property-owners increasingly giving way to absurd and grossly unfair inequities.
When Prop 13 was enacted in 1978, it was the product of a homeowners' revolt against skyrocketing property taxes generated by a hot real estate market. It was largely an emergency measure that many of the people who voted for it probably never imagined would still be around into the next century.
Just as obviously, commercial real estate owners wound up getting the same benefits from Prop 13 as residential owners, which perhaps wasn't as evident to voters then as it is today. That rather extreme example of political free-riding is being challenged by a 2020 ballot initiative to strip commercial real estate of Prop 13 protections, which have become something of a sacred cow for businesses over the years.
Over time, of course, even within the residential arena, Prop 13 produced wild disparities in actual tax bills, which grew more egregious each year. This situation was often justified by the stereotype of the elderly widow or couple on fixed incomes who'd have to sell their homes to pay the property taxes the market value of the property would require without Prop 13. Such people do exist; I go to church with a number of them in the pricey Monterey Peninsula area.
But in fact, those Prop 13 protections don't go to the grave with those cash-poor, land-rich homeowners, thanks to a 1986 ballot initiative called Proposition 58, which allowed inheritance of real estate without triggering tax reassessments. And since, of course, the original property owners didn't have to be poor to begin with, this means a lot of rich heirs of rich landowners are still paying very low property taxes, as the Los Angeles Times reports:
Actors Jeff and Beau Bridges, along with their sister, own a four-bedroom Malibu home with access to a semi-private beach and panoramic views of the Pacific Ocean.




They inherited it from their mother, who had owned the house since the late 1950s when their father Lloyd Bridges first made it big in Hollywood.




Earlier this year, they advertised the "stunning Malibu dream" for rent at $15,995 a month — a hefty price tag for a house that has a property tax bill of less than half that.
The Bridges family is hardly alone, and their case illustrates the fact that many Prop 13/Prop 58 beneficiaries, far from being cash-poor property owners sticking to their homes, are actually absentee landlords.
[A] Los Angeles Times analysis shows that many of those who inherit property with the tax breaks don't live in them. Rather, they use the homes as investments while still taking advantage of the generous tax benefits.




In Los Angeles County, as many as 63% of homes inherited under the system were used as second residences or rental properties last year, according to the Times' analysis. A similar trend was found in a dozen other coastal counties where prime vacation spots in Sonoma and Santa Cruz have some of the highest concentration of homeowners receiving the benefit.
You don't even have to live in California to benefit from much, much lower property taxes, and you sure don't have to exhibit any need:
The inheritance tax break, The Times has found, has allowed hundreds of thousands — including celebrities, politicians, out-of-state professionals and some of California's most prominent families — to avoid paying the higher taxes owed by newer homeowners. The tax break has deprived school districts, cities and counties of billions of dollars in revenue.
The inequities could be about to grow worse. Under the original Prop 13, homeowners over the age of 55 could move to a house of equal or lesser value in the same county on one occasion and keep the same unadjusted property taxes. A realtors-backed Proposition 5 on this year's general election ballot would a.) make the right to keep Prop 13 protections after turning 55 unlimited rather than a one-time option; b.) allow purchase of more expensive real estate with a blend of old and new tax rates; and c.) make the right to take this benefit statewide, not just within counties. It's quite the boon for wealthy seniors and near-seniors, and when you add in the Prop 58 inheritability of Prop 13 benefits, it would produce even greater inequality between homeowners and non-homeowners, and different classes of homeowners, depending on how long ago their families bought property in California.
Eventually it may dawn on a majority of Californians that the whole Prop 13 system has evolved from an emergency measure to protect homeowners temporarily into a perpetual entitlement for wealthy individuals and businesses that shifts the cost of government to less fortunate residents. For a state with California's reputation for progressivism, it's a glaring anomaly that gets more ridiculous each year.