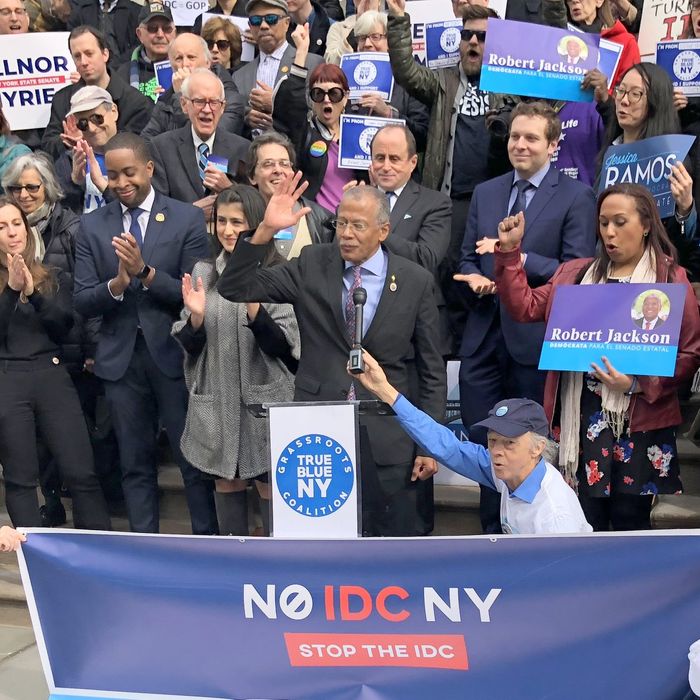 Robert Jackson, center, and other IDC challengers at a rally on the steps of City Hall in March.
Photo: Robert Jackson/Facebook
The rally was standard Democratic boilerplate: in favor of abortion rights, and against the confirmation of Supreme Court nominee Brett Kavanaugh. But it soon became apparent that for the hundred or so attendees who gathered at the foot of Union Square in the broiling July heat, it was really about something else: defeating not just Trump's nominee to the Court, but Democratic Governor Andrew Cuomo and at least a quarter of the Democratic lawmakers that he had endorsed last spring.
"For too long the state Senate has been holding progressive legislation hostage!" shouted Jasi Robinson, a candidate in a legislative district that covers Staten Island and Brooklyn. "The hostage deal is over. We are going to need a commitment from all of you to come out and vote for me and the rest of the resisters that are out here! It was us! We did this! We put the fear into King Cuomo! Get fired up because we are at war!"
It wasn't supposed to be this way. For seven years, a group of breakaway Democrats in the state Senate who called themselves "the Independent Democratic Conference" aligned with the GOP, at times handing Republicans the majority, and at others padding the GOP's lead. The group was widely believed to be the brainchild of Cuomo, since their existence allowed him to keep his distance from a fractious Democratic caucus and to keep his centrist credentials by avoiding the messy business of vetoing progressive legislation that was sure to come from a legislature where both houses were controlled by downstate Democrats.
It was an audacious play, and worked toward the governor's purposes for most of the Obama years. By 2017, the IDC had grown to eight members. Candidates were running and winning by explicitly pledging to join the group. For a moment, it looked as if this group of mostly moderates was going to become larger than the mainline Democratic caucus, and would soon push the liberal holdovers to outer reaches of relevance in Albany.
But then Donald Trump happened, and #TheResistance grew. The center couldn't hold. Liberals are looking for blood, and until November will have to content themselves with eating their own. Nearly all of the eight members of the IDC drew serious, substantive challengers. The Working Families Party and other left-leaning groups endorsed all of them. But then as Cynthia Nixon began an aggressive challenge to Cuomo's third term, the governor took a baseball bat to the whole balloon.
After years of saying that he had nothing to do with the IDC, Cuomo brokered a deal upon which the breakaway Democrats rejoined their former colleagues, a deal that put the mainline Democrats in charge. As part of the deal, the campaign arm of the mainline Democrats agreed to withdraw any financial support for the IDC challengers. Cuomo would endorse the incumbents, and labor and political leaders signed on. The challengers started wondering amongst themselves if there was any reason to go on, since what had once seemed like a long-shot primary against a Democrat caucusing with the Republicans had morphed into a long-shot primary against a Democrat now pledging to caucus with the rest of the Democrats.
But then Alexandria Ocasio-Cortez happened. The 28-year-old democratic socialist became an international superstar overnight when she upended Queens congressman Joe Crowley's bid to become House Speaker. And it wasn't just Ocasio-Cortez. Across the state in June's congressional primaries, little-known and littler-funded challengers came dangerously close to ending the careers of long-serving members of New York's delegation.
Meanwhile, the IDC challengers had grown into something of a slate. They endorsed each other, gathered signatures for each other, shared campaign tips and hit the trail together. Nixon endorsed them, and they her. Zephyr Teachout, an attorney general candidate who pulled a third of the vote against Cuomo in 2014 and is now running a spirited race against Letitia James, his chosen pick for AG, joined in as well. Instead of eight disparate candidates running for local legislative seats, they could plausibly claim to be part of a movement, running against the kind of backroom deals that had entrenched Democratic acquiescence to the GOP.
"This is a year where moral clarity and grassroots activism are what win campaigns," Teachout told New York. "Voters vote on what you did last year, not on what you say you are going to do next year. And these people voted to keep in power someone who is the equivalent of Paul Ryan."
The week Crowley lost, City Council speaker Corey Johnson, a likely 2021 mayoral contender, officially broke the truce and endorsed the whole slate, then went signature-gathering in Flushing to get one more candidate on the ballot: former city comptroller John Liu. He has spent many evenings the last few weeks fundraising, phone-banking, and door-knocking for the whole group. Scott Stringer, the city comptroller who had already backed a couple of IDC challengers just after the deal was first announced, endorsed a few more. Héctor Figueroa, the head of 32BJ, the powerful building workers union, joined in too, even though his union had signed on to the original Cuomo-led detente. Mike Gianaris, an ambitious state senator from Queens who had led the campaign arm of the Senate Democrats, announced that while he wasn't officially breaking the agreement and backing the challengers, he wouldn't be supporting the former IDC members either. And then yesterday Mayor Bill de Blasio dove off the dock too, endorsing Zellnor Myrie, a lawyer in a race for a central Brooklyn seat currently held by a former member of the IDC.
"This is a time for bold progressive change. With Zellnor Myrie in the state senate, what you see is what you will get — a committed progressive who will fight for working people from his first day in office," de Blasio said in a statement. "We need to elect Zellnor to hold a true Democratic majority in the state senate."
And so now the state's political establishment exists in an odd kind of equilibrium, with the April agreement at the breaking point. This week de Blasio hinted to the Guardian (which he's cited as one of his favorite news sources, though it's based out of Manchester, England) that more endorsements were in the offing. Politicians by their nature try to jump to the front of the parade, and to mix as many metaphors as possible, as one lawmaker told New York, "The train is leaving the station. And there aren't that many seats left." Late last month, Rubén Díaz, the borough president of the Bronx, endorsed Jeff Klein, the former leader of the IDC, a clear signal about which side of the line he will be on when he mounts an expected mayoral run in three years. Meanwhile, political observers wonder who will fall next. Could the momentum grow so much that Chuck Schumer supports the challengers? Kirsten Gillibrand? Tish James, looking to shore up her progressive bona fides ahead of a tougher-than-expected September challenge? Andrew Cuomo? The idea seems laughable, but despite polls that show him with a large lead over Nixon, his supporters are nervous. Blowing up the deal he helped write would be dirty pool, but if pressure continues to grow, how much longer can he hold out?
"This is the most important reform effort we have seen in the last 25 years," Stringer told New York at a midtown bar where he was hosting a fundraiser for two of the challengers, Jessica Ramos and Robert Jackson, last month. "You have a group of rogue Democrats who empowered Republicans for eight years. It hurt the city. It hurt tenants. It hurt children. It was an absolute outrage. We can never be in a position where they can blackmail us again."