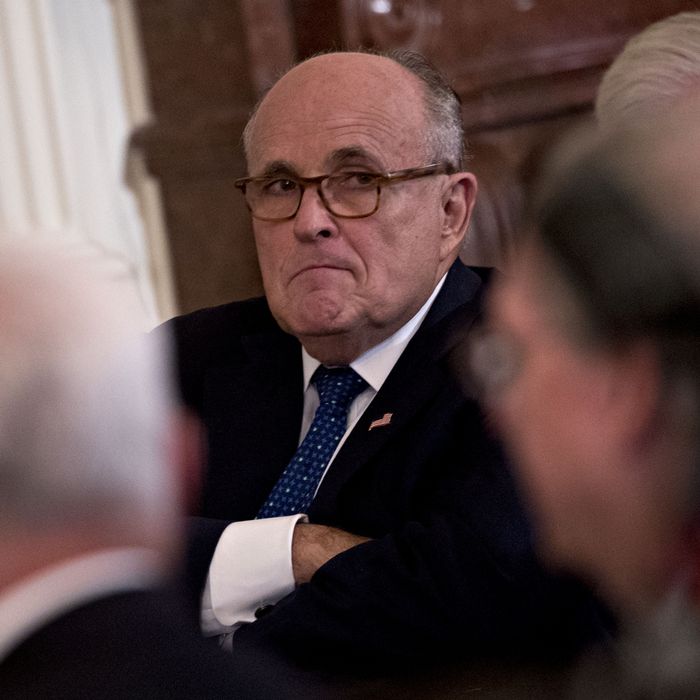 Rudy can fail.
Photo: Andrew Harrer/Bloomberg via Getty Images
Trump lawyer and Islam skeptic Rudy Giuliani felt the need to do a little cleanup Monday morning after drawing hours of flak for telling Meet the Press's Chuck Todd that "truth isn't truth" on Sunday afternoon.
Giuliani's explanation of what he really meant, in the context of discussing whether Trump will ever sit down for an interview with Special Counsel Robert Mueller, isn't completely implausible. If this was a one-time Trump- presidency offense, maybe Giuliani would even get the benefit of the doubt.
But, of course, this administration has developed a hard-won reputation for Orwellian tendencies, dating back to the very first days of the presidency, and continuing on through "alternative facts," "don't believe what you're reading or seeing," and all the rest. And Giuliani himself has shown so little fidelity to the truth during his tenure as Trump's lawyer — just yesterday, in the same interview with Todd, he casually changed the official explanation for the infamous 2016 meeting with Russians at Trump Tower in 2016 — that his walk-backs carry about as much weight as anything else he says.