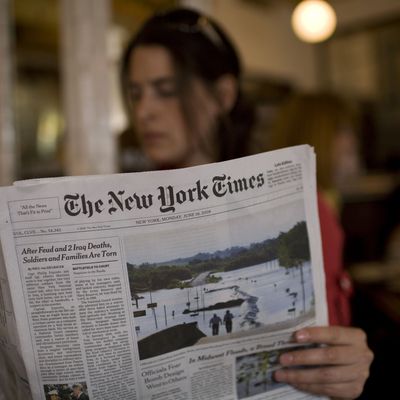 Photo: Jonathan Torgovnik/Getty Images
Is the newest member of the New York Times editorial board, Sarah Jeong, a racist?
From one perspective — that commonly held by people outside the confines of the political left — she obviously is. A series of tweets from 2013 to 2015 reveal a vicious hatred of an entire group of people based only on their skin color. If that sounds harsh, let's review a few, shall we? "White men are bullshit," is one. A succinct vent, at least. But notice she's not in any way attacking specific white men for some particular failing, just all white men for, well, existing. Or this series of ruminations: "have you ever tried to figure out all the things that white people are allowed to do that aren't cultural appropriation. there's literally nothing. like skiing, maybe, and also golf. white people aren't even allowed to have polo. did you know that. like don't you just feel bad? why can't we give white people a break. lacrosse isn't for white people either. it must be so boring to be white." Or this: "basically i'm just imagining waking up white every morning with a terrible existential dread that i have no culture." I can't say I'm offended by this — it's even mildly amusing, if a little bonkers. (Has she read, say, any Shakespeare or Emily Dickinson?) But it does reveal a worldview in which white people — all of them — are cultural parasites and contemptibly dull.
A little more disturbing is what you might call "eliminationist" rhetoric — language that wishes an entire race could be wiped off the face of the earth: "#cancelwhitepeople." Or: "White people have stopped breeding. you'll all go extinct soon. that was my plan all along." One simple rule I have about describing groups of human beings is that I try not to use a term that equates them with animals. Jeong apparently has no problem doing so. Speaking of animals, here's another gem: "Dumbass fucking white people marking up the internet with their opinions like dogs pissing on fire hydrants." Or you could describe an entire race as subhuman: "Are white people genetically disposed to burn faster in the sun, thus logically being only fit to live underground like groveling goblins." And then there's this simple expression of the pleasure that comes with hatred: "oh man it's kind of sick how much joy I get out of being cruel to old white men." I love that completely meretricious "old" to demean them still further. And that actual feeling: joy at cruelty!
Another indicator that these statements might be racist comes from replacing the word "white" with any other racial group. #cancelblackpeople probably wouldn't fly at the New York Times, would it? Or imagine someone tweeting that Jews were only "fit to live underground like groveling goblins" or that she enjoyed "being cruel to old Latina women," and then being welcomed and celebrated by a liberal newsroom. Not exactly in the cards.
But the alternative view — that of today's political left — is that Jeong definitionally cannot be racist, because she's both a woman and a racial minority. Racism against whites, in this neo-Marxist view, just "isn't a thing" — just as misandry literally cannot exist at all. And this is because, in this paradigm, racism has nothing to do with a person's willingness to pre-judge people by the color of their skin, or to make broad, ugly generalizations about whole groups of people, based on hoary stereotypes. Rather, racism is entirely institutional and systemic, a function of power, and therefore it can only be expressed by the powerful — i.e., primarily white, straight men. For a nonwhite female, like Sarah Jeong, it is simply impossible. In the religion of social constructionism, Jeong, by virtue of being an Asian woman, is one of the elect, incapable of the sin of racism or group prejudice. All she is doing is resisting whiteness and maleness, which indeed require resistance every second of the day.
That's why Jeong hasn't apologized to the white people she denigrated or conceded that her tweets were racist. Nor has she taken responsibility for them. Her statement actually blames her ugly tweets on trolls whose online harassment of her prompted her to respond in turn. She was merely "counter-trolling." She says her tweets, which were not responses to any individual, were also "not aimed at a general audience," and now understands that these tweets were "hurtful" and won't do them again. The New York Times also buys this argument: "her journalism and the fact that she is a young Asian woman have made her a subject of frequent online harassment. For a period of time, she responded to that harassment by imitating the rhetoric of her harassers."
Let me explain why I think this is the purest of bullshit. If you want to respond to trolls by trolling them, you respond to them directly. You don't post slurs about an entire race of people (the overwhelming majority of whom are not trolls) on an open-forum website like Twitter. And these racist tweets were not just a function of one sudden exasperated vent at a harasser; they continued for two years. Another tweet from 2016 has her exclaiming: "fuck white women lol."
None of this excuses the behavior of the online hordes that are seeking her head. When media companies give in to those mobs, they are just feeding a voracious beast. It's worth noting, however, that Jeong has a long record of cheering online mobs when they target people she dislikes. "Is there anything more tedious than media navel-gazing over 'outrage mobs'?" she tweeted earlier this year.
And I don't think the New York Times should fire her — in part because they largely share her views on race, gender, and oppression. Their entire hiring and editorial process is based on them. In their mind, Jeong was merely caught defending herself. As Vox writer Zack Beauchamp put it: "A lot of people on the internet today [are] confusing the expressive way antiracists and minorities talk about 'white people' with actual race-based hatred, for some unfathomable reason." I have to say that word "expressive" made me chuckle out loud. (But would Beauchamp, I wonder, feel the same way if anti-racists talked about Jews in the same manner Jeong talks about whites? Aren't Jews included in the category of whites?)
The editors of the Verge, where Jeong still works, described any assertion of racism in Jeong's tweets as "dishonest and outrageous," a function of bad faith and an attack on journalism itself. Scroll through left-Twitter and you find utter incredulity that demonizing white people could in any way be offensive. That's the extent to which loathing of and contempt for "white people" is now background noise on the left. What many don't seem to understand is that their view of racism isn't shared by the public at large, and that the defense of it by institutions like the New York Times will only serve to deepen the kind of resentment that gave us Trump. Last night, for instance, Fox News made the most of the Times' excuses for race-baiting.
Yes, we all live on campus now. The neo-Marxist analysis of society, in which we are all mere appendages of various groups of oppressors and oppressed, and in which the oppressed definitionally cannot be at fault, is now the governing philosophy of almost all liberal media. That's how the Washington Post can provide a platform for raw misandry, and the New York Times can hire and defend someone who expresses racial hatred. The great thing about being in the social justice movement is how liberating it can feel to give voice to incendiary, satisfying bigotry — and know that you're still on the right side of history.
The Left's Border Conflict
I loved this little nugget from an interview Vox's Ezra Klein had with Bernie Sanders in 2015, which has been recirculating recently on Twitter. Money quote:
Ezra Klein: You said being a democratic socialist means a more international view. I think if you take global poverty that seriously, it leads you to conclusions that in the US are considered out of political bounds. Things like sharply raising the level of immigration we permit, even up to a level of open borders. About sharply increasing …

 

Bernie Sanders: Open borders? No, that's a Koch brothers proposal.

 

Ezra Klein: Really?

 

Bernie Sanders: Of course. That's a right-wing proposal, which says essentially there is no United States. …

 

Ezra Klein: But it would make …

 

Bernie Sanders: Excuse me …

 

Ezra Klein: It would make a lot of global poor richer, wouldn't it?

 

Bernie Sanders: It would make everybody in America poorer — you're doing away with the concept of a nation state, and I don't think there's any country in the world that believes in that.
Good for Bernie! But you can almost hear Ezra's sudden realization that he's talking to a reactionary old fool! What you have here, I think, is a perfect encapsulation of the old and the new left. Sanders has never had a problem with the nation-state; it is, after all, the foundation for any functioning democracy, and a democratic politician will always put the citizens of his country first. His ideal left-liberal countries — the Nordic ones — are strong nation-states with, until very recently, homogeneous populations. But Ezra really does seem to have an issue — philosophically and morally — with the nation-state. Social justice doesn't end at the border, after all. And if the goal of the left is universal equality, on what grounds does it not extend to everyone on the planet? Which is to say: why do we have borders at all? Why do we draw any distinction between the citizen and the noncitizen?
This, it seems to me, is what impedes the Democrats from taking a strong line on illegal immigration. Many of them don't have the slightest problem with it, and some even believe it is a moral necessity. A wealthy country cannot ethically keep its wealth to itself, they believe. And this is even truer when such a country is largely white and those outside it overwhelmingly nonwhite. Borders, in this worldview, are inherently racist. So how exactly does a good liberal favor enforcing them? He doesn't. He just pretends to.
Never Underestimate the Lure of Cruelty
The first chapter in Judith Shklar's 1984 book, Ordinary Vices, has an arresting title: "Putting Cruelty First." What Shklar was exploring was whether a liberal society, properly understood, can coexist with institutional and personal cruelty, or whether it truly is a corrosive acid to a democratic society. I don't mean individual acts of cruelty. They, alas, will always be with us. I mean a culture increasingly comfortable with it, and a government capable of enabling it. I picked the book up again the other day after reading about the continuing horror of the migrant children being separated from their parents in the asylum process. Hundreds are still cut off from their families. Some may never see their parents again. We now know something else:
A Trump administration official said Tuesday he warned for months about the potential for harm to migrant children if they were separated from their parents before the administration launched its "zero tolerance" border policy earlier this year.




"There is no question that separation of children from parents entails significant potential for traumatic psychological injury to the child," Commander Jonathan White, a Health and Human Services official who led the agency's family reunification efforts, told the Senate Judiciary Committee.
So this was a premeditated, conscious attempt to hurt vulnerable children in order to deter future would-be asylum seekers who might bring their kids with them. It was an instrumental cruelty in which children were not seen as subjective beings to be protected but as objects to be used. It wasn't a policy designed to be hidden, but to be broadcast. Yes, you can see how the previous system perversely incentivized the smuggling of children, and we needed to do something. But when a solution to that problem is the institutionalizing of cruelty against the helpless, a liberal society simply has to say no.
Many evils and vices exist, some arguably worse than cruelty. It is not included in the deadly sins, for example. But it is a vice particularly dangerous for any sort of liberal democracy. Its incompatibility with the liberal idea is rooted, quite simply, in the immense inequality that cruelty invariably entails — between, say, an armed adult agent of the law and a helpless, alien, exhausted child. It's the vast imbalance that turns mere force into unforgivable vice, which is why we tend to associate cruelty with tyranny. Cruelty also violates any sense of human dignity and empathy. It tears at our connective, human tissue. And it is almost always imposed out of cowardice rooted in some kind of fear. Shklar puts it this way: "No child can deserve brutality. Punishment is justifiably inflicted in the service of retribution, education or public security; but if it goes away from, or beyond, these ends, we call it 'cruel and unusual' and forbid its use."
Except, of course, we haven't. America was founded in cruelty. Slavery was inextricable from it — not just because of the violence and humiliation, but because of the continuing psychological torment of being treated as captive subhuman, to be nakedly subject to brute power and violence. All forms of torture likewise represent a cruelty of the most unbalanced and cowardly type, because of the vast power differential between the torturer and his victim. Mistreatment of animals fits into the same category, something that Montaigne, in his famous essay on the subject, found particularly intolerable. He insisted, way ahead of his time, that "there is, nevertheless, a certain respect, a general duty of humanity, not only to beasts that have life and sense, but even to trees and plants." Cruelty, in this view, is abuse of power at its most extreme. Which is why, in so many ways, our wanton destruction of this planet's ecosystem and the subsequent suffering of so many other species may be the cruelest act of humankind in our time.
Wherever this dark strain in us comes from, it should not, it seems to me, be underestimated, or allowed to slide. We have progressed immensely over the centuries on this question, but it is always a temptation. Small cruelties easily lead to larger ones. And larger ones require, for most people, the dehumanization of the victims, which makes cruelty more tolerable and therefore more likely. It spreads, this stuff, which is why we have slowly constructed a liberal civilization over the last few centuries in which this most ordinary and yet most pernicious of the vices has been kept under control. Letting it slip, allowing it to fester, becoming numb to it: this is the danger we face in this authoritarian moment. We simply cannot let these children down. We simply cannot look away until everyone is accounted for.
See you next Friday.