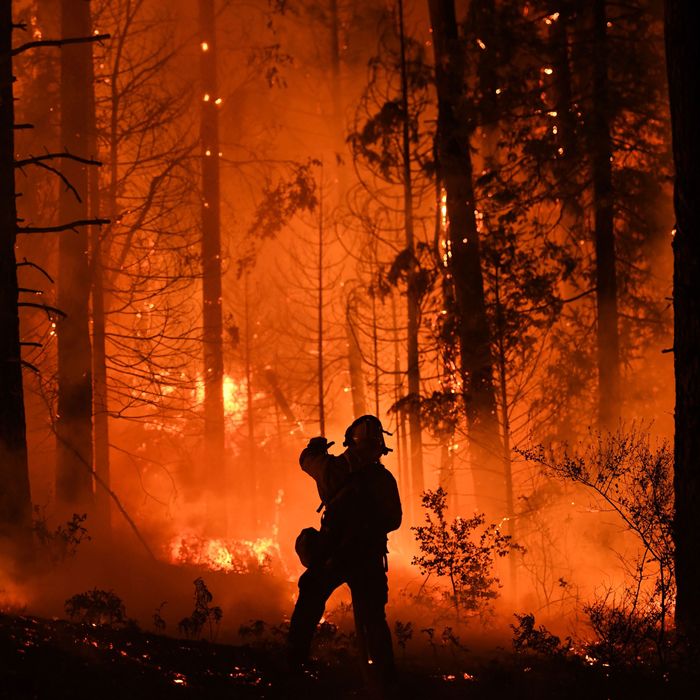 A firefighter beats back the Carr Fire.
Photo: Mark Ralston/AFP/Getty Images
The number of homes destroyed by the devastating Carr Fire in Northern California surpassed 1,000 Wednesday morning, even as firefighters began to take control of the sprawling blaze.
The Carr Fire is now the sixth-most destructive fire in California history, covering 115,000 acres. In addition to the 1,018 homes torched, another 750 buildings have been damaged or destroyed by the fire.
The blaze began on July 23 when a car burst into flames on California Highway 299 a couple hundred miles north of San Francisco. In a matter of days, the fire jumped the Sacramento River and began encroaching on the city of Redding, home to 90,000 people.
As the fire moved west early this week, some of the thousands of people displaced by the fire were allowed to return home and begin surveying the damage. Josh Lister was among them. "It was a firestorm when we left," Lister, who lost his home to the fire, told ABC Action News. When he returned, he said, "it looked like an atomic bomb went off," he said.
Not everyone will be able to return home. Six people were killed by the fire, including two firefighters, and at least two people remain missing.
The Carr Fire may be the biggest, but it's by no means the only wildfire creating problems in California. The Ferguson Fire near Yosemite National Park has engulfed more than 60,000 acres and taken the lives of two firefighters, one of whom was killed when his bulldozer fell down a ravine and another who died after a tree collapsed on him. The fire has resulted in many parts of Yosemite being closed to visitors.
There are at least another dozen major wildfires currently spreading in California, and it's little mystery why. A prolonged drought has created endless tinder in California's wilderness that fuels the fires, while record-breaking temperatures ensure that everything remains bone dry and ready to ignite.
Before the Carr Fire erupted, the area around Redding was already facing record-high temperatures, and experts are drawing a direct line from climate change to a fire season that has already destroyed more than 400,000 acres in California this year.
"Even by July standards, this is an unusually long July heat wave with triple-digit heat in areas for three weeks straight. And the night that the fire went off, temperatures were well above 110 degrees. In cases like this, there's an undeniable link to climate change," said ABC News senior meteorologist Rob Marciano.