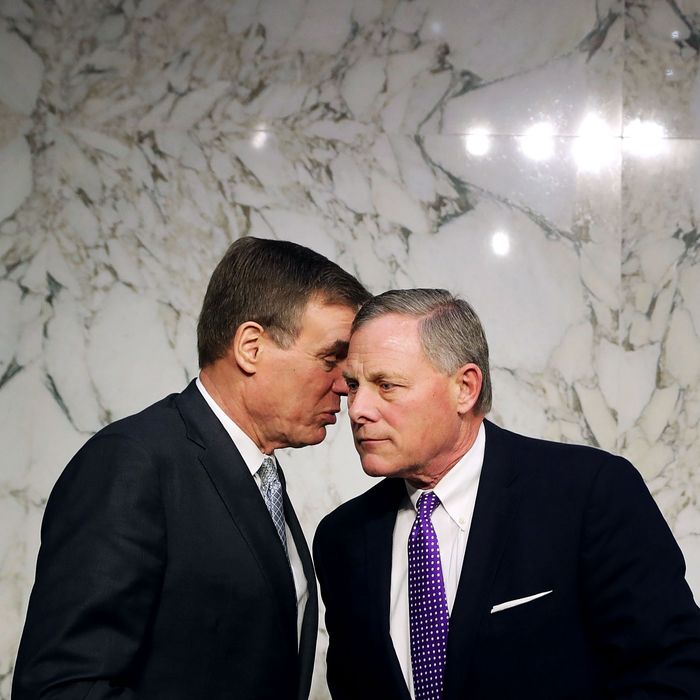 Warner and Burr confer: What did Cohen know and when did he know it?
Photo: Chip Somodevilla/Getty Images
In today's blizzard of news involving Donald Trump's former campaign manager Paul Manafort and former lawyer Michael Cohen, we're all tangled up in a lot of details. But probably no one is more off-balance about Cohen than the chairman (Richard Burr) and ranking minority member (Mark Warner) of the U.S. Senate Intelligence Committee, who are wondering about an issue that isn't directly raised in Cohen's guilty pleas and potential deals, as they indicated in a joint statement:
We have obviously followed today's reporting about Michael Cohen with great interest. He appears to be pleading guilty to very serious charges, however, we have no insight into any agreements he and his legal team have allegedly reached with prosecutors in New York.




What we can say is that we recently reengaged with Mr. Cohen and his team following press reports that suggested he had advance knowledge of the June 2016 meeting between campaign officials and Russian lawyers at Trump Tower. Mr. Cohen had testified before the Committee that he was not aware of the meeting prior to its disclosure in the press last summer. As such, the Committee inquired of Mr. Cohen's legal team as to whether Mr. Cohen stood by his testimony. They responded that he did stand by his testimony.




We hope that today's developments and Mr. Cohen's plea agreement will not preclude his appearance before our Committee as needed for our ongoing investigation.
Burr and Warner did not say that they were concerned that Cohen might be in leg-irons or wearing an orange jumpsuit — or disinclined to make squaring his testimony with press accounts a particularly high priority. But as the senators suggested, it's an issue at the heart of allegations of collusion between the Trump campaign and Russians, with Cohen being a potential witness to the motives of the various players.
If Cohen was lying about that, it's important to know it. But Burr and Warner may have trouble getting his attention or his testimony anytime soon.