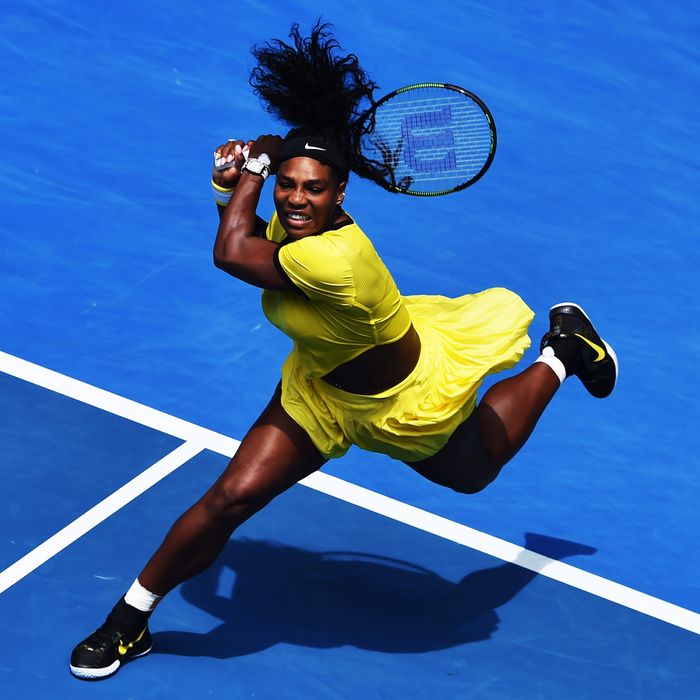 Still amazing.
Photo: Peter Parks/AFP/Getty Images
When I lived in Los Angeles in the late '90s, the Los Angeles Times ran an advertisement from the Los Angeles Clippers, trying to get fans to buy tickets to see them play. The Clippers aren't the most thrilling team in the NBA right now, but in 1997, they were truly wretched, going 17–65, in the midst of 18 losing records in 19 seasons. And the Clippers were desperate. So the half-page advertisement, right before the season tipped off, featured a small photo of Clippers guard Brent Barry in its bottom right-hand corner, looking up at a massive, centered photo of Michael Jordan, who had just won his fifth championship a few months before. The copy didn't mince words about its sales pitch.
"Brent Barry doesn't have to pay much to see Michael Jordan this year. And now you don't either."
The ad — in which the Clippers, perfectly understandably, equated their best player to a random fan in the upper deck — was for a six-game ticket package plan, allowing you to see the Clippers play six teams you might want to watch at their old home at the Los Angeles Sports Arena. Even as a struggling writer just out of college, I leapt at the opportunity: I'd never seen Michael Jordan play before. It turned out to be a fantastic decision: Jordan scored 49 points in a double overtime win. Jordan retired after he won his sixth and final title that season, and I never saw him play again. Those tickets were the best sports investment I've ever made. Heck, I even got to see Brent Barry score 17.
We tend to quantify sports greatness in terms of statistics, or awards, or championships, but that's ultimately unsatisfying: Records fall, players change teams, you may live your whole life and then die without ever seeing your favorite team win a title. The true gauge of athletic achievement, I'd argue, the only real way to achieve immortality, is: Do you get to boast the rest of your life that you saw that athlete perform in person? I don't know if I'll get to tell my grandchildren that I saw Michael Jordan, or LeBron James, or Mike Trout, or Tom Brady, but I know that I'll be yammering about it to somebody, likely the poor sap unfortunate enough to be sitting next to me at the hotel bar. To see true brilliance in person, and to talk about it the rest of your life, well, that's the whole point of all of this, isn't it? To tell some whippersnapper in 30 years that your sports hero is better than their sports hero?
If so: Then you need to get out and see Serena Williams this fortnight at the U.S. Open, which begins Monday morning out in Queens. What Williams has done, in recent months and in her entire career, has revolutionized not just tennis but sports altogether, and she has done it with grace, style, and almost unprecedented transparency and openness. But mostly she has done it with dominance. We'll be having our LeBron vs. Jordan and Trout vs. Bonds debates for the next several decades. But there will never be any debate with Serena. She's the best, and she'll probably the best forever. And you better hurry up and see her now. There aren't that many shopping days until Christmas.
The easiest things to mention about Serena Williams are her accomplishments. There are 23 major titles, second all-time, one behind Margaret Court. Williams has also won 14 doubles titles, all 14 with her sister Venus (who has seven major titles of her own, including five Wimbledons, and would be more widely considered one of the greatest players of all time if she weren't constantly being overshadowed by her sister), and the most majors match victories (325, a number she'll start adding to next week) of all time. She was the top-ranked tennis player in 2002. She was also the top-ranked player in 2017. There has never been anyone else like her.
But that's just the surface of it with Serena, isn't it? More than any other legendary athlete that I can remember, Williams has always been defiantly herself in the public eye, not just challenging what was expected of a female tennis player, but demolishing, and then reconstructing, the whole concept. She and Venus started out on the tour as precocious teenagers, African-Americans in a mostly lily-white sport, and they were so charming and enraptured by their sport that they actually wrote a monthly newsletter, Tennis Monthly Recap, in which they interviewed other players and wrote essays about their dogs. Then, gradually, they took the whole sport over. And Serena emerged as a breakout personality, someone who wore a black Lycra catsuit to matches, or even boots to the 2004 U.S. Open. (They made her take the boots off for the match, which is a shame; one suspects Serena could win a title in stilettos if she had to.) She had a body unlike anyone else in women's tennis, one that led the most thickheaded of observers to show their proverbial asses; let us never forget that Jason Whitlock once wrote asking "How else can Serena fill out her size 16 shorts without grazing at her stall between matches?" and said she had "an unsightly layer of thick, muscled blubber."
Williams never disguised that she heard these taunts, but they didn't knock her over either; she was used to looking different than anyone else, and knew how to combat it. (She ended up "grazing" in a Beyoncé video.) She also, you know, has been an incredible tennis player for 20 years. As she got older, she relied less on her power and strength — which, it's worth noting, was always a little overstated; her sister is actually a harder server than she is — and more on the instincts and muscle memories of her decades in the sport. Serena was the sort of player who was strong and savvy enough to make you constantly play defense, a strategy that once worked in women's tennis, back when it was a more tactical game, but no longer would against a player like Serena. Serena proved herself as skilled mentally as physically as her career went on and, all told, is probably more enjoyable to watch play now than she was a decade ago.
After nearly 20 years in the sport, she wasn't just considered the best player of all time, she had become the role model for all future tennis players after her. And not just tennis players. Her comeback from childbirth and a near-death experience involving a pulmonary embolism and hematoma has been inspiring for essentially every mother on the planet, as has her openness on how personally taxing that comeback has been, lamenting how she missed her daughter's first steps because she was on the practice court. She still finished second at Wimbledon and is the Vegas favorite at the U.S. Open, to win her first major since she beat her sister at the 2017 Australian Open, when she was two months pregnant. She will be the crowd favorite in Queens from the very first match of the tournament. Everyone is always rooting for Serena now.
That is also worth noting: Superstars are rarely so beloved when they are at their peak, particularly in an age of constant social-media scrutiny. LeBron James has only recently returned from the wilderness of being the NBA's bad guy, and Kevin Durant got to enjoy his second title for roughly five minutes until someone called him a bandwagoner again. Tom Brady is the most hated man in his sport. Most of America doesn't even know who Mike Trout is. But Serena Williams is the best player in her sport and the plucky fan favorite, and that never happens. And she has done it by being resolutely herself. She has overcome all doubters, weathered some of the ugliest slander any athlete has ever faced, remains under constant suspicion from tennis's old guard (a recent Deadspin investigation noted how much more often she's tested for PEDs than her contemporaries) and is somehow the central figure of her sport as she's turning 37 years old. She has conquered her sport, as thoroughly as any athlete has conquered their sport in my lifetime … except maybe for Roger Federer, who has done just about the same thing at the same age as Serena.
She is not done, obviously. Winning this U.S. Open, which would be her seventh (she won her first 19 years ago), would be perhaps her crowning achievement, tying Court's record in front of a delirious home crowd so shortly after childbirth — Alexis Olympia Ohanian will turn 1 during the tournament — and after her older sister's murderer was released from prison just last month. But 37 is 37. She is like few other athletes, but she is still a human being. The opportunities to see the greatest tennis player of all time, one that has taken over and transcended her sport, one who has bent the entire sports world to her will, are dwindling. Eventually, you're not going to be able to see Serena play and then someday say you saw the best. Tickets to see Serena play at the Open over the next two weeks are going to be among the most difficult to come across the tournament has ever seen. They'll be worth every penny. They're an investment that'll pay off forever.