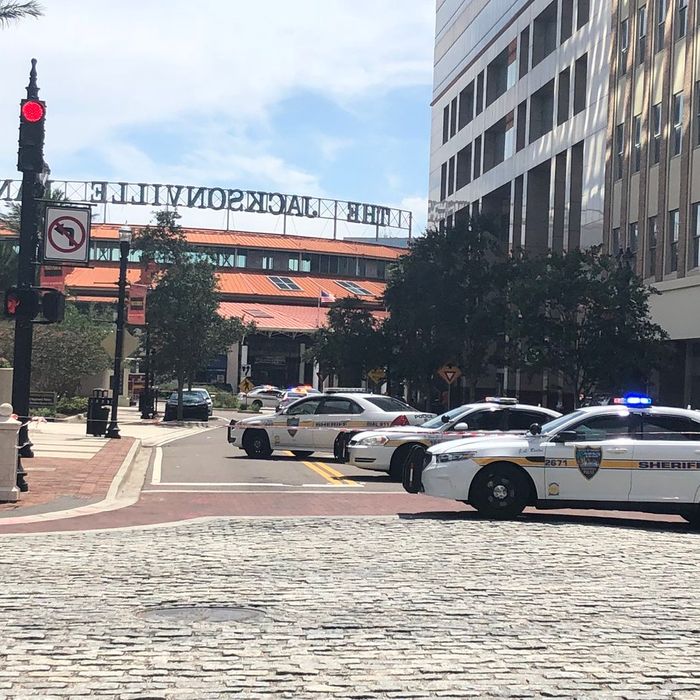 A gunman opened fire at a video-game tournament in Jacksonville, Florida, on Sunday afternoon, killing two people and injuring 11. Authorities say the gunman then fatally shot himself.
Jacksonville County Sheriff Mike Williams identified the gunman as David Katz, a 24-year-old man from Baltimore. Williams said authorities have yet to determine Katz's motive, or if he knew the victims.
The shooting took place at GLHF Game Bar, which was hosting the tournament, in an area called Jacksonville Landing. In the aftermath of the shooting, police roped off the area and cautioned media and pedestrians to stay away as they combed through the area, looking for people who had hidden at the sound of the shots.
The moment of the shooting was captured on a livestream of the tournament, broadcast on the popular platform Twitch. As shots rang out, players abandoned their game and a screams could be heard in the background.
At least one competitor at the event, in which high-level gamers play the newest version of the juggernaut Madden series of NFL-inspired video games, shared their experience on Twitter.
Eleven people were treated at local hospitals, including nine with gunshot wounds and two who were injured while fleeing the scene. The gunshot victims were all in stable condition as of Sunday night.
Florida has become ground zero for America's gun-violence epidemic. Since June 2016, it has seen the massacre at the Pulse nightclub in Orlando, a mass shooting at the Fort Lauderdale airport, the high-school shooting in Parkland, which galvanized the gun-reform movement, and now Sunday's carnage.
Florida Governor Rick Scott, who signed new gun safety legislation after Parkland, spoke to reporters outside a Jacksonville hospital on Sunday night.
"We have got to change, we've got to really stop and say to ourselves, 'There's something wrong,'" said Scott. "Why are young men willing to give up their lives? Or why don't they value somebody else's life? We've got to figure this out. We don't ever want this to happen again."
The Republican governor, who is running for the U.S. Senate, did not propose any gun measures on Sunday night, and he ignored reporters' questions about new legislation.