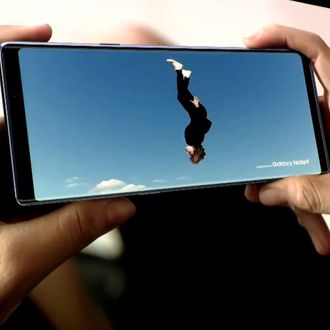 Samsung announced its newest phone, the Galaxy Note 9, on Thursday during Unpacked, a live event at Barclays Center in Brooklyn. As is pretty much the way with product drops in this day and age, there weren't a whole lot of surprises about the new device. (Samsung did announce that its users are getting early access to Fortnite for Android, though that had already leaked earlier in the week, too.) It comes in new colors. It's got a pretty great camera. Samsung is very bullish about its battery. If you're in the market, here's what we think you should know before you buy.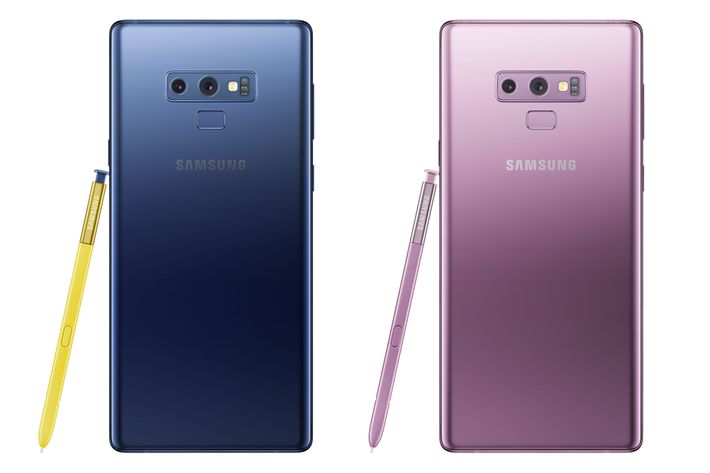 The colors are almost — ALMOST — good enough to make me consider ditching the iPhone.
The Note 9 comes in two new colors: ocean blue and lavender purple. The S Pen in the blue model is a bright yellow, and the pen in the purple model matches the device. Maybe it's because 2018 was declared the year of ultraviolet by Pantone — oh, hmm, Samsung wonder where you got this idea — but that purple option is really doing it for me. Specs-wise, the phone has a 6.4-inch edge-to-edge Super AMOLED screen and comes in a 128 GB model and a 512 GB model. (You can add additional storage via SD card.) It's IP68 water- and dust-resistant, which means you can accidentally drop it in a toilet for about 30 minutes and it'll still work. (It happens. Don't pretend it doesn't.)
The camera is smart as heck.
As somebody who has taken too many photos this summer only to discover they are obscured by a thin layer of sunscreen that my beach hands had smeared over my phone camera, I'm most excited about the new "intelligent" features built into the Note 9 camera. (The rear camera is composed of two, 12-megapixel lenses. The front camera has one with 8 megapixels.) The device's flaw-detection tech will notify you when you take a photo that is blurry, if the lens is dirty, or if somebody in the picture has their eyes closed. Note 9 also comes with a scene optimizer, which analyzes what you're shooting and tweaks the camera settings accordingly. The phone recognizes 20 different types of scenes, from waterfalls to food. I tested this earlier this week — holding the device up to flower arrangements and a basketful of lemons — and was impressed by how quickly the device was able to figure out what I was pointing it at.
It still has a headphone jack.
That's pretty much all there is to say about that. If you're still wired to 3.55 mm jack, you're good to go with the Note 9.
The S Pen is a remote now, which … okay, sure.
In addition to its previous doodling capabilities, the S Pen is now equipped with Bluetooth. You can use it for things like changing a song, taking a photo, or controlling a slide presentation. That last one being the only use case that seems remotely — sorry — useful. I don't often set my camera and time group photos — the good Lord didn't invent selfies for nothing — and I'm not about to hold the S Pen in my hand while I'm on a treadmill. The S Pen, which connects to the phone via Bluetooth Low Energy, charges when it's stored inside the device and fully charges in under a minute.
Samsung promises that this one's battery won't catch on fire and will last all day.
Like the Galaxy S8, the Note 9 goes through an "eight-point battery testing procedure" to ensure that it doesn't go the way of the Note 7. Which is to say … to ensure that it doesn't melt down on your dresser and burn your house to the ground. The device boasts Samsung's biggest battery yet, a total of 4,000 mAh, which the company says will last "all day." Though that's, as always, going to depend on what you do with your device in a day.
It doesn't come cheap.
The 128 GB option comes in at $1,000. The 512 GB model will run you $1,250. (You can buy the phone unlocked or through your preferred carrier.) For comparison, the iPhone X starts at $999 for a 64 GB device.