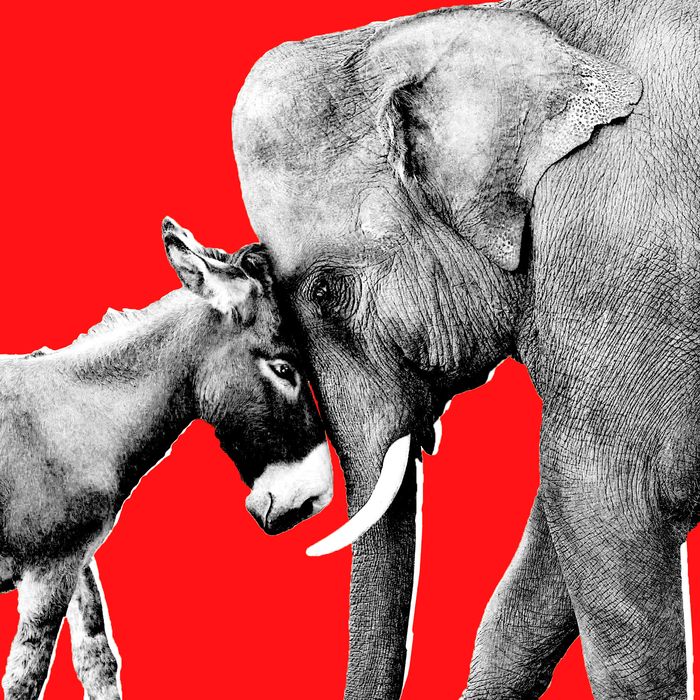 The midterms are getting real.
Photo: John Lund/Corbis via Getty Images
Some days there isn't a lot of new polling data out there, but other days there's almost more than you can absorb. That was the case on Wednesday, when the RealClearPolitics polling site listed 22 new findings (though some are multiple matchups from the same poll). There are six polls you shouldn't miss:
Wisconsin: Dead heats in two huge races
The highly regarded Marquette University Law School polling outfit has its first post-primary soundings of the state's gubernatorial and senate races, and it looks like both could be barn burners. Deploying a "likely voter" screen and pushing leaners to make up their minds, Marquette finds incumbent Democratic Senator Tammy Baldwin with a spare two-point lead (49/47) over Republican Leah Vukmir. Among all registered voters, Baldwin's lead is stronger at 51/43, showing what some superior mobilization might do for the Democrat. In the gubernatorial race, Marquette shows incumbent GOP Governor Scott Walker and Democratic challenger Tony Evers dead even among likely voters at 46 percent. Interestingly, Walker has a two-point lead (46/44) among registered voters. A Libertarian candidate has significant support (6 percent among likely voters, 7 percent among registered voters).
Texas: Cruz-O'Rourke Senate race tightens
An NBC/Marist poll of registered voters in Texas shows the high-profile Ted Cruz/Beto O'Rourke Senate race getting even closer, with Cruz up by four points, 49/45. Both candidates are getting over 90 percent of the vote from their own partisans, and are splitting independents right down the middle. Suburbanites and white college graduates are also evenly split. This race could be one of the more dramatic of the cycle.
Florida: GOPer Rick Scott is rising in Senate race
A Florida Atlantic University poll of registered voters shows Governor Rick Scott developing his first really significant lead over incumbent Democratic Senator Bill Nelson, at 45/39. The GOP primary to succeed Scott as governor is a close race between Trump-endorsed Congressman Ron DeSantis (at 32 percent) and Agriculture Commissioner Adam Putnam (at 31 percent). This is actually an improvement over Putnam's most recent standing in the Florida Atlantic poll. Meanwhile on the Democratic side former congresswoman Gwen Graham has built a 29/17 lead over Miami Beach Mayor Philip Levine.
New Jersey: Sen. Menendez can't shake opponent
A Quinnipiac poll of RVs shows Democratic Senator Bob Menendez's lead over GOP Bob Hugin, a former pharmaceutical exec, slipping to 6 percent (43/37), with a sizable undecided vote that could break against Menendez thanks to his high-visibility corruption trial (which ended in a hung jury and dismissed charges) or could break in his favor thanks to an anti-Trump wave.
Illinois: GOP governor in big trouble
A Marist poll for NBC taken among registered voters shows Democratic gubernatorial candidate J.B. Pritzker with a 46/30 lead over incumbent Republican Governor Bruce Rauner. Minor candidates get 10 percent in the poll, and there's a reasonably large undecided vote, but in this insanely expensive race between two self-funders, Pritzker has given his campaign an estimated $126 million, while Rauner has given his $95 million. He's going to have a very hard time catching up.
Minnesota: Good news for Franken's replacement
A Suffolk poll of LVs in Minnesota has reasonably good news for Democrats. As expected, Senator Amy Klobuchar has a big (54/34) lead over Republican Jim Newberger. Interim Senator Tina Smith, another Democrat, has a more modest 44/37 lead over Republican Karin Housley. And in the governor's race, Democratic Congressman Tim Walz has a 46/41 lead over Hennepin County Commissioner Jeff Johnson, who upset Tim Pawlenty in the August 14 primary.