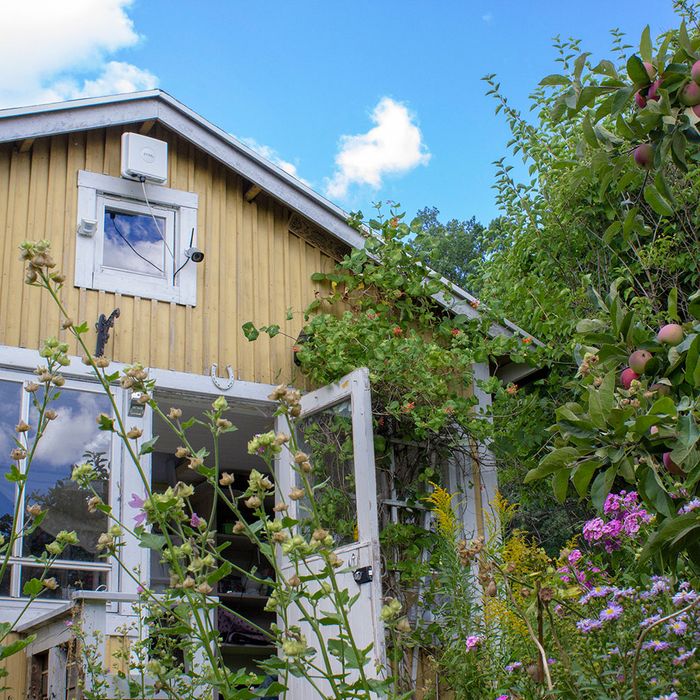 Nestled in a verdant garden park on the eastern outskirts of Helsinki lies a tiny, yellow wooden house with a Zyxel LTE router posted above the front door. It's the summer cottage of Taneli Tikka, a 40-year-old tech entrepreneur and father of identical twin toddlers. This cottage is where Tikka and his family retreat during the summer months to get away from the daily grind of city life, where Tikka is the CEO of a 3.2 billion euro state-owned tech fund.
The yellow house is partly obscured by the flowering bushes, fruit trees, and climbing vines that explode from every corner of Tikka's small yard. But when you look closely, you can see cameras, sensors, and wires perched in the windows and behind bushes. That's because Tikka has outfitted his 85-year-old cottage with a full suite of connected devices.
Summer cottages — called "mökit" in Finnish — are a way of life in the Nordic countries. When the long winter finally comes to a close, Finns retreat to these rudimentary wooden cabins to immerse themselves in a "back-to-nature" existence. Most mökit have no running water. Many have no electricity. Classic mökki activities include collecting berries, hunting for mushrooms, chopping wood for the sauna stove, swimming nude in the lake, weaving flower crowns, and going to the bathroom in a wooden cabinet covering a hole in the ground, also known as an outhouse. Every Finn I've ever met speaks with wistful reverence about the peace of mind that they get from the rustic, disconnected simplicity of mökki life.
Which is exactly why Taneli Tikka started installing sensors and connected devices throughout his yellow mökki. He wanted the peace of mind of knowing that his cottage is secure and well-maintained, even when he's not there for most of the year.
Tikka is swinging in his hammock under the shade of an apple tree when I arrive for a tour of his "smart mökki." He struggles to extricate himself. I feel bad for disrupting such a tranquil idyll.
"I was just separating the apples that have gotten some kind of fungus from the good ones this morning," he says, pointing with his foot to show me which of the apples have contracted a contagious fungus.
Then he starts pointing out the six IP cameras that surveil the yard. Security cameras were the first IoT devices that Tikka installed. The mökki is located less than a kilometer away from a metro line that goes straight to the Helsinki city center. Many of the mökit in his community were getting broken into with regular frequency, especially in the winter months when no one is living there.
"The first thing that I thought of when installing the IoT devices was some security stuff to work as a deterrent against those break-ins," Tikka explains. "So these just make sure no one walks in here and grabs anything without us noticing."
Tikka is a former Boy Scout from the Finnish countryside. He has been tinkering with technology since he disassembled his first transistor radio at age 6 and used the electrical components to build camping stoves. When mökki security became a concern, tinkering with IoT solutions felt like an obvious course of action.
The Zyxel LTE 4G wireless router gets up to 600 megabits of bandwidth up and down the network, which is strong enough to stream the multiple live feeds of HD video. Once Tikka had connected the security cameras, he started souping up his mökki with smart tech to make it as easy and efficient as possible to maintain.
Multipurpose sensors lurk in every corner of the house — hanging above doors, peeking through windows, sitting on the floor, perched on shelves, or nailed to random wooden beams. They monitor the temperature, humidity, light, UV levels, motion, and soil moisture. Motion sensors activate the Philips Hue LED lights. Tikka recently connected a music system.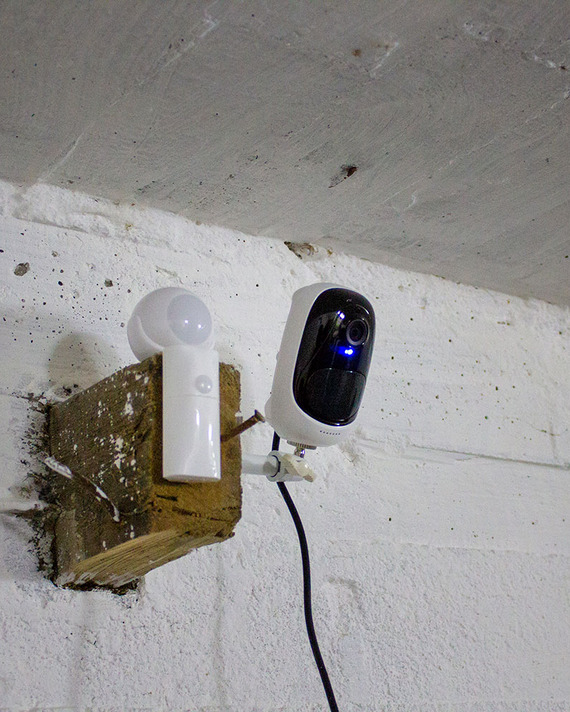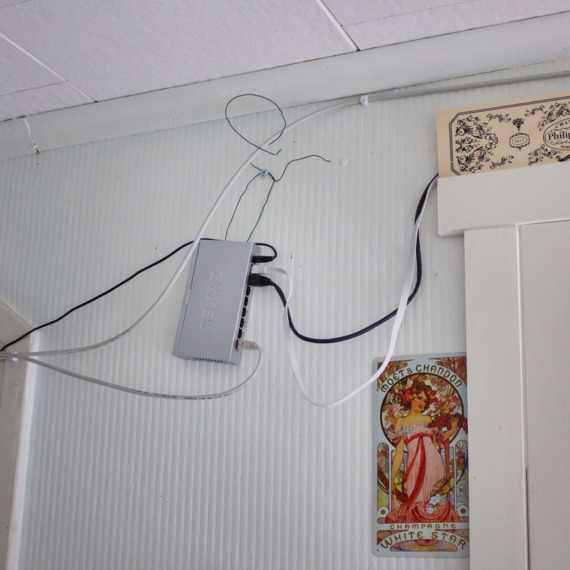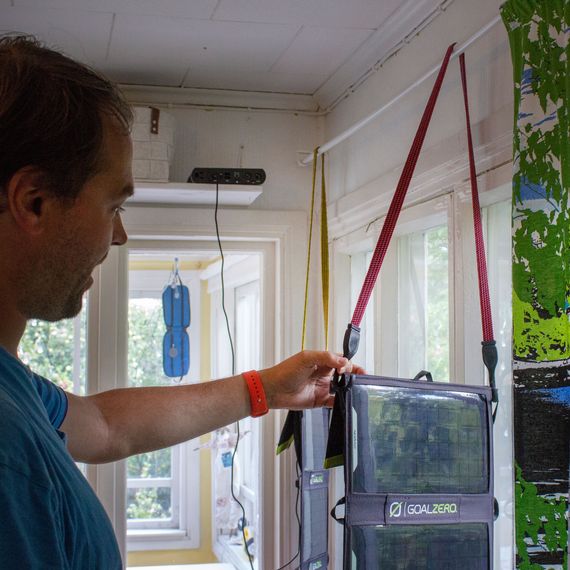 He says that monitoring the heat and moisture is essential, especially in the winter when the temperature drops to -30 degrees Celsius (-22 Fahrenheit). When the temperature drops too low in these old wooden houses, moisture gets into the frame and never really leaves. This makes a mökki start to smell like dirty socks. Most of the devices are programmed to maintain the heat and moisture levels on their own, although Tikka can monitor and adjust them all remotely on the Cozify dashboard on his phone.
"When I'm away, it's nice to know that there's security and it stays heated in the winter. Those are essential things," says Tikka.
The entire setup cost under 2,000 euros. Tikka and his wife rewired the house's electricity to make it easier to connect everything, but he explains that he could've set this up in a mökki without electricity, using battery-powered devices, solar panels, and Bluetooth.
But to some Finns, the idea of a connected mökki is ridiculous, bordering on sacrilegious. The point of going to a mökki is to stoke the deep, internal feeling of empowerment that comes from being able to survive without modern technologies.
"The connected mökki, at least to me, sounds like a very contradictory concept," says Isla Vainio, a producer at a fintech innovation hub in Helsinki called Hub13. As one of the organizers for the Nordic Smart Building Convention, Vainio is plugged into most of the smart-home trends in the Nordic region. But she hasn't heard about many people bringing smart tech into their mökit.
"Many of them don't have running water or electricity," she says. "The toilet is an outhouse, and for heating they have a furnace or a fireplace. Even televisions are a new, and slightly frowned upon, thing for most mökit. The why of it is simple: A mökki is where you go to get disconnected and lose yourself in simple life-sustaining tasks. We chop the wood for heating and sauna; we get water for cooking and sauna; we gather berries for food. It's a fantastic way to forget about your day job and really relax."
According to Vainio, smart infrastructures are a trend in Finland right now, but Vainio hasn't seen these same trends enter the residential market. This is partly because there aren't any voice-activated AIs like Alexa or Google Assistant that are available in the Finnish language. And there probably won't be anytime soon — there are only about 5.5 million Finnish speakers worldwide, making it a low-priority language for global companies like Amazon.
But on the commercial-real-estate level, there are a couple of new projects that are being hailed as the wave of the future. The city is building a "smart district" in Kalasatama and a new smart shopping mall just went up in Espoo. These infrastructures use embedded tech to optimize energy efficiency and convenience, but the smart features are embedded to work behind the scenes, without requiring any actions on the part of the user.
And Vainio thinks this is how smart tech should operate: deviceless, invisible, ever present, never noticeable. At age 25, she already feels too old to handle the constant streams of notifications coming at her from Slack, Trello, calendars, email, and messenger apps. She recently spent a month without internet and has taken to navigating with paper maps. She hopes that by integrating smart tech into our infrastructures and built environments, we will get the benefits of technology without having to manage it ourselves.
"Smart homes should be something that's always there and always on, and doesn't require your initiation or input. It'll just happen, and that's it," she says. "For me especially, I couldn't imagine adding all this stuff to my home if it means all that it means already now," referring to the endless notifications and responsibility of managing our digital lives.
Of course, the idea of living in a world of embedded tech that we can't see and don't understand is potentially more terrifying than a world in which our coffee makers are constantly pinging us with notifications. By removing the hassle of devices, it also removes our individual agency to control our environments, as well as the satisfaction that comes from building things and solving problems.
In some ways, the spirit of hacking together a homemade IoT setup is remarkably similar to the spirit of surviving in the woods. The same DIY strain in Finnish culture that fostered generations of Finns who enjoy chopping wood to heat the sauna has also fostered a tech-savvy subculture of hobbyists, like Taneli Tikka, who enjoy hacking together IoT devices. The feeling of solving a problem with an Arduino board, after all, bears close resemblance to the feeling of foraging in the woods for mushrooms and berries.
This is part of what inspired Matti Paksula, the CTO of a tech start-up in Helsinki and a former software engineer at Nokia, to install a sensor inside the sauna at his parent's mökki in Tampere. It connects to an Arduino board and a Bluetooth beacon to send constant updates to his parent's iPad, so they can monitor the temperature of the sauna without having to walk 40 meters up and down hill to check on it. His mother enjoys that the dashboard also tells her the day of the week. She often loses track of time out at the mökki.
The practicality and propriety of connected mökit are kind of an edge case, but it's an interesting one. It throws into stark relief the shadowy tensions and false dichotomies between convenience and authenticity, technology and nature, perception and reality.
I recently returned to Finland, where I lived for a couple of years, and joined my friends for a retreat at a mökki near Salo. We hopped in a car, stopped at a grocery store to gather provisions, and drove out to a cabin in the woods where we spent two days cooking food, reading books, going to the sauna, and swimming in the lake. The silence was deep and profound. I didn't check my appearance in the mirror the entire time I was there. We pooped in an outhouse. I texted photos of the sunset to my boyfriend. When we were down at the sauna, my friend took a photo on her phone and started to move her thumb toward the Instagram app, but stopped midway. She had been posting Instagram stories throughout the trip, but she drew the line at actually posting a photo to her feed. She didn't need to feel the quality of our experience artificially quantified by "likes."
The truth is, we live in a connected world. The mökki experience is relaxing, revitalizing, and constructed. We are only as "disconnected" from the rest of the world as we feel like we are. So if a sensor and a router will stop a summer cottage from smelling like dirty socks — why not connect?