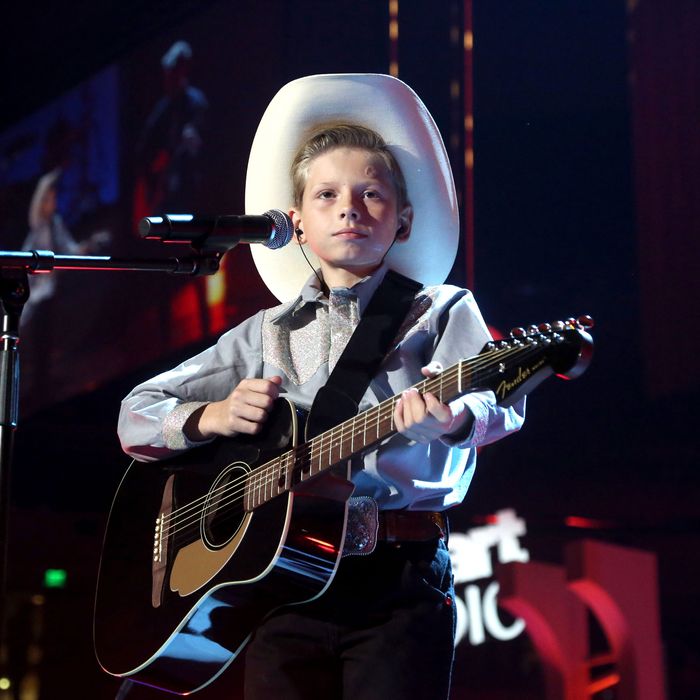 Photo: Gary Miller/Getty Images
A little over three months ago, the Yodel Kid who went viral in a Walmart capitalized on the sudden attention he'd received by releasing a single. The original composition, "Famous," is a bit different from "Lovesick Blues," the yodel-y Hank Williams cover that Mason Ramsey is best known for. I am not a music critic, but at the very least, it feels modern.
I listened to "Famous" once when it first came out, treating it as a novelty in the same way that other viral stars have tried to spawn music careers. Ramsey's contemporary in this case is Danielle Bregoli's "Hi Bich," recorded under the stage name Bhad Bhabie. Last month, Ramsey released a full EP, which also included "Famous" on it, and upon revisiting the song, divorced from the viral sensation by time's passage, I realized that it rules.
It's that simple really. "Famous" bangs. It's cute! He's a good singer! It's just the right tempo for a leisurely afternoon in the park or driving down an isolated highway at dusk. There's a nice twang on certain lines, like when he sings about "going DOWun in hi-sto-ree." It's soothing.
One thing I appreciate about "Famous" is that it's very earnest. It reminds me of Justin Bieber's "Baby," an all-time classic song that surprised everyone (well, me) because this small child put out a really good pop hit about being in love in middle school. "Famous" is like a country "Baby," but without Ludacris.
My point is, it would be very easy to cast off "Famous" as a late-stage cash grab in the life cycle of a viral child, and maybe it is? But it's also a really good song that stands on its own. It's very sweet, just like the little yodeling boy. I look forward to his album.